After 10 Years, Illinois Poet Laureate Kevin Stein Is Ready for Spring
BY: Tyler Clark |
Oct 19, 2022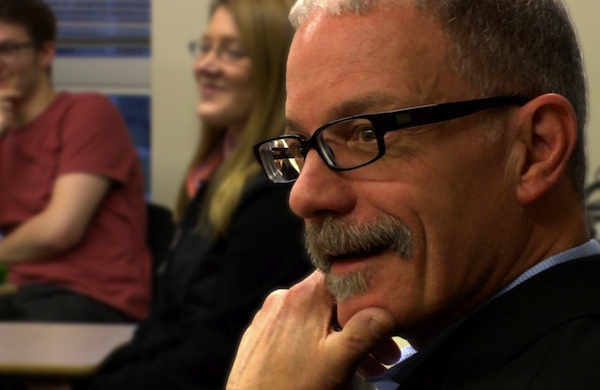 During his March appearance on
Michael Feldman's Whad'ya Know?
radio show, Illinois Poet Laureate Kevin Stein showed just how economical he can be with language. When asked how it feels to fill the shoes of former laureates Carl Sandburg and Gwendolyn Brooks, he summed up his feelings in one word: "Daunting."
Now in his 10th year as state poet laureate and his 30th year as an English professor at Bradley University, Stein has little left to prove. Still, he's doing all he can to bring more people into poetry's fold. While preparing for his
spring appearance schedule
, he shared with us his thoughts on the changing seasons, his legacy, and the value of not writing for a while.
GROUPON: It seems like spring is finally here. What poems helped get you through this long winter?
KEVIN STEIN: One that I love—sort of an end-of-winter thing that gives one hope—is William Carlos Williams's wonderful "
Spring and All
," which is what we must think of! You know, that's the one that starts with "By the road to the contagious hospital," and the speaker's looking out and just seeing broken bottles and glass and disease, and in the midst of that, he sees these little green shoots coming up. That's the one I like to keep in mind—that this too shall pass, that there will be a spring, there will be some sort of rebirth, even an interior one.
G: Living in Central Illinois, though, the winter, especially this last one, occupies a pretty large chunk of the calendar. Does that make its way into your writing?
KS: More and more it does. My wife and I have had a place in Breckenridge, Colorado, since the '90s, so we have been spending more time there. In my last collection, there's a poem about my favorite ski lift at Breckenridge. I put myself in the lift line and look around to see what I see. … Toward the end of the 10-mile range there's Father Dyer Peak. He was an old-time itinerant preacher who was well-known in the area. There's also Mount Helen. Mount Helen and Father Dyer Peak appear to be kind of holding hands. I like to think of them that way. Back home, we live in a rural area, and one of our neighbors' 600 acres of woods are around and beside us. So I wrote a poem about putting seed out for the birds in the snow, and then putting birdseed in my snowy bootprints, and watching the birds gather there, and poke their heads up and down and disappear.
G: Now that the weather's turned a little warmer, where will you be heading for some springtime inspiration?
KS: My favorite spring location is a spot in my good farmer neighbor's woods as it runs along Kickapoo Creek south of Dunlap. There's a wonderful, gloriously unexpected spread of bluebells rolling under the tree canopy and lipping the creek bed. It lifts the heart after so much winter white to see this sea of blue.
G: You recently celebrated 10 years as poet laureate. Where has that decade gone?
KS: When one is really absorbed by something, time and distance evaporate, and that has certainly been the case for me. I didn't realize that I was coming to that kind of a marker until someone proposed [last December's]
AP article
. A decade, Jesus! It has gone fast. It changed how I think about poetry, what it can do, what it should do, who it speaks to—all those things.
G: How have those changes manifested themselves? What has surprised you?
KS: The first thing has to do with the human factor. I've had the opportunity to talk about poetry and help make poems with everyone from kindergarteners to geriatrics in nursing homes, and I never would have had that opportunity. Seeing these little kids with poems in their back pockets was an astonishing and revelatory moment … . The other thing is that I was reacquainted with poetry's public function. We fools who fall for poetry think of it as something to be read alone with a glass of wine or a cup of tea or whatever, and indeed it is. But people expect and accept poetry in a public venue, as a political and social marker.
G: I'm always struck that presidential Inaugurations still feature an official poet. Something about it is still reserved for poetry. There's no official inaugural novelists.
KS: Absolutely so. In my lifetime, [Robert] Frost's performance at Kennedy's inauguration, where the sun was so bright that he couldn't read the poem and so he spoke another of his from memory, has reverberated across the years.
G: Ten years in, what's left to do as laureate? What do you still hope to accomplish?
KS: When I set out, I think I set out not knowing what I was up to. Along the way we started these websites, and I was able to cosponsor a youth poetry competition and an emerging poetry competition. I've read at school libraries, public libraries, university libraries, and whenever I do that, I give money out of my pocket to buy books of Illinois poetry. All of those things still give me a lot of pleasure. … I want to sustain the efforts that I have underway. I want to be one of those folks who doesn't let something drop.
Catch Kevin Stein as a guest on WGN Radio's
After Hours with Rick Kogan
on Sunday, April 13, at 9 p.m. Stein's upcoming Chicagoland events include a visit to Oak Park's Ernest Hemingway Foundation on Saturday, April 26, and a stop at the Jo-Anne Hirshfield Memorial Poetry Awards Ceremony at the Evanston Public Library on Sunday, May 4.
Photo provided by Kevin Stein