Al Fresco at its Best: Top Spots for Picnics Around Boston
BY: Fiona Coxe |
Oct 19, 2022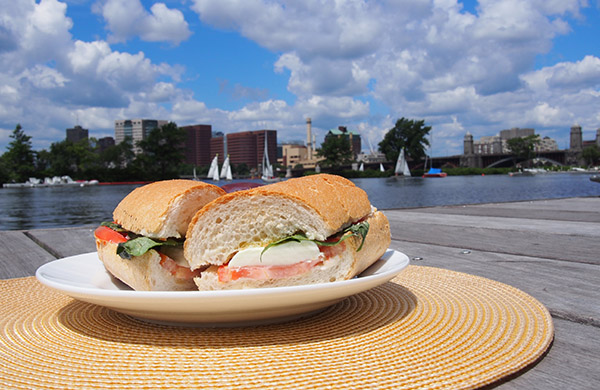 One of the most fabulous parts of Boston is its sheer beauty.  All over the city proper there are lovely spots to pull up a spot of grass, relax and watch time pass by.  Of course, doing so with a lovely bite of food is ever more attractive.  So, I've compiled my go to list of the best spots to sit, relax and enjoy a picnic in this great city!
The Esplanade
.  The Esplanade refers to a section of the Charles River, on the Boston side, in Boston proper.  It is the site of our beloved Hatch Shell where we celebrate the 4
th
of July with the acclaimed Boston Pops, and where numerous other summer concert series happen.  It houses multiple boat docks, running/biking/ walking trails and, of course, gorgeous views of the Charles River.  Pull up a spot of grass, or claim some space on one of its many docks for your perfect picnic. The Esplanade connects easily to Beacon Hill's iconic Charles Street, home to a plethora of shops, and, more importantly, restaurants and food stores.  Looking for a light snack to enjoy while watching the boats float past?  Savenor's Market (yes Julia Child's old haunt) has an incredible selection of fruits, cheeses, cured meats and bread from which to make a feast.  If you're looking for a more substantial meal, I'd suggest Panificio whose list of freshly prepared sandwiches, piping hot pizza, salads, and a fine tomato soup will arm you with enough goodies to feed an army.  Those with a sweet tooth, have no fear, Isabelle's Curly Cakes owned by the daughter of the culinary legend Todd English, has a bounty of cupcake creations to pick from, and Café Vanille is offering up French style pastries.
Fort Point Channel
.  Fort Point Channel, located on the westernmost side of South Boston, was long ago abandoned to cargo ships and their freight.  Over the past several years however the area has been refurbished, and now, lovingly referred to as Fort Point Channel, it is a bustling hub full of restaurants, hotels and condos.  It has fantastic views of the channel, providing a continuous dance of charter boats, personal vessels, commuter boats and cargo ships.  The perfect location to view all of this activity and enjoy some delicious treats sits just behind the Joseph Moakley Courthouse; an area designed for outdoor dining with plenty of benches and tables.  Another favorite spot, for me, is on the steps behind the
Institute of Contemporary Art
.  Though it may not have been designed for the random picnic-goer its slightly secluded, architecturally intriguing space is ripe for lingering.  Additionally, there are plenty of spots along the boardwalk that runs perpendicular to Congress and Atlantic Streets, offering incomparable views of downtown Boston and the Financial District.
Just a block down Congress Street from the boardwalk sits a small street named Farnsworth.  There, on little Farnsworth Street, exist two perfect gems for picnic dining.  Recently opened this past March, the Bee's Knees Supply Company has made quite a splash.  House cured meats, pate's and even burrata cheese are just the start of its selections.  The team has a menu chock full of artfully prepared sandwiches, salads using fresh, healthy ingredients, and homemade classics like hamburgers and calzones.  They are also, let it be known, making their own chocolate confections in house.  The team at Bee's Knees will happily let you wander through their store picking out your own provisions, or they will create a perfect basket for you to take along on your journey.   If, in some strange world, you don't find what you're looking for at Bee's Knees, take a wander just next door to
Flour Bakery
.  Owned by one of Boston's greatest chefs, Joanne Chang, Flour offers up a wide selection of sandwiches and soups, all made to order, as well as a very full selection of Chang's incredible pastries (i.e. her widely acclaimed cinnamon bun).
Christopher Columbus Park.
  The Christopher Columbus Park sits just at the crossroads of bustling Faneuil Hall and the equally busy North End.  It provides a bit of an oasis from all of the hustle with its covered walkways, gentle fountains and rolling lots of grass where invariably cute dogs are found frolicking.  The real beauty here though, beyond the panoramic views of the harbor, is the proximity to the North End making this the perfect spot to enjoy all of those amazing Italian delights al fresco! Just down Richmond Street towards the heart of the North End lies Salumeria Italiana, an Italian grocer that seems to transport every customer to the hallowed streets of Italy as they enter through the door.  Cured meats, and cheeses seemingly overflow from their cases, and freshly prepared Italian delicacies like octopus salad can be found amongst such other favorites as pasta salad and caprese salad.  They'll prepare heaping full sandwiches for you to take on your way and their store offers a bounty of other hidden treats.  Of course if you travel just a bit further up to Hanover Street, the bounty lies ahead of you.  Pick up made to order cannolis or a slice of ricotta pie at Modern Pastry.  Head down to Galleria Umberto for a Sicilian slice or two, and then find that perfect spot in the oasis of the Christopher Columbus Park and indulge, away from the crowds, but with all the benefits of the true North End experience. It is safe to say that this is not an exhaustive list. Boston offers perfect picnicking locations throughout its limits with fantastic views, sweet breezes and even some good people watching.  Get on out there and find your spot!