Alabama Football at the Houndstooth Saloon in Wrigleyville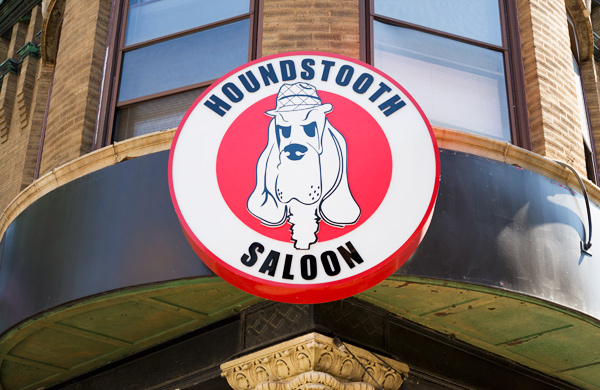 "Roll tide." That can be a salutation, affirmation, or cheer, and it's scattered throughout the speech of any die-hard Alabama fan. Despite spending my whole life around the Great Lakes and giving all my football passion to the Michigan Wolverines, I knew that Bama fans were something of a breed apart, even among
the eccentrics that college football can attract
. Alabama fans have an almost mythical quality. They know all the words to "
Rammer Jammer Yellow Hammer
." They revere their legendary coach Paul "Bear" Bryant. And a few years ago, a Crimson Tide fan even went so far as to poison a grove of century-old oaks that were part of a postgame fan tradition at archrival Auburn. Afterward, the die-hard even called up a sports-talk radio show to boast about his misdeeds. These folks take their football—and their No. 1 ranking—very seriously. I wanted to experience that firsthand without driving all the way to Tuscaloosa. Also, I wanted find the best place to watch
Alabama's game against No. 6 Texas A&M on Saturday, September 14, at 2:30 p.m.
The Bar
On the Saturday evening of the season-opening weekend, I walked to the
Houndstooth Saloon
(3369 N. Clark St.) in Wrigleyville, which is ground zero for Alabama fandom in the Midwest. It has the feeling of an outpost, this bar dedicated to the Crimson Tide in the very heart of Big Ten country. Mere miles from Northwestern's Ryan Field, surrounded by bars flying flags for the Illini, Hawkeyes, and Spartans, here was one named after the checkered pattern decorated Bear Bryant's hats. When I arrived, the bar was at capacity, so I had to wait outside a bit until some of the crowd cleared out. The place was bursting with crimson jerseys and families in their Sunday best. Southern accents sauntered inside the bar and out on the patio, lending the lilting sound of Dixie to the usual sports-bar war whoops and hollers. It's worth noting that there were deer-antler chandeliers, too. As I watched, the assembled fans yelled with every big play or crunching hit. And the bar all but exploded with cheers and singing when Alabama ran back a kickoff for a touchdown, going up by 18 points right before halftime.
The Alumni
The cathartic touchdown and imminent halftime break meant there was enough room to enter, so I waded into the sea of Crimson Tide fans. The bar seemed too far away to ever fight my way to, so I found myself chatting with some folks who turned out to be officers of the Alabama alumni chapter in Chicago. They festooned me with stickers and Bama pins and gave me a
shaker
. A shaker, it is crucial to note, is not a pompom; men don't use pompoms. However, men might use shakers to mix drinks in the stands, so that's what they're called in Bryant-Denny Stadium. Most people who came to the Houndstooth to watch a game were Alabama alumni or their family and friends. I told the chapter president, a gregarious woman named Laurel, that I was surprised to see such a distant school and fan base plant such a raucous presence in Chicago. She just laughed. Alabama fans will be like this anywhere they can. She related the story of the Houndstooth's founder, who didn't have any prior affiliation with Alabama before the bar opened. He simply saw a niche for a country-themed bar in Wrigleyville and knew that Alabama fans were plentiful and extremely passionate. The pairing made perfect sense, and once he got an official affiliation with a Tuscaloosa bar with the same name, all bets were off. By the time the second half started, I had been invited to sit at a table with some Texas A&M and Missouri fans. They were there because they liked the atmosphere at the Houndstooth. At this point, a few Notre Dame fans walked by the patio and yelled something about the Fighting Irish. Since the Tide had all but
decapitated the Irish in the BCS championship game last year
, this was met mostly with laughter. I heard someone at a nearby table yell back, "How'd that work out for you in January?" The whole crowd laughed and jeered. At the table with my new Aggie friends, I could sense that a lot of the assembled Alabama fans were ready to face off with Texas A&M at that very moment. One bold soul wearing an Aggie jersey kept getting some pleasant trash talk from around the bar, which seemed like a preview of much more colorful taunts to come. My experience at Houndstooth didn't quite match hearing tens of thousands roar "Rammer Jammer" after a win in Tuscaloosa, but it was a lively taste of that same spirit. I don't know that I'll be there when the Tide tries to crush Heisman Trophy–winner Johnny Manziel and the rest of the Aggies who spoiled their perfect season last year, but I'm sure it will even more frenzied inside than what I saw during kickoff week. If you do head to Houndstooth for the game, you'll be fine if you remember "roll tide." Oh, and don't call a shaker a pompom.
Photo: © Andrew Nawrocki, Groupon