GROUPON GUIDE TO SAN FRANCISCO
See It or Skip It: Alcatraz
BY: Andy Seifert |
Oct 19, 2022
What is Alcatraz?
Some of the country's most notorious criminals—including Al Capone and Robert "the Birdman" Stroud—were incarcerated at this federal penitentiary on an island in the San Francisco Bay. In commission for nearly 30 years, the prison garnered a reputation as being escape proof; the government has still never acknowledged any successful attempts. It was designated as a National Historic Landmark in 1986 and is now managed by the National Park Service. The island is one of the Bay Area's most popular attractions, with more than 1.4 million annual visitors.
Why Would I Go?
Since it's been closed for decades, Alcatraz offers a rare opportunity to step inside the cells of America's most iconic prison. Because of the dangerous characters it harbored, the island has captivated the country. Two popular movies have helped stoke America's fascination: the Clint Eastwood drama Escape from Alcatraz and the Nicolas Cage and Sean Connery action flick The Rock. (Thankfully, in real life, the island was never partially obliterated by an F/A-18 attack).
What's it Like to Visit Alcatraz?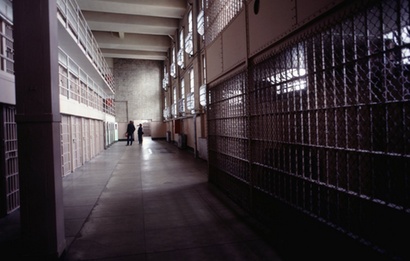 Think of a visit to Alcatraz as a three-course meal. The appetizer is the 15-minute ferry ride across the bay, an opportune time to take photos of the city. The main course is the self-guided cell-house audio tour, which is narrated in part by the prisoners and guards who spent time there. The dessert is roaming the rest of the island, seeing the exhibits, and perhaps taking a tour of the gardens (on Friday and Sunday mornings).
There is an exception to this itinerary—see it at night, when a tour guide leads the way, and you get the advantage of seeing the San Francisco skyline lit up. Plus, nighttime gives the prison an eerie vibe it just doesn't have during a cheery, sunny day.
The Verdict
See it. Alcatraz is not a run-of-the-mill tourist trap. The ferry ride to and from the island affords panoramic views of the entire city plus the Golden Gate Bridge, which is not too shabby. The self-guided audio tour does an excellent job of immersing you in the experience of life at the prison; the inmates' commentary is insightful, shocking, and occasionally humorous. Families should find it satisfactory (especially those with children old enough to understand the site's history), and it's well worth the 2.5–3 hours that most people allot for a visit.
What do you think—see it or skip it? Tell us in the comments: