GROUPON GUIDE TO NEW YORK
Always Keep an Avocado in Your Purse
BY: Aimee Algas Alker |
Oct 19, 2022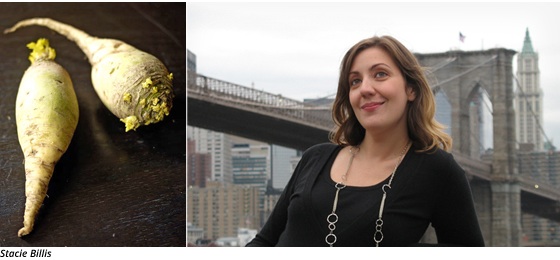 The average child's diet has changed dramatically in the last decade, with organic juices replacing orange sodas in grocery carts and kid-friendly recipes sneakily including more grownup veggies. Brooklynite Stacie Billis has been a leading member of this food revolution for years, first as a co-founder of an organic baby-food company. These days on her blog,
One Hungry Mama
, which Babble has named one of the
Top 100 Food Mom Blogs
 every year since 2011, she shares the many healthful recipes and tips she's uncovered while trying to satisfy her two sons, who each have distinctly different palates. I spoke with Stacie to learn more about her strategy, her family's favorite Brooklyn restaurants, and the avocado in her purse.
GROUPON: How do you find healthy restaurant fare for your kids to eat when most kids' menus are all chicken fingers and pizza?
STACIE BILLIS: I'll ask for what I want. Grilled cheese made with less butter. Two scrambled eggs with a side of broccoli. Kitchens are very well equipped. [Otherwise] I've been known to carry an avocado around with me. I'll order plain pasta with butter, and I'll cut up avocado slices and throw them in there.
G: What advice do you have for someone who is just starting to try to get their kids to eat healthily?
SB: Just jump right in. If there is a vegetable that the kid is more happy to eat, start there. You want them to feel like their tastes are a consideration in the meals you make. If they like mac and cheese, make homemade mac and cheese and chop in some broccoli and spinach, or purée some squash or sweet potato. Just make sure you tell them it's in there: "You know that flavor you like so much? It's squash."
G: What options do you have in Brooklyn for providing your family with healthy food?
SB: I have to admit that I'm pretty lucky here in Brooklyn. There's a lot of exciting stuff happening. 
Brooklyn Grange
, one of the biggest rooftop farms in the city, is down the street from my son's school. 
Gotham Greens
[grows] hydroponic greens all year round. It's opening a rooftop farm on the new Whole Foods and will be providing greens for customers.
G: What are some of your family's favorite area restaurants, and what do the kids usually order there?
SB:
Bark
is [the kids'] favorite. Their hot dogs are all natural, with no nitrates, and they use all local ingredients. My kids get plain dogs, and they have an amazing selection of dogs, pickles, and brews for grownups. Rome is my favorite city in the world, and
Franny's
reminds me of a casual Roman trattoria. They serve pizzas, pasta, and an amazing seasonal selection of veggies, starters, and small plates. What I love about it is that my kids will try the vegetables there because they are so incredibly delicious. They're good at using acids—lemon juice and vinegar—that really liven them up.
Roman's
serves casual, farm-to-table, simple Italian market food. The last time we were there, they had an artichoke salad that my older son really loved and can't stop talking about.