An Illustrated Guide to Bargain Shopping with Blogger Alanna Zaritz
BY: Mae Rice |
Nov 3, 2022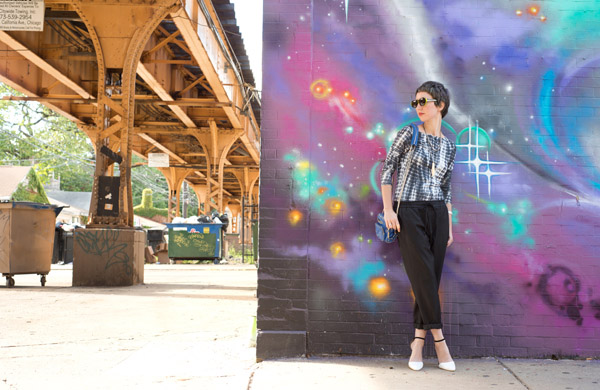 "I'm in hunting mode. I'm looking through the microns of the world." This is how fashion blogger Alanna Zaritz describes her approach to shopping. Her laser-like focus shows both in her wardrobe and her blog,
Drawn and Coutured
. Like most fashion blogs, it's all about constructing ensembles, but each one is carefully detailed in two mediums: a photograph, which Alanna snaps with her iPhone, and a sketch or painting by her collaborator, Josh Crow. "The photography exists just to give greater clarity to the illustration," Alanna explains. The art, meanwhile, taps into the ensembles' glamour. "It can be more glamorous actually, than looking at a real person with all their flaws, wearing a dress that might be clunky or old," Alanna says. Illustrations are "a little more idealized and fantastical," as she puts it. You'd never know it from her style, but Alanna gets all her pieces—even the designer ones—on a strict budget. "I've been window shopping since I was 11," she says. "I couldn't afford anything until fairly recently, and I still pretty much can't afford anything." Alanna has worked at places like Buffalo Exchange and H&M, though, so she knows how to bargain hunt. Below, she shares her best shopping tips, and models some of her favorite finds—in photos and, as on her blog, in art by
Josh Crow
.
In General, Shop Secondhand Over Consignment
Consignment shops price ambitiously, but at secondhand shops, items are "priced to move," as Alanna puts it. In the secondhand business model, designer finds can slip through the cracks, and right into Alanna's hands.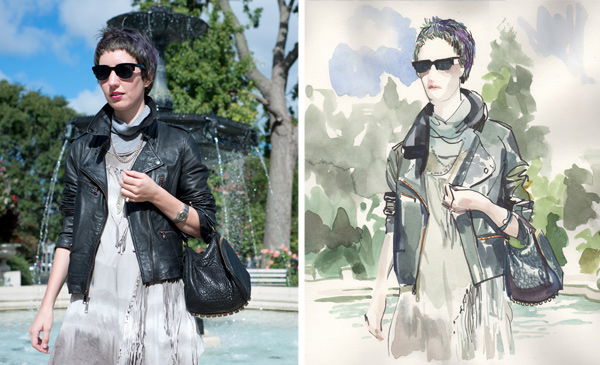 More Specifically, Go to Buffalo Exchange
"I cannot front.
Buffalo Exchange
on Milwaukee (1478 N. Milwaukee Ave.) is fantastic," she says. She's in there so often that the whole staff knows her name, and it's where she found a lot of what she wore at our shoot. The Miu Miu gold leather jacket, for example, comes from Buffalo.
For Couture-Inspired Threads, Check Out H&M Trend
On Alanna's blog, H&M pieces feature prominently in outfits like
this purple-toned one
. She especially recommends the chain's Trend line, which is stocked at select locations, including the Chicago flagship store (840 N. Michigan Ave.). Marked with a mauve or tan tag, Trend pieces often evoke designer garb. "Recently, I've seen pieces…that reference Alexander Wang, Phillip Lim, [and] Dries van Noten," Alanna says. Though the pieces are some of the store's most expensive, Alanna finds they're also "really well made."
Cast a Wide Net
Alanna doesn't shop exclusively at Buffalo Exchange and H&M, though. "I try to play every game," she says of her shopping strategy. That means checking out everything from Salvation Army to
The Outnet
, the discount incarnation of
Net-A-Porter
 and the source of the blue Alexander Wang camera bag, which she wears in this post's final picture. For Salvation Army locations, she recommends the one on Halsted (150 N. Halsted St.) and the one near Grand (509 N. Union Ave.); the latter has a huge selection of antiques and furniture. She also recommends local vintage boutiques, such as
Kokorokoko
and
Silver Moon
, and some chains, like Nordstrom Rack. There's only one resource she avoids: eBay. "There are a lot of fakes," she says.
The Two Keys: Fabric and Shape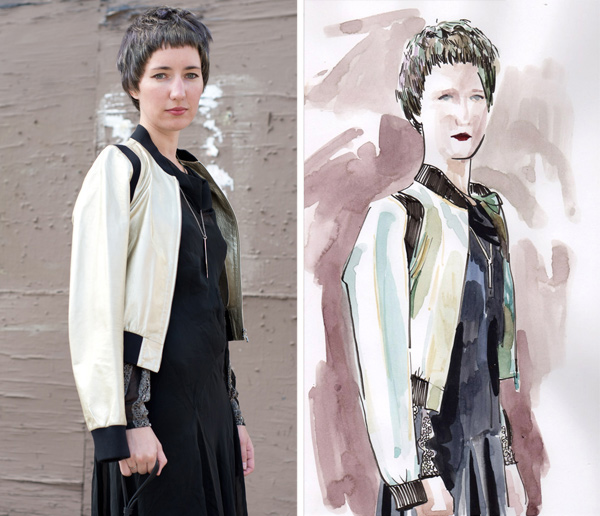 Before Alanna even touches a rack, she's scouting for a flattering silhouette and quality fabric, which to her means "a really good, natural fiber." It could be wool, leather, or cotton—but it certainly won't be jersey, Alanna's personal nemesis. "[It's] the devil," she says. "It does not stand up to a wash."
Keep Tabs Constantly
Alanna has heard that Mondays are the best days for shopping secondhand, "because people who want drinking money sell their clothes on the weekends." However, in her experience, the real key is shopping frequently. "Things [like Ray-Bans] come in and go out on the same day if they're really great," she says. Truly dedicated shoppers can keep tabs remotely, too, by signing up for email lists and following their favorite shops on social media.
FULL OUTFIT DESCRIPTIONS
FOUNTAIN OUTFIT: Gray American Apparel turtleneck from Crossroads Trading Company; AllSaints fringe mini dress from Buffalo Exchange; Levi's leather jacket from Urban Outfitters sale; Alexander Wang "Angela" bag from Barney's Warehouse; silver double chain necklace from the MCA store; antique knife necklace from
Reckless Daughter
on Etsy; sunglasses borrowed from her boyfriend. GOLD JACKET OUTFIT: 1940s vintage drape-neck dress and Miu Miu gold leather jacket from Buffalo Exchange; hand-me-down silk slip from friend; antique knife necklace from above. WHITE WALL OUTFIT: Shibori Topshop dress (worn as shirt) and Fahrenheit two-tone heels from Buffalo Exchange; Alexander Wang "Brenda" camera bag from The Outnet; Swatch tank watch, gift from friend; Karen Walker sunglasses from
HauteLook
.
Photo: © Timothy Burkhart, Groupon; Illustration: © Josh Crow