An Indulgent Retreat: White Salon & Spa
BY: MEGAN ELLIOTT | 1.9.2014 |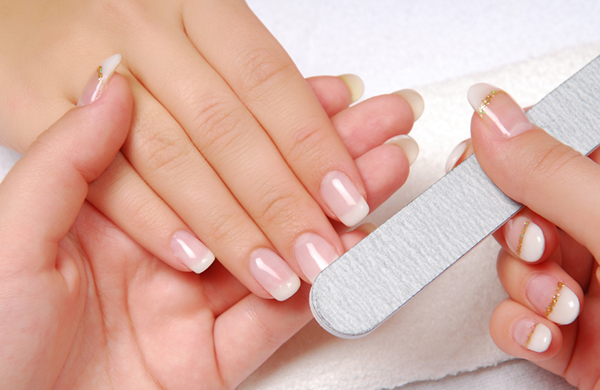 When it comes to beauty and hair care, finding a one-stop shop is ideal, but definitely a rare luxury. Most women can agree on what a difficult task it is to find not only the right hair stylist, but also the right esthetician and the right manicurist. Fortunately for Atlantans, a new full-service salon that has it all has opened in Buckhead: White Salon and Spa.
I first experienced White Salon and Spa when I went in for a facial with Pangie Skrine. White Salon's namesake becomes clear when arriving to the little house off Pharr Road in Buckhead. The inviting home-turned-salon is painted white on the outside and often keeps its door open, welcoming new clients and regulars alike.
The interior of the salon reveals luxurious dark hardwood floors beneath a clean, white interior. Vibrant pops of colors and patterns are scattered throughout the boutique salon. Upon arrival, Jessica cheerily welcomes guests at the front desk, which sits across from a vintage Victorian style couch.
The front room of the house is the main salon floor area, where stylists work their magic on clients' hair. I've personally experienced the work of Wanda and absolutely loved the results. The owner of White Salon and Spa is also a stylist. Max Sanchez has over twenty years of experience in the beauty industry. Other stylists include Manik and Angel. These talented professionals offer a range of services including cuts, styling, color, deep conditioning treatments, thermal reconditioning, permanent wave, relaxer and more.
Deeper into the salon, one will find the manicure station, which opens to both the right and the left. A walk right reveals the stylish hair washing room with bookshelves full of both classic and modern books. Left of the manicure station is a hallway with rooms lining all the way to the back of the salon. The faint sound of nature and soothing music trickles from these private rooms, indicating that these are the spa wing of White Salon and Spa.
These rooms house several services, from eyelash extensions, brow shaping and tinting to luxurious skin care treatments by Pangie. If you told me Pangie is anything short of a magical skin care goddess, I'd be reluctant to agree. She has worked wonders on me personally, and offers a wide variety of treatments for any skin type. In addition to her amazing facial treatments, Pangie also offers peels. These treatments are all specifically customized for each client's needs. From blemishes to wrinkles, Pangie will help fight it all.
Overall, the incredibly talented and friendly staff is enough to secure repeat customers, but the beautifully clean aesthetic of the salon and the top quality products used—some made right here in Atlanta!—just solidify what a great experience is to be had at White Salon and Spa. Do yourself a favor and enjoy the finer things in life at this Buckhead go-to.
BY: Megan Elliott
Lush to Blush
Megan Elliott is the creator and voice behind the fashion lifestyle blog, Lush to Blush. After moving to Atlanta from a small town in Florida, she made it a goal to take advantage of her new surroundings and visit as many local establishments as possible. Follow her on her journey as she discovers the award winning restaurants, as well as the hidden gems that Atlanta has to offer.