An Introvert's Guide to Miami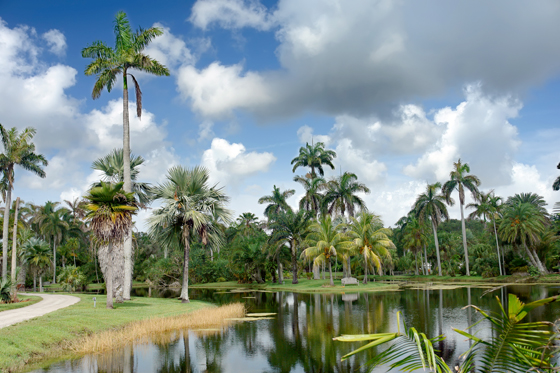 Although much of Miami's reputation for world-class, sun-worshipping hedonism is well deserved, the city isn't all clubbing till 4 a.m. and hard bodies on the beach. Miami offers plenty of attractions that appeal to people who prefer quiet contemplation to bacchanalia.
Coral Castle Museum
is a monument to solitude. Latvian immigrant Ed Leedskalnin broke ground on this monument to eccentric obsessions in 1923, carving and setting the structure's 1,100 tons of coral stone in tribute to the fiancée who is said to have left him the day before their wedding. Leedskalnin, who died in 1951, before his life's work was completed, was as given to understatement as he was grand gestures; he engraved on the castle's welcome sign this promise to visitors: "You will be seeing unusual accomplishment." In contrast to Coral Castle,
Vizcaya Museum and Gardens
 was commissioned as the winter residence of industrialist James Deering and constructed by more than 1,000 workers. Designed to resemble an Italian villa, the estate consists of 34 decorated rooms and sits on 50 acres, comprised of the 10-acre, Rennaissance-inspired formal gardens and 40 acres of native jungle. For another dose of a bygone era, the Wolfsonian-FIU art and design museum just off South Beach houses a 120,000-object collection focusing on modern art produced between 1885 and 1945. The size of the museum is modest, but that's all the more reason to linger over the collection and temporary exhibits, which have recently surveyed media images from the Spanish-American War and advertisements inspired by the invention of the light bulb.
Oleta River State Park
beckons the outdoorsy introvert north of the metro area. Grab a copy of
Walden
 and lie out on the secluded beach, or speed down the miles of novice and expert bike trails. Other popular (and peaceful) activities include hiking, kayaking, and saltwater fishing. If you're stranded in South Beach, escape to Terrace Bar and Cigar Lounge. Located on the second floor, Terrace is not only literally above the bustle of the club scene, but also temperamentally outside of it; sheer curtains billow in the wind out on the terrace as guests sip cocktails and sample fine cigars.