Andersonville's Bounty of Antique Boutiques
BY: Amelia Buzzell |
Nov 3, 2022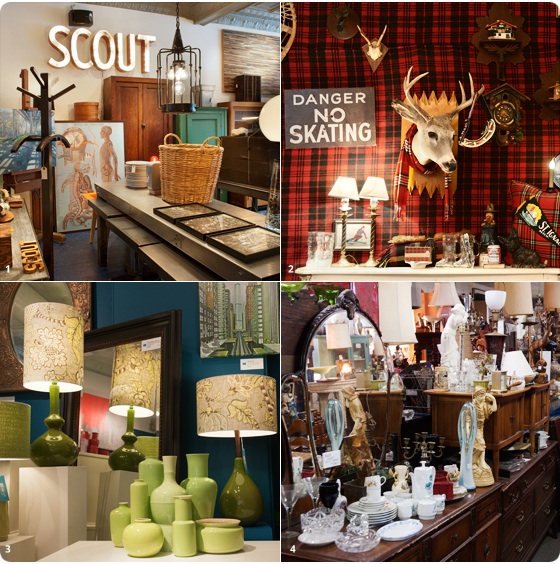 Andersonville's Swedish roots bring more to the neighborhood than lingonberries and Dalecarlian horses—they also make this North Side 'hood a destination for anyone bitten by the midcentury-modern bug. At least 11 antique shops line Clark Street, many selling chic Scandinavian pieces. They also sell ornate Victorian fixtures, spare industrial furniture, and every delicate dish and whacky knickknack in between. With so much design packed into just a few blocks, it's no wonder the neighborhood has become a favorite stop for Martha Stewart, Nate Berkus, and other home tastemakers. Here are four shops that cover the spectrum of aesthetics and atmospheres—from modern to nostalgic, curated to chaotic:
1. Stripped-Down Style
Scout
5521 N. Clark Street
Weathered wooden tables, marble-topped tables with chrome legs, and salvaged lockers are equally at home at
Scout
, whose preference for "clean, unfussy lines" has made the spot a favorite of designer Nate Berkus. Pops of black, the store's unifying color, create harmony for finds as disparate as plush mohair couches and steel card catalogs.
2. Curios of Every Check and Stripe
Brimfield
5219 N. Clark Street
Julie Fernstrom named her 4,000-square-foot shop for her favorite tartan, and promptly filled
Brimfield's
shelves with plaids and patterns of every kind, from iconic Pendleton stripes to the Swiss army blankets that she uses to reupholster chairs. The shop's eclectic treasures extend from the warm and fuzzy, to the nostalgic, to the downright weird, meaning shoppers can scoop up cocktail shakers, antique science equipment, and taxidermy specimens in a single trip.
3. Build Your Own Vintage-Inspired Lamp
The White Attic
5225 N. Clark Street
The White Attic
collects furniture from the 1900s through the 1960s and gives the pieces new life with hand-blended stains or low-VOC paints in white, black, aqua, and other seasonally inspired tones. The showroom's popular
Lamp Bar
pairs 13 vintage-inspired base shapes with sleek shades and customizable colors.
4. Estate Sale Treasures Worth Digging Around For
Brownstone Antiques
5234 N. Clark Street
Treasures upon treasures vie for space at 
Brownstone Antiques
, spilling out of glass display cases and taking up real estate on the tops of sideboards, dressers, and other furniture. The selection is anything but ramshackle, however, as every item—from toy planes with wooden propellers to sets of butter-yellow scallop-edged dishware—is hand-picked from neighboring estate sales.