Aprons Your Dinner Clothes Will Give Thanks For
BY: Kelly MacDowell |
Nov 25, 2013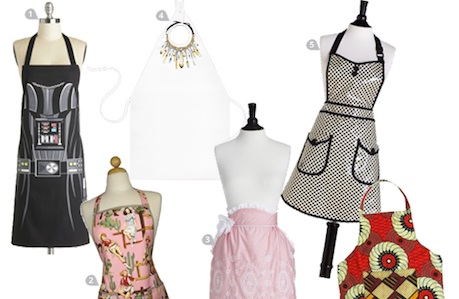 Between stirring the gravy, basting the turkey every 30 minutes, and warming sides on a constant rotation, putting together a Thanksgiving dinner can feel a lot like choreographing a ballet. Adding to the stress: best practices dictate that you be dressed in your holiday finest before you even roll up your sleeves. Whatever your style, throw on one of these aprons to keep your ensemble table-ready, no matter how hard you stir, whisk, mash, or peel.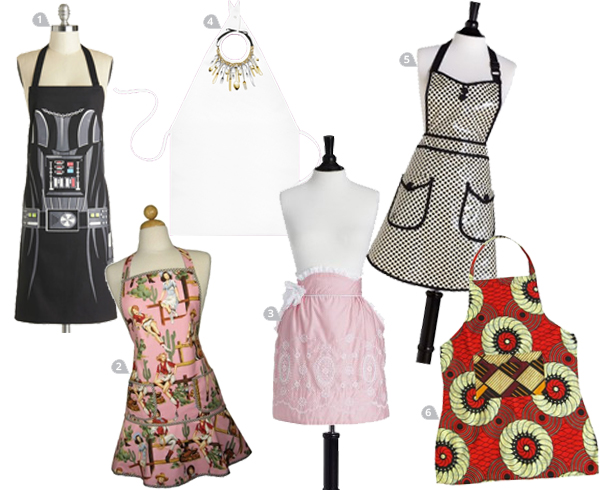 For the chef who demands control over the kitchen: 
1. Darth Baker apron from Modcloth ($24.99)
Sometimes, there only needs to be one cook in the kitchen. Breathe heavily on intruders while wearing this 100% cotton apron from Modcloth and see them scurry faster than a colony of Teeks.
For the old-fashioned, from-scratch fanatic:
2. Saddle Up Girls vintage apron from The Apron Shoppe ($49.99)
The Apron Shoppe's forte is flirty designs, and this pink style is no exception. The gingham trim and flouncy skirt give it feminine flair, while the purdy-cowgirl print will explain the horse tied up in your front yard.
For the chef who follows grandma's recipes to a T:
3. Embroidered pin-dot June half-apron from Jessie Steele ($50)
The eyelets and embroidery on this pink half-apron have an old-fashioned feel, and the two side pockets are perfect for stashing grandma's recipe cards and grandpa's happy flask.
For the chef who stirs in style:
4. Haute Couture apron at MCA Store ($65) 
Made by French company
Prêt-à-Tacher
(French for "ready to stain"), this apron's exclusive American retailer is the Museum of Contemporary Art Chicago's store (220 E. Chicago Ave.). The blinged-out neckline is printed with crystals and gold- and diamond-encrusted silverware.
For the chef who favors victory rolls over crescent rolls: 
5. Bib Audrey deco dot apron from Jessie Steele ($35) 
This polka-dot piece fits right in with the vintage-inspired designs prominent on this online catalog, but it gets a modern twist thanks to a coating of EVA that makes gravy spills or lipstick smears easy to wipe away.
For the chef who makes their own place cards and centerpieces: 
6. Handmade red-swirl apron at Greenheart ($24.95)
In keeping with the rest of the handmade wares found at Greenheart (1714 N. Wells St.), this apron comes from
Dsenyo
, an organization that sponsors the work of struggling artisans in Malawi, Africa.
BY: Kelly MacDowell
Kelly's first concert was Fleetwood Mac and her first career was in the beauty industry. Now a style and music writer, she loves Project Runway and her dog, Watson.