Argyle After Dark: Asian Eats at the Argyle Night Market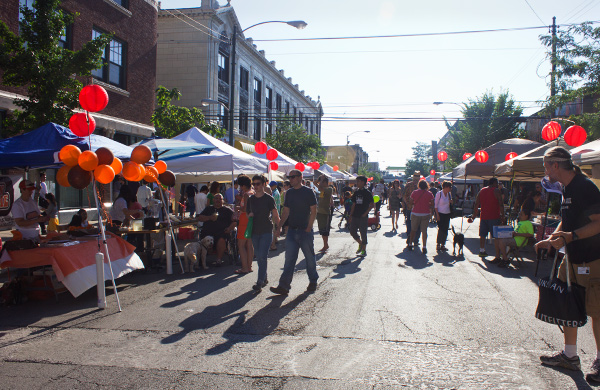 Maybe 5 feet away, in the shade of a food tent, a woman picks up a cleaver. With four perfect chops she slices open a young coconut and hands it to me. The liquid inside tastes sweet and slightly nutty, almost like almond milk. So does the gelatin-like pulp coating the inner shell—so delicate it can be scraped off with a plastic spoon.
The coconut water is a godsend because the late afternoon sun is out in full force at the Argyle Night Market. The one-block market is relatively new to Uptown—it opened on Thursday, June 27—but it's a fast hit. As of 5 p.m., crowds have already descended upon vendors selling farm-fresh produce and Asian delicacies that line the street two blocks east of the Argyle Red Line stop.
I, like many of the people at the market, am here for the food. I'm a fairly recent transplant to the area (I moved here back in June), but even I know that this part of Uptown, nicknamed Asia on Argyle, is one of the best places in the city to get Chinese, Thai, and Vietnamese cuisine. At least a half-dozen local restaurants have set up booths this evening, and the smells of incense and fried foods are already drawing my attention away from the rest of the market. Time to eat.
First, I hit up the stand from Tank Noodle, a Vietnamese-Chinese restaurant just a few blocks away, for a traditional Chinese street food: fish balls. They're chewy and salty, with a mild fish flavor and a spicy kick from the hoisin-sriracha dipping sauce.
Free samples are being handed out next door at Phoenix Bean. This Edgewater-based company has been making small-batch tofu from nongenetically modified soybeans for 30 years. The woman running the tent briefly explains the spread: six kinds of tofu and four dipping sauces that range from soy-sesame sauce to sweet mango chutney. None of the tofus have much of a flavor on their own, which I kind of expect. Tofu is supposed to take on the flavor of its sauce. What is surprising are the textural differences between fried and raw tofu, and the unexpected bite of the company's baked five-spice tofu (my favorite).
At the end of the block, I make an unexpected discovery—an empanada stand at an Asian market? Yes, please. My empanada, a flaky pastry stuffed with beef, olives, and raisins, was handmade by Alba Guerra, who sells her Argentine-style treats at markets around Chicago.
As I weave between the white canopy tents on my way out, it's clear that this is more than just a frivolous, after-work festival. It's a move toward neighborhood revitalization, backed by 48th Ward Alderman Harry Osterman and local businesses, which this community desperately needs. Uptown has lived in the shadow of its glitzier surroundings—neighbors like Lakeview and Andersonville that draw people out with the promise of something new—for far too long. This neighborhood has so much to offer, from mom-and-pop Asian bakeries to historic cemeteries to old-school jazz lounges, and I'm happy to see events like the Argyle Night Market bringing people back in. Because I think that all Chicagoans should see and experience and taste this culturally rich community.
The Argyle Night Market runs every Thursday from 4 p.m. to 8 p.m. through September 19 on Argyle Street between Sheridan Road and Kenmore Avenue.