This Outfit Could Hang in a Museum
BY: Michelle Schuman |
Jul 23, 2014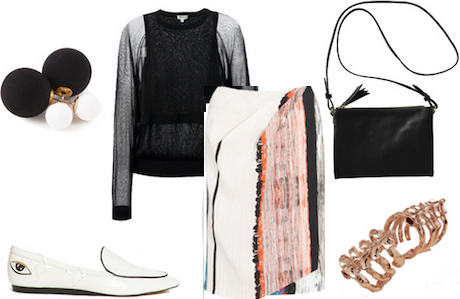 On Saturday, the Art Institute of Chicago unveiled its newest exhibition, Onchi Koshiro: The Abstract Prints. Koshiro was a leader in sosaku hanga, a printmaking movement that brought Japan international acclaim after World War II. Decades later, his abstract designs continue to feel relevant—the artistic prints seen on Chanel's and Celine's S/S 2014 runways bear a striking resemblance to Koshiro's work. And thanks to designers such as MSGM and Rachel Comey, who featured similar aesthetics in their 2014 F/W shows, the vibrant trend doesn't seem to show any signs of fading.
Below, we've put together an outfit inspired by Koshiro's seminal prints.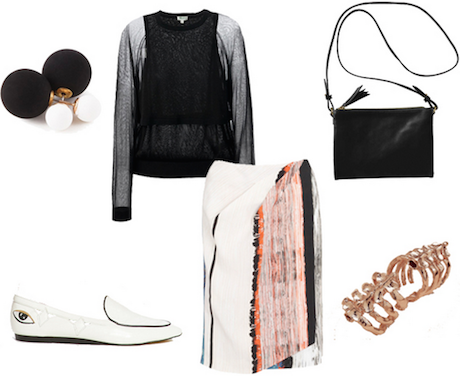 The Look
Sweater, Farfetch ($380.75); printed skirt, Avenue 32 ($268); crossbody bag, Old Navy ($29.94); rose-gold spine ring, Bjorg ($324.53); double-sided earrings, eLuxe ($50); vegan surrealist loafers, Cri de Coeur ($290)
The abstracted print of this skirt mimics brushstrokes, making it the natural focal point of the outfit. It's framed by neutral yet strong pieces, including a sheer summer sweater and cutout loafers. The eye on the heel of the shoe and the skeletal ring introduce a surrealism that feels at home with the skirt's modern print.
BY: Michelle Schuman
Michelle is a freelance fashion designer and dancer from Detroit. She has traveled the US extensively (and loves it!), but her biggest goal is to travel abroad.