Artists of All Stripes Find a Home at the Ukrainian Institute of Modern Art
BY: Collin Brennan |
Oct 1, 2013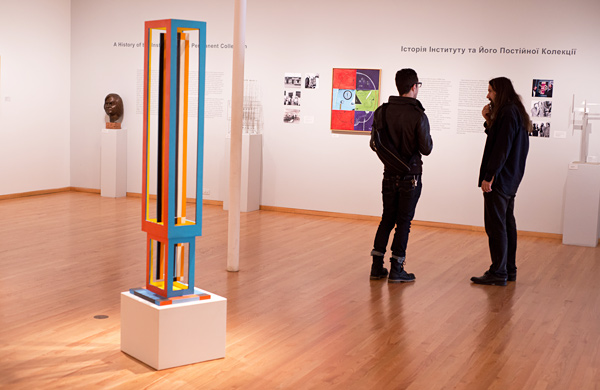 If you base your expectations on the name alone, The Ukrainian Institute of Modern Art (2320 W. Chicago Ave.) is likely to take you by surprise. Though it's located in the heart of Chicago's Ukrainian Village, the two-gallery exhibition space is not dedicated solely—or even mostly—to Ukrainian art.
A quick look around the permanent collection, however, proves otherwise. The walls showcase work created by such non-Ukrainian surnames as Kurtz, Hunt, and Wessels—none of them tagged with a "drov" or an "ovich" at the end. I had arrived for my tour of the museum's
Made in Chicago
exhibit expecting to find immigrant artworks that spoke to the experience of being Ukrainian in the American Midwest. But art has a way of subverting expectations.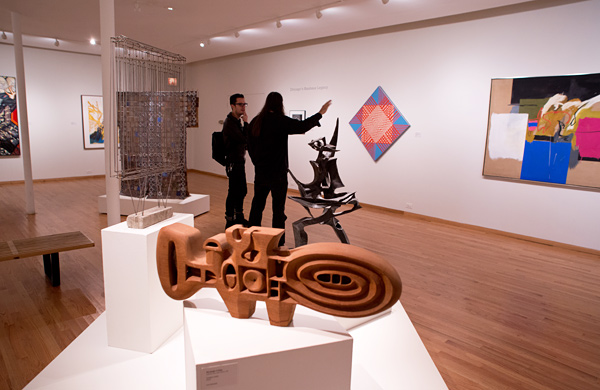 Sensing my confusion, museum curator Stanislav Grezdo was quick to clear things up. "In this exhibition, there are just a few Ukrainian artists," he explained. "Most of them are American." He paused for a moment to consider the distinction. "Actually, the Ukrainian artists
become
American artists. Most of them came here as children, or they were born here, which means they don't really have any kind of connection [to Ukraine]—just their parents, or the things they see at home."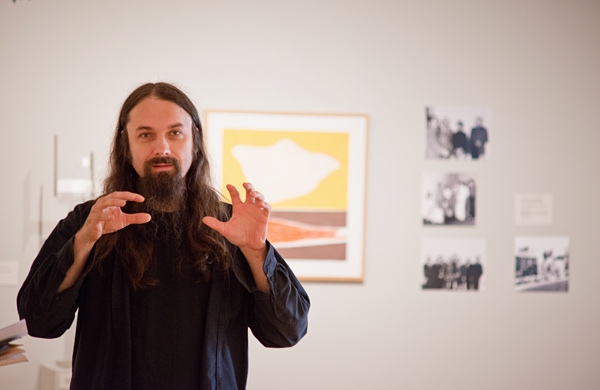 Made in Chicago: A Multicultural Exhibition
The museum's latest exhibition,
Made in Chicago
, is not tethered to a particular theme or agenda. Were all of the artists Ukrainian—given that country's tumultuous political history—this might not be the case. "
Made in Chicago
is exactly what it says [and nothing else]," Grezdo said. When he and the rest of the Institute's 10-person selection committee chose works for the exhibition, they didn't single out Ukrainian artists from their American, Japanese, or British counterparts. The most important thing was that the works were—let's be clear—
made in Chicago
. There was also an emphasis on artists who could have an active presence in the gallery space. "For what I put on the walls [in this exhibition], I tried to choose the more known artists, the artists who are still alive and who can come here and look at it," Grezdo explained. "Do you know Richard Hunt?"—and at this point he gestured to a
massive painted tapestry
on the wall—"He was actually here for the opening."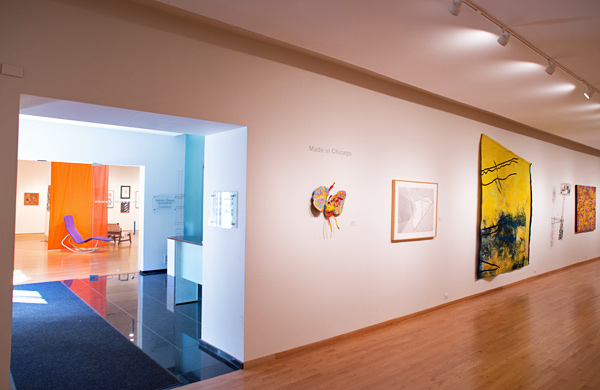 Indeed, many of the artists on display in the museum live and work in the Ukrainian Village, and the Institute has devised a policy for keeping their creations around. After every exhibition, Grezdo asks each artist to donate something to the permanent connection. "This means that all of the people you see here once had an exhibition. And these are the works they've donated. I just ask them—there's no pressure or anything…Sometimes they give me something too big, so I ask for something small to medium [instead]," he laughed.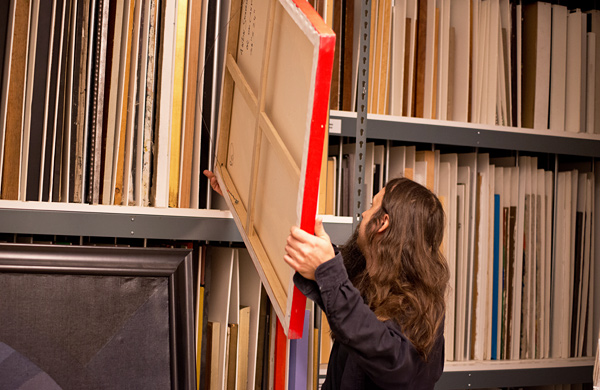 The New Crop of Artists
As we continued our tour, I asked Grezdo if there are still a significant number of ethnic Ukrainian artists living and working in the Village. He paused to consider. "They are kind of over, because now it's 2013 and they are [either] dead or producing the same kind of stuff they [used to]. There are some new, contemporary artists—like that one." He was pointing to a three-dimensional tangle of black cable ties created by sculptor
Eric Gushee
. A part of Gushee's
Emergence
series, this spiraling, cylindrical piece is notable for the tension it creates between chaos and control, as well as for the everyday materials it employs. I asked Grezdo if he noticed any aesthetic differences between new artists such as Gushee and the Ukrainian Village's older guard. "Yeah," he nodded. "I think an example is Eric's piece. Young artists don't buy materials at Blick anymore. They buy them in Home Depot or they find them on the street."
"American, Just like Anybody Else"
Leading me along the gallery's edge, Grezdo made a point to show me some older works that did have Ukrainian ties. One of these was a sculpture by one of the Institute's founders,
Mychajlo Urban
. Though the sculpture's rounded, geometric shapes have the abstract look of a modern artwork, Grezdo asked me to consider the medium itself. "I don't know if everybody will see it, but this is kind of influenced by Ukrainian folk art," he said. "It doesn't really represent anything—it's not a cup or plate, you know—but it's the kind of woodworking they do there."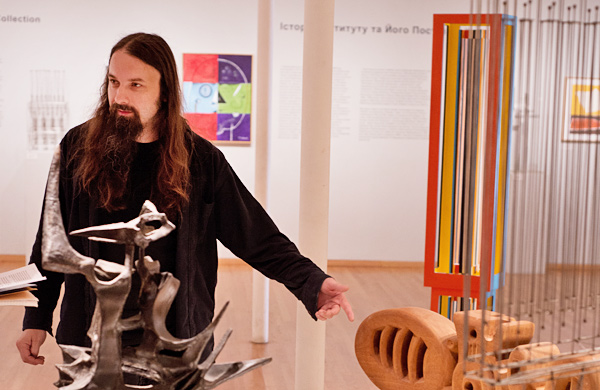 Despite this, Grezdo admitted the difficulty of finding a work in the gallery that was fully Ukrainian in origin. In an exhibition entitled
Made in Chicago
, this shouldn't have come as a surprise. And yet, in a museum called the
Ukrainian
Institute of Modern Art, the lack of actual Ukrainian artworks on display struck me as remarkable. It speaks to how far Chicago has come as a truly multicultural city, rather than a city where many cultures merely happen to be. It also speaks to the process of assimilation—of losing one's culture only to gain a new one. "You know, many of the artists here…they don't really know how it is living in Eastern Europe," Grezdo reflected. "They don't remember or they never were there. They have parents who taught them the language, but they are American, just like anybody else."
The Ukrainian Institute of Modern Art is open to the public from noon to 4 p.m. on Wednesday–Sunday.
Made in Chicago
will be on view through January 29, 2014. Admission to the museum is free; donations are accepted.
Photo: © Timothy Burkhart, Groupon