GROUPON GUIDE TO SAN FRANCISCO
Asian Desserts in SF: Where to Find Unique Treats in the City
BY: Anita Chu |
Mar 24, 2014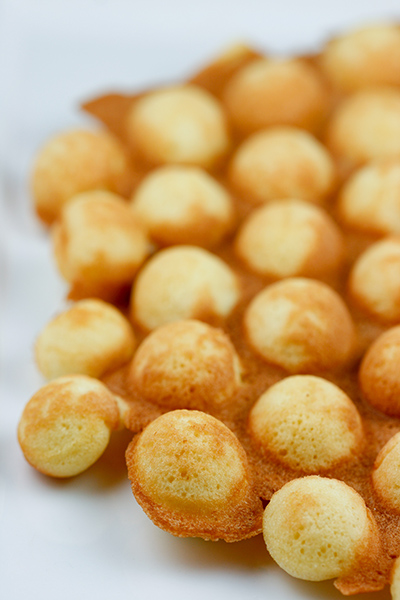 San Francisco loves its sweets – from croissants to cupcakes to ice cream to macarons, there's a shop to satisfy any sweet tooth. However, there's a whole series of cafes and bakeries out in the Richmond and Sunset districts, on the west end of the city, that serve a variety of Asian desserts unfamiliar to much of the San Francisco population. Many of these desserts are popular in their countries of origin, and have been brought over by immigrants hungry for a taste of home. For your next dessert try something a little different – you might find a new favorite!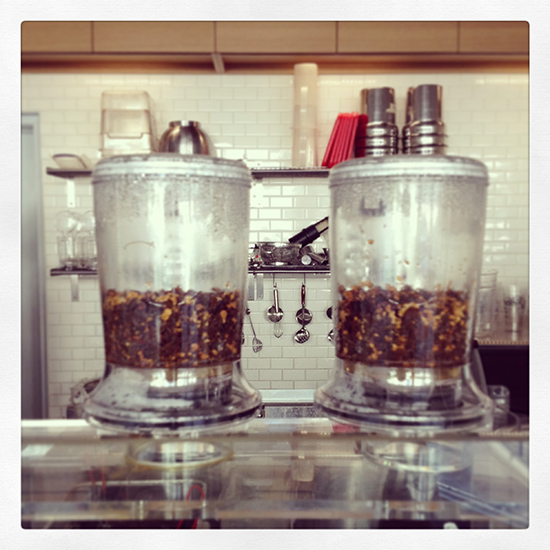 Bubble tea: This Taiwanese drink goes by several names, including pearl tea, boba tea and tapioca tea; they all refer to the chewy tapioca balls, or "pearls", that float in a sweet milk tea. Drinking and chewing simultaneously is an interesting experience, one that can quickly become addictive. The classic version of bubble tea is black tea mixed with milk or creamer, served cold and over ice, but it also comes in enough varieties, from fruit flavors to icier "slushies", to warrant return trips in order to try everything. The customization options are endless: different teas, different tapioca pearl sizes and flavors, even different level of sweetness and ice. It's Starbucks taken to the next level. Similar to coffeehouses, bubble tea shops can be found all around San Francisco. Try the Boba Guys in the Mission District; they are using local sources and quality ingredients to create the next level of bubble tea.
The Boba Guys 3491 19th St. San Francisco, CA 94110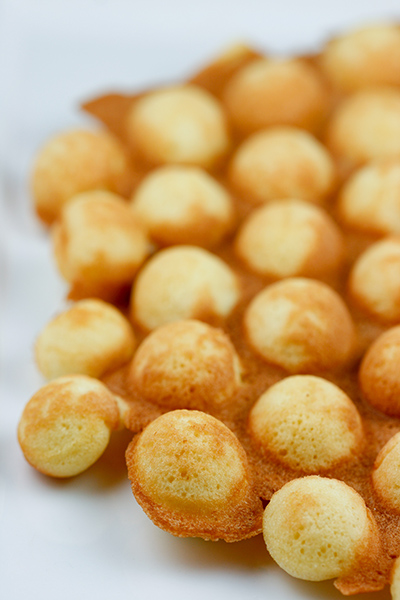 Eggettes: These cute little pastries are called daan jai, or "little eggs" in Hong Kong where they come from, so eggettes is a perfectly literal translation. They are also often called egg puffs or egg waffles. Taste and texture wise, they're a cross between waffle and pancake, a golden bubbly sheet of sweet, soft puffiness. Eggettes are a classic street food in Hong Kong, and as such they are best eaten very fresh and hot. Each individual eggette is meant to be torn from the whole sheet, making them a perfect snack for sharing. Originally they were made plain, with the sweet flavor coming from the eggs, sugar, and evaporated milk, but today eggettes come in flavors ranging from chocolate to green tea, and are often offered with toppings like ice cream and fresh fruit as well. Still, the best way to experience them is plain and simple. Many Chinese dessert cafes offer eggettes, but the best I've found so far are at a shop very appropriately called Eggettes. Their plain and coconut versions are especially good.
Eggettes 3136 Noriega St San Francisco, CA 94122
Honey Toast: Toast is the latest food to get the artisan treatment in food-crazy San Francisco, but the Japanese have been doing gourmet toast their way for quite a while. Called "honey toast" or "honey brick toast", this dish is gloriously over the top, visually impressive, and best enjoyed with a group. It consists of a loaf of bread (soft, thick, and fluffy white is preferred) which is hollowed out and drizzled with melted butter and honey. Often the center piece of bread that was taken out is cut into cubes, toasted, and then put back in the middle. The entire affair is then topped with ice cream, fruit, whipped cream, and almost any other topping you can imagine.  Honeyberry offers several tempting versions of honey toast; give their famous sweet roti buns a try as well.
Honeyberry 1915 Irving St San Francisco, CA 94122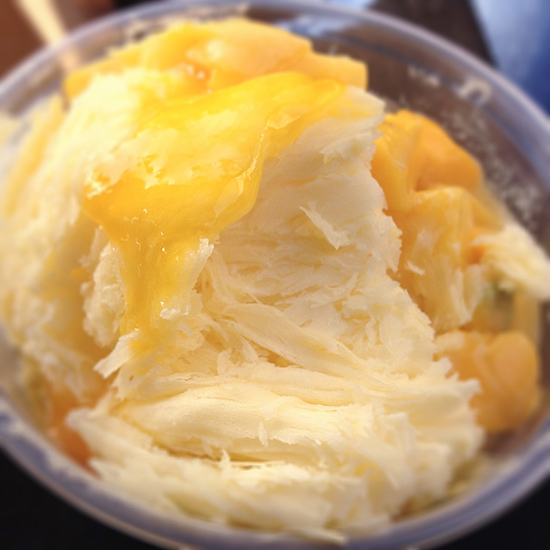 Snow Ice: Shaved ice desserts are popular all over Asia, but snow ice is a Taiwanese iteration that's made its way over to the US. The shaved ice that most people know is like a snow cone – ice crystals mixed with flavored syrups. Taiwanese snow ice is totally different: the water is mixed with milk or cream and sugar, frozen into a solid block, and then shaved into long ribbons, instead of little crystals, using a special machine. The piled-up ribbons of snow ice look like art, but they have an astonishingly light and fluffy texture, almost like eating snow. Snow ice comes in several flavors and numerous topping options, just like ice cream. One of the best places to try this frozen treat in the city is Dessert Papa, a sweet little café in the Outer Sunset with a wide menu of Asian desserts.
Dessert Papa 2255 Judah St San Francisco, CA 94122
Sweet Dessert Soup: Most people think of hot soup as a savory appetizer or main course, but sweet hot soups, called tong sui or "sugar water", are a Chinese dessert staple. They are typically made from nuts and sweet beans like almonds, walnuts, peanuts, and red (adzuki) beans. These soups are thick and smooth in consistency, and sometimes mixed with clear pearl tapioca or whole beans.  Warm, rich, not overly sugary, and a comforting end to a chilly night. For first-timers, sweet almond or sweet peanut soup are classic favorites.  Golden Island Café has an extensive selection of sweet dessert soups, along with other traditional Chinese desserts.
Golden Island Café 1300 Noriega St San Francisco, CA 94122