Ask an Insider: Chicago Music Critic Jeremy D. Larson
BY: Dan Caffrey |
Apr 15, 2013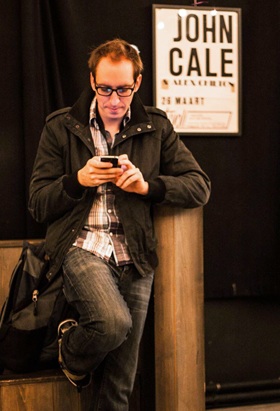 Founded in 2007 by CEO and Publisher Alex Young and Editor in Chief Michael Roffman,
Consequence of Sound
had humble beginnings. But what was once scattered over several cities and run by an ever-changing roster of writers now has roots firmly planted in the Chicago soil, with more than 50 permanent writers, editors, graphic designers, and photographers uploading content by the hour.
Jeremy D. Larson
serves as managing editor and has brought several innovative features to the site, including the long-form writing section,
Aux.Out.
In "Ask an Insider," Jeremy gives us some insight into his process as a critic, his tastes, and his questionable record-buying habits.
How did you get started writing about music?
One day while I was standing silently upstage during a production of
All's Well That Ends Well
set in World War I, I realized acting was kind of joke for me so I started to focus on writing. Three years ago I was writing news stories for Consequence of Sound, then started to write reviews and features, and eventually became an editor, and now I'm the managing editor of the site. I write for other publications on occasion, including
Vice
,
Paste
, and The Classical, and I also take many photos at concerts and around Chicago. I live in Chicago in a small apartment and much of my work that has been published online has been written while wearing track pants.
Is there an album you've reviewed that you've since changed your opinion on? Do you wish you could go back and rewrite it?
I'm not sure if I should tell you this? But a thing about critics is that they can't admit they are wrong about anything...That said, [my assistant] Kyle once told me that he thought I was too hard on Beirut's last album,
The Rip Tide
. He says that I listen to it and sing it all the time and that my review nitpicked Beirut's aesthetic as opposed to focusing on how the horn arrangements took a perfect step forward from their Eastern European influences into a perfect pastiche of modern indie chamber pop. See? Everyone's a critic—even stupid Kyle.
Name something about a local music venue that most fans don't know.
Swerp Mansion
is this DIY space that doesn't publicize its address and goes by the old motto, where if you want to find out where a show is, just ask a punk. (Or you can email them, or you can use the Internet. The address is out there.) But it's an all-ages space, no alcohol or drugs or a**holes (the prohibition of the first two usually prevent the third, to be perfectly honest). If you want to go see some young punk/hardcore bands, it's one of the best places in Chicago. Just ask a punk.
JEREMY'S LOCAL FAVORITES:
Chicago bar with the best jukebox:
Delilah's
. "You can listen to every Rocket from the Crypt album there, I think."
Record shop at which he's most likely to blow an entire paycheck:
Reckless Records
and
Dave's Records
, for used Chi-Lites and Temptations.
The one piece of vinyl he's wanted to buy, but hasn't because it's too expensive:
The Dillinger Escape Plan's
Calculating Infinity
, "on puke-colored vinyl."
Guilty pleasure at karaoke:
Our Lady Peace,
"Somewhere Out There."
Favorite lunch spot near the CoS headquarters:
"I do a lot of my work from the
Next Door café
because they have [locally roasted]
Bowtruss coffee
, the best, best coffee."
Favorite post-work watering hole:
Town Hall Pub
on Halsted.
Favorite place for a late-night meal after a concert:
"7-11 to get some Bold Chex Mix and a Starbucks coffee drink."
Best cover song you've seen played in the city:
"Ty Segall, playing 'Dirty Deeds Done Dirt Cheap' twice (two times) in one show at the
Empty Bottle
. The look on the drummer Emily Rose Epstein's face when he said he wanted to play it again was priceless."
Best Chicago band you discovered after moving here:
Pinebender (R.I.P.), the Atlas Moth, and King Louie.
BY: Dan Caffrey
Guide Staff Writer
Outside of Work, Dan is a playwright, Senior Staff Writer for Consequence of Sound, and contributor to The A.V. Club.