Manicures So Good, They Were in a Museum
BY: Kelly MacDowell |
Feb 10, 2014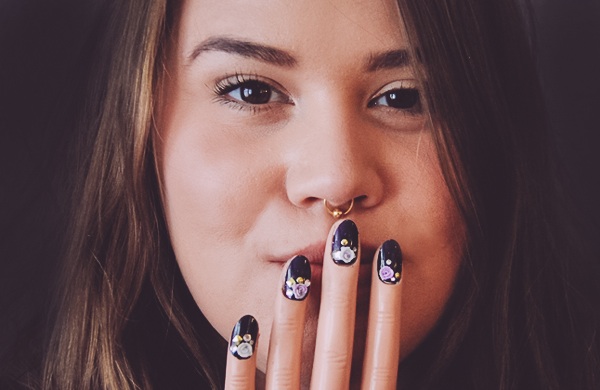 When you ask Ashley Crowe to do your nail art, you'd better have a creative theme ready. She's already done Basquiat and Missoni, so I went with Alfred Hitchcock.
One of my friends once went to Ashley Crowe for a manicure inspired by The Shining. She walked away quite satisfied, with the Overlook Hotel's memorable carpet pattern painted on her nails.
Now that it's time to get my own custom manicure, though, I don't know what to suggest.
"Well, what do you want to do?" Ashley, known to her fans as AstroWifey, asks me.
The endless possibilities make it hard to focus. "I really like Hitchcock movies," I offer. "Maybe something with The Birds?"
"Ok, cool," she says. Then, without missing a beat, "Did you know that Tippi Hedren was really involved with starting nail salons in America?"
It's some kind of weird manicure kismet.
Nail Art, Emphasis on the Art
Ashley's concept nail art has been exhibited at the Museum of Contemporary Art. She's renowned for her intricate, one-of-a-kind manicures, all of which are based on a theme of her client's choosing.
I can only hope that I chose wisely.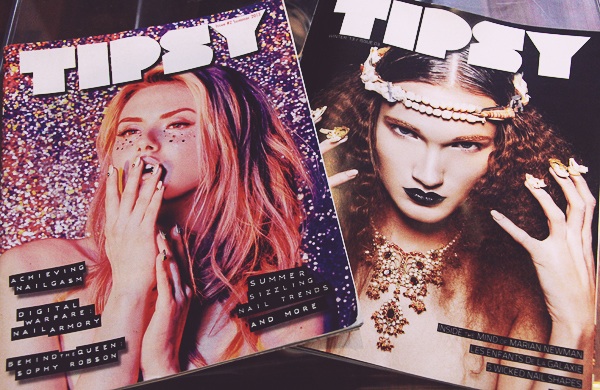 As we sit down at Ashley's manicure table, I see three issues of Tipsy tucked beneath the glass top. Ashley publishes the magazine here in Chicago, then distributes it internationally. When it first came out, it was the only zine in the country dedicated to nail art—the kind that goes beyond snowflakes and chevron stripes into museum-worthy territory.
The most recent issue, for example, features international artists painting nails to look like unnervingly realistic x-ray scans, and affixing actual lizard bones to models' fingertips. These aren't the manicures you'd wear in waking life, and they aren't DIY-friendly. They're the stuff of surreal dreams.
A Portrait of the Artist as a Young Woman
My manicure, however, starts simply enough: Ashley paints on two coats of white, no-chip polish. As she works, she explains how her interest in nail art progressed from a more traditional sort of creativity.
At 17, already an accomplished drawer, she earned a spot in a competitive after-school program that had a painting curriculum. She liked painting, but was "overwhelmed by canvas…It always felt a little too large, and I didn't know how to come up with big enough ideas."
She soon realized that fingernails, far too small a backdrop for most artists, were just the right size for her work. So, she practiced painting techniques on her hands (her very first design was an homage to Keith Haring). When people began to comment on her nails, she started a blog that documented her designs. And when her readers demanded designs of their own, she obliged—she enrolled in nail school, honed her skills in a salon, and finally set up her own studio.
From a Manicure Studio to the MCA
To paint Birds-inspired designs over the white base coat, Ashley swaps the nail polish out for acrylic paints. As she sifts through a set of paintbrushes, she tells me about her involvement with the interactive MCA exhibit Homebodies.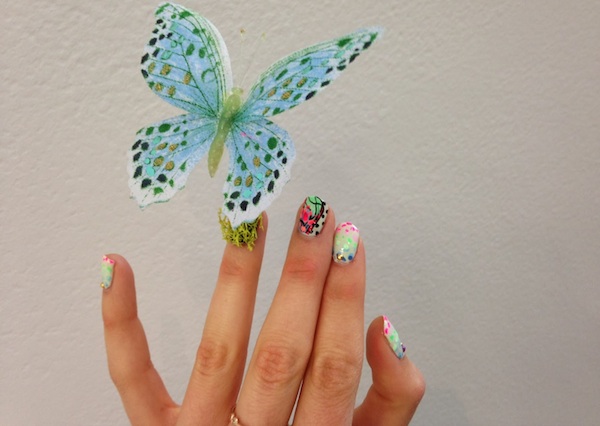 Ashley partnered with artist Dzine to replicate the living room where his Puerto Rican mother had performed nail services. The interactive element was Ashley herself: amid shag carpeting and plastic-covered furniture, she gave conceptual manicures akin to those photographed in Tipsy. The exhibit's organizers even encouraged her to turn people away if they weren't willing to embrace an avant-garde design (like the one pictured above, which Ashley created for the exhibit).
"[I did] just the craziest things you could think of," she says. "And that was definitely a learning experience for me…[having] 100% true creative control [to] go really extreme, without any boundaries." As a result, people walked away with wire-wrapped faux bird eggs on their thumbnails and acrylic spirals extending from their pinkies.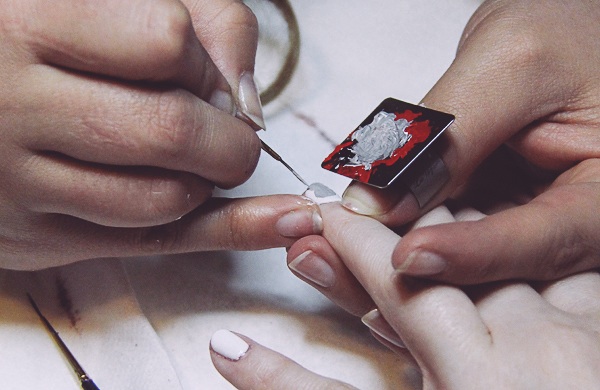 As she sits opposite me, perched over the manicure table, I can see the natural artist in her. With paint-splattered sleeves pushed up, she uses hair-thin brushes to pull colors off a tiny palette that she's hacked into a ring. Her barely visible brushstrokes eventually transform into black birds and, on one finger, Hitchcock's famous silhouette.
Nails as Unique as Their Fingerprints
To complete my manicure, Ashley pulls out cases loaded with hundreds of gems. She admits to spending hours online shopping for them, and sometimes visiting New York's Garment District to refresh her supply. "I feel like [gems] take most pieces to the next level," she says. "And you don't just stick them on, it's all about balance, like in any piece of art."
The 3D embellishments make Ashley's projects all the more unique, which is a label she covets. She's taken a firm stance against recreating other nail artists' designs, and urges her clients to think outside their Pinterest accounts so that they can collaborate with her on something new. The process is rewarding for both parties—several people have peeled off their designs to save as keepsakes. "It might sound weird, but I've done the same thing," Ashley says. "It's like a postcard to me from that nail artist."
Once my nail art is complete, I understand the instinct. My hands somehow capture the thrilling atmosphere of an entire film, with Pollock-esque splatters set over careening birds, and the movie title emblazoned in gray across three fingers. These little "paintings" would fit perfectly on my wall (next to my Hitchcock Film Festival poster).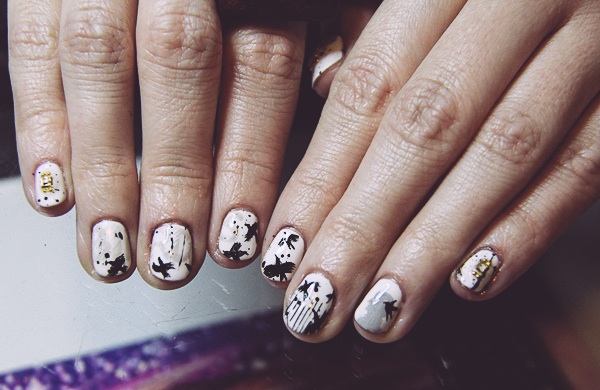 Find deals at Chicago nail salons with Groupon.
Photos by Stephanie Anderson, Groupon