What to Expect at a Murder-Mystery Show
BY: AIMEE ALGAS ALKER | 5.4.2016 |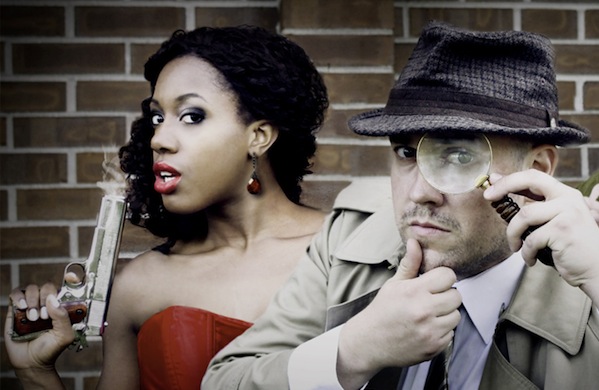 As you walk in, you're greeted by a woman in a fringed flapper dress, her bob, her lilting voice, dripping with 1920s style. She eyes you suspiciously, but you're not sure why—has the show already started? Are you running late? Do you have lipstick on your eyebrows? Or is it because she's marked you as a cold hard killer? If you've never attended an murder-mystery dinner before, consider this lesson one: everyone's a suspect from the moment they walk in the door.
Below, we talked to Michael O'Hair, a cofounder of The Murder Mystery Company, who had some more tips to help murder-mystery newbies make the most of their experience, and maybe even solve the crime.
Play along
Audience members are usually encouraged to dress in accordance with the theme. It definitely helps with the immersive experience, but at The Murder Mystery Company's events, those with standout costumes also garner Best Costume awards and accolades in front of the rest of the house.
Another reason to dress the part? "At least one person from each table will become part of the cast," Michael said. Before the show begins, actors mingle with the audience, going from table to table. As they do this, they choose members of the audience to play a part in the mystery. Each new cast member will receive a briefing on the character they'll play and should prepare for two things: being interrogated by the detective and accomplishing assigned objectives, such as slipping someone a note or confessing love to another character. If you're interested in playing a role, have someone else in your party nominate you. If it's a special event, let the staff know ahead of time and they'll try to accommodate you.
Look for clues between courses
Between courses is when the audience should observe the action, which can take place just about anywhere in the room. But during each course, audience members can take the investigation into their own hands. During these "interactive" portions of the show, Michael highly recommended getting up and talking to the actors, asking them questions, then sharing what you learn with your group.
When it's time to eat, players can also expect cast members to join them at the table. That way, they can continue to collect information while still enjoying their meal and grilling their entree about its whereabouts earlier in the evening. Think you've solved the crime? Take another look at the evidence. Michael stressed that it's almost impossible to pinpoint the guilty party early on, but even if you do, you'll need to know how, when, and "why on earth" they'd commit the crime.
Be a supporting player, not the star
While audience members are encouraged to ask questions and play along, basic dinner-party etiquette generally still applies to ensure everyone has a good time and a chance to ask questions. "Random blurting is OK," Michael said. "We want people to have fun and really be a part of the show. But don't try to drive the show to a certain point." And if you must randomly blurt, keep it PG-13. That means no curse words. One last rule: no nudity. (Michael's seen it all—"literally.") Photo courtesy of The Murder Mystery Company
There's a first time for everything, but check out our guides before you go:
| | |
| --- | --- |
| | |
| How to Eat a Whole Fish | Everything You Need to Know Before a Night at the Opera |
BY: Aimee Algas Alker
Guide Staff Writer
Though Aimee stays up to date on the latest food trends for the Guide, most of her meals are served cold and cut into tiny, toddler-sized bites.