At Home With Restaurant Designer Nicole Montgomery
BY: Amanda Nyren |
Sep 16, 2013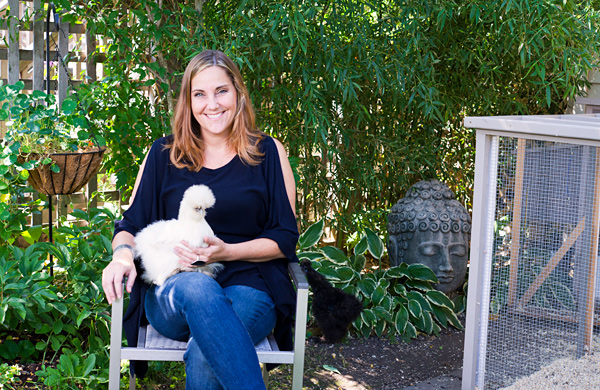 She may have expected the customary chocolates and flowers, but on Valentine's Day 2012, restaurant designer Nicole Montgomery got two prize-winning chickens instead. The chickens—Henrietta and Pickles, both silkies—were a gift from Nicole's partner, contractor Bob Cahill. The chickens were selected for a very practical reason: to provide fertilizer for Nicole's organic garden, where she grows 11 different hot peppers for her hot-pepper jelly alongside seven kinds of heirloom tomatoes. But they've since become part of the family, along with Magritte, Nicole's 18-year-old border collie and sheltie mix.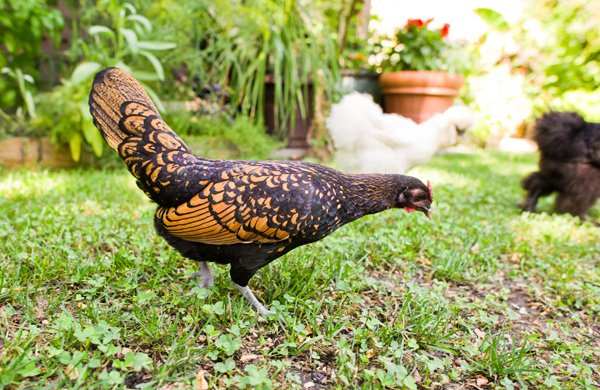 Nicole and Bob first met in 1994, when he brought her vision for the high-concept River North nightclub Voyeur to life. Since then, the couple has worked together on a number of projects, including DePaul cocktail bar
The Drinkingbird
(2201 N. Clybourn Ave.), but lately, they've been collaborating on one key property: their Peterson Woods home. In the six years since Nicole and Bob moved into the octagonal bungalow, which was built in 1923, they've renovated it slowly but surely. "[The project] comes last because work comes first," says Nicole. "It's kind of like [a] 'the cobbler's children have no shoes' thing." You wouldn't know it upon entering the home's living room, which explodes with artwork. Nicole, who completed her BFA at the University of Illinois at Urbana-Champaign, made several of the pieces herself—including a painting of Magritte and a collage of deer silkscreened on pages from old Japanese books.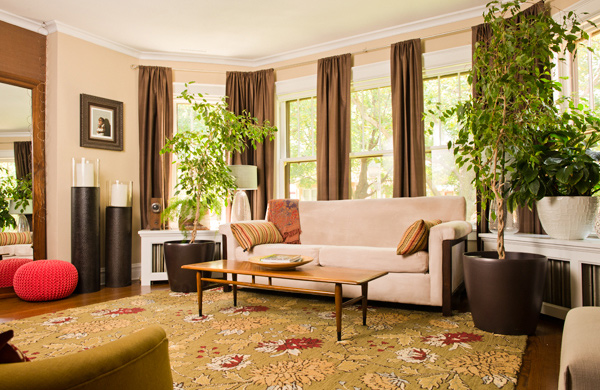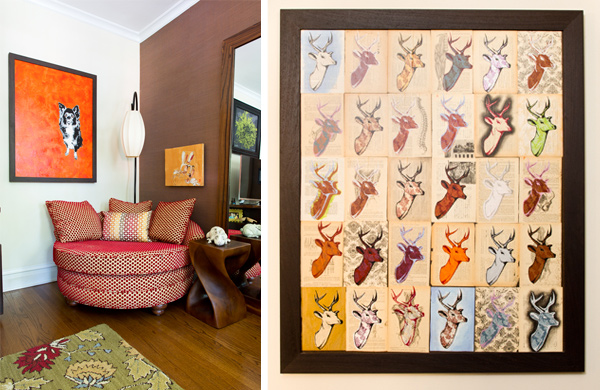 Nicole boldly mixes patterns in the adjoining dining room, but she keeps the look sane by sticking to a single color scheme and anchoring everything around the clean lines of midcentury modern furniture.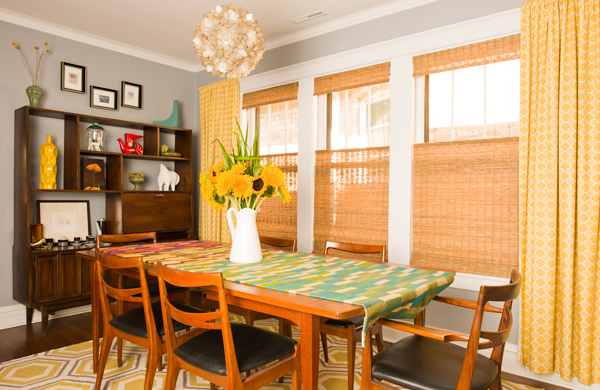 The dramatic French billboard was a gift from Lincoln Tap Room's owner, who rescued it from the collection of his late father, Erwin Saulk. "It's a refrigerator ad," Nicole says. "There's a bunch of 'em I've got [in storage]. I've got an Evian one. It's huge. I'm really looking for the perfect restaurant project [for it]."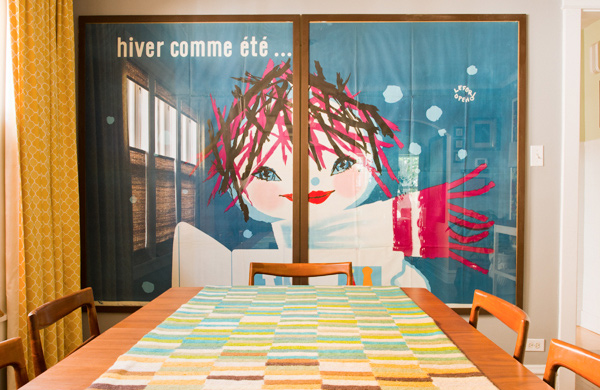 Nicole and Bob strive to keep their renovations as subtle as possible to honor the heritage of the home's design. The first-floor bath, however, required a total gut rehab due to plumbing issues. Ever the archivist, Nicole saved all the fixtures and stashed them away in the home's basement for use on a future project. "I really appreciate them," she says. "If there had been a way to update this bathroom and keep that tile, I would have done that."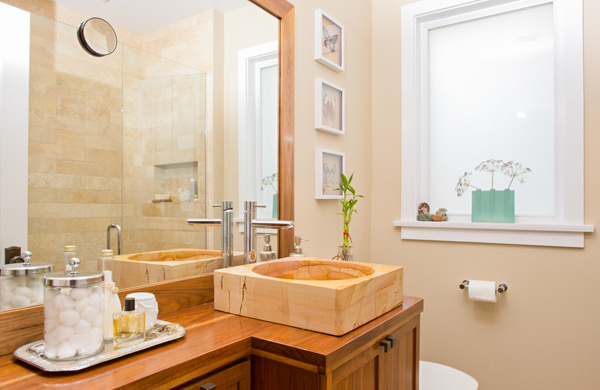 Currently, the biggest changes are happening upstairs, where Nicole and Bob are transforming attic space into a design studio for Nicole. In addition to skylights—"we're big fans of the skylight"—they're adding a rooftop patio where Nicole can hold brainstorming sessions.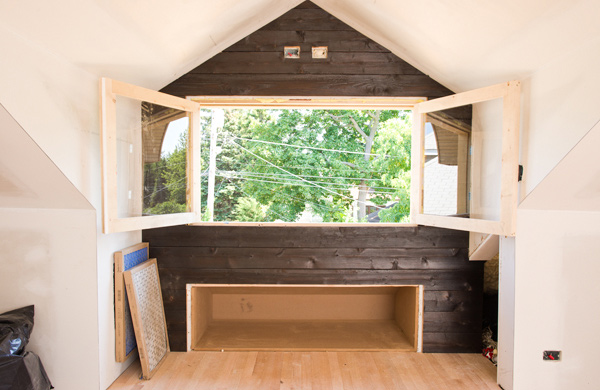 Nicole lights up when describing the yakisugi technique she's applying to the studio's garden-facing wall. The treatment involves charring planks of wood, in effect sealing them with fire—no stain, varnish, or paint necessary. She compares the resulting crackled texture to alligator skin and eagerly does a demo on a cedar plank in the alley behind her garage.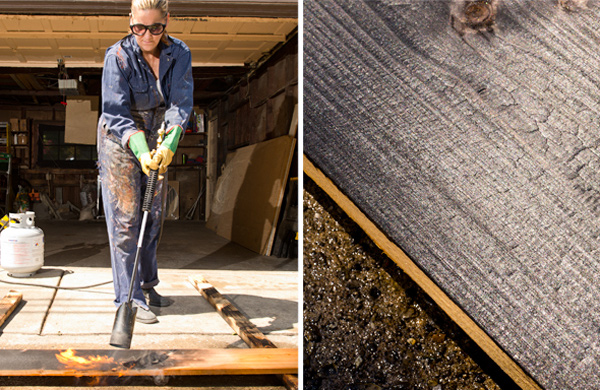 For Nicole and Bob—a couple whose idea of Valentine's gifts is a pair of chickens—the unconventional treatment is par for the course. "Bob and I are very like-minded in our creativity, so we really like to explore, and we take chances," Nicole says. Such are the rewards of doing your own renovations. "The house is in a constant state of flux," she says, but she likes it that way. "I don't have to worry about someone else's opinion."
Considering doing your own home renovations? Take a tip from Nicole:
Take Your Time With Big Decisions
"Our kitchen is one of the last rooms on our to-do list, but I began designing it as soon as we bought the house," says Nicole. "It's probably good that we waited. It has given us time to settle into the house and get a better sense of our needs—how we live, how we entertain—and how to best facilitate them in the space." For instance, to compensate for a lack of natural light without compromising privacy, the couple plans to install industrial transoms around the ceiling. They'll also install foot pedals for the faucet, inspired by Nicole's work in restaurant design.
Follow Your Whims
The dining room has been painted three different colors since the couple moved in, changing as Nicole has transformed the room. "That's the beauty of paint," she says. "It's easy to change." Nicole usually picks neutral colors for walls, and then adds texture and color with furniture and accessories. But that's not always how things work out. "In the case of the dining room, I needed something with a bit more punch to hold up to the wallpaper and the art."
Save on Salvaged Furniture
"Salvage and vintage stores offer unique options," says Nicole, who swears by
Direct Auction Galleries
(7232 N. Western Ave.). "You may have to look past the current condition of a piece to see the true potential through the transformation of paint and upholstery." Nicole is also a big fan of
Horigan Urban Forest Products
(7555 St. Louis Ave. in Skokie), who can be enlisted to take down a tree on your property if it's diseased or in the way of a planned renovation, and then process that tree into wood you can use for flooring, cabinetry, or furniture. She called upon Horigan while designing a library within a bar and restaurant in Glenview, where she had shelves built from wood felled nearby. "I wanted to put little brass plaques on there with the address of where the tree came from."
Splurge on Art
Nicole regrets only two things in her life, and both are instances where she passed on pieces of art: one, a Donald Roller Wilson, the other an Igor Melnikov. "Look for what makes you happy! Art should evoke an emotional response," she advises. "Don't immediately disregard a piece because of cost, too high or too low. In the case of too low, you may be getting in at the ground level on the next great American artist, and in the case of too high, hopefully the piece will appreciate in value." To score great art in Chicago, Nicole recommends the
Guerrilla Truck Show
and
Expo Chicago
, as well as the multitude of summer art fairs around the city and suburbs.
Photo: © Andrew Nawrocki, Groupon