At Home with Son of Søren Designer Suzie Sorenson and Artist Russ White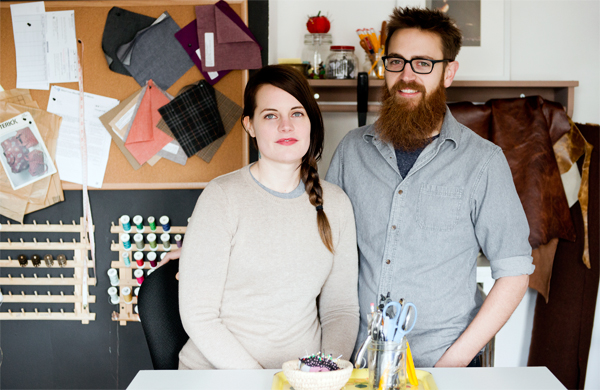 Suzie Sorenson is done working in the dark. When the
Son of Søren
menswear designer first moved into her Humboldt Park home with her husband, artist and furniture maker
Russ White
, she was stuck completing her designs in a small alcove opposite the dining room. Though the alcove now makes a cozy sitting room, it was a less-than-ideal studio, with no natural light and very little room for Suzie to cut fabric and sew. Even worse, the room's position in the house made it all but impossible for Suzie to mentally separate her work life and personal life—a problem the couple is particularly sensitive to since they both work out of their home. "I was using the dining room table as my cutting table," she says. "It was like I was living at work." So Russ suggested converting the upstairs guest bedroom into Suzie's new office. Today she works at a large white worktable—modified by Russ to fit her needs—facing a bank of windows that let in some great natural light. Behind her is a pin board of fabric swatches, spools of thread, and leather remnants, and to her right is a chalkboard wall that acts as a backdrop for all her product images.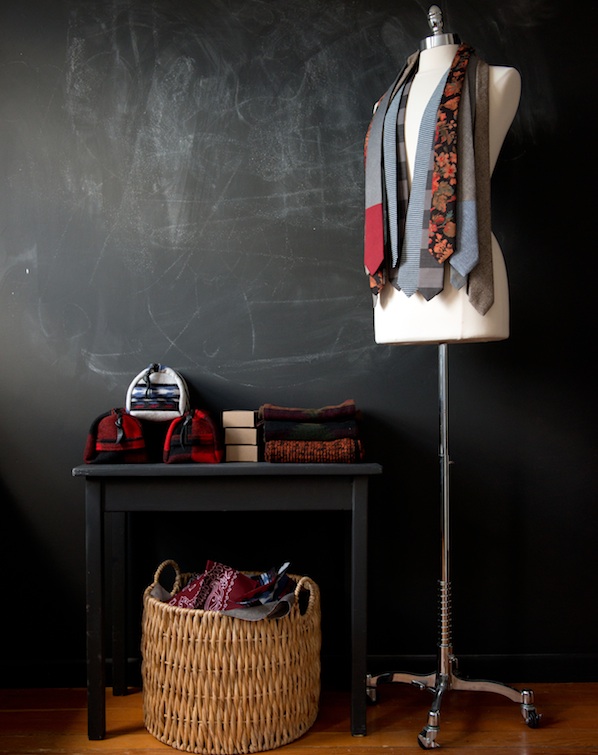 The fix was just what Suzie needed to be able to concentrate on the knit scarves, handmade ties, and flannel dopp kits that fill her online store and
Etsy shop
, most of which possess the simple, clean look of the studio itself. "I like classic shapes. I like good tailoring," Suzie says. "Not a lot of color and stuff. Plaid."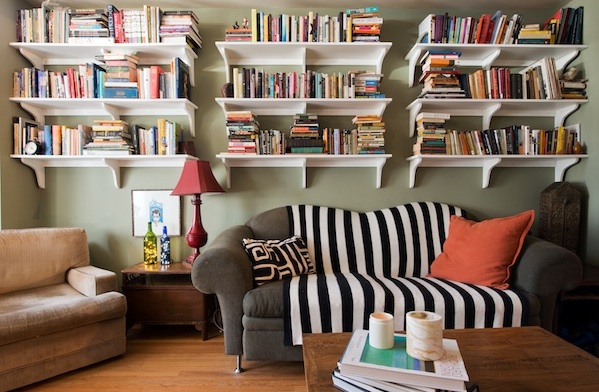 The idea for the studio switch wasn't Russ's only contribution to the house. In some rooms it's hard to turn your head without spotting his handiwork. One of the first things he built upon moving in was shelving for the couple's sizable book collection, now the focal point of the living room.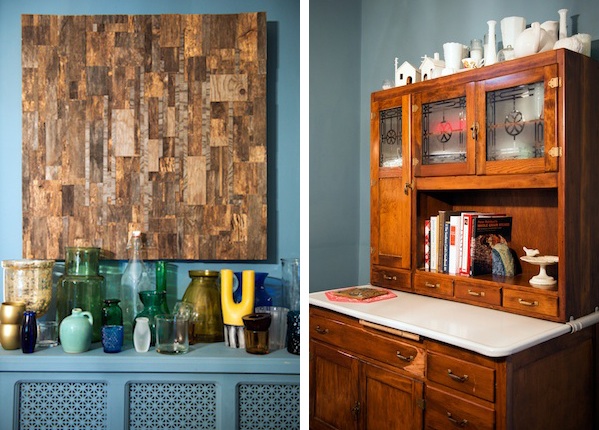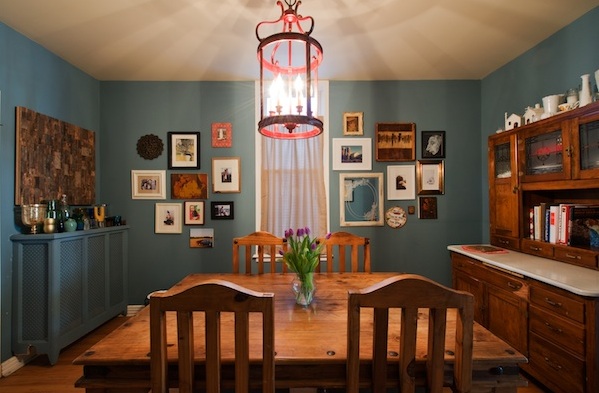 Russ's contributions aren't purely utilitarian—he also made the wooden sculpture in the dining room (top left). The hutch on the right came from Suzie's parents, who purchased it when they were newlyweds. Together with the sculpture and dining set, the dark wood of the hutch creates a pleasant dichromatic color scheme against the cerulean walls, with a splashy red chandelier as accent.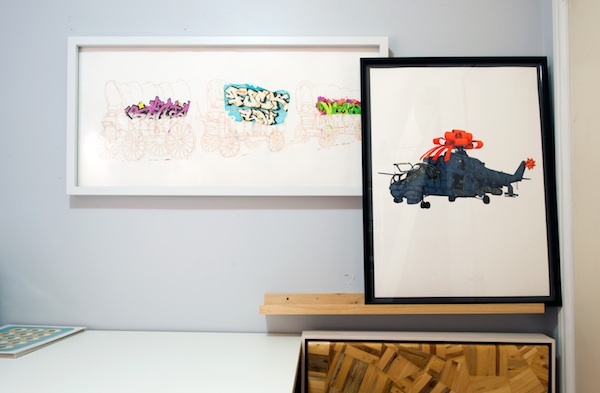 Off the living room, the door to Russ's office reveals a bare-bones setup with just a couple of drawing tables he built himself. Lately he's been busy with a new series of drawings he calls "
Vehicles
." "I've started thinking that vehicles are sort of interesting as stand-ins for people, institutions, and ideas—cop cars, school buses, military vehicles," he says. The ink drawings depict each vehicle with a strange feature: a jet fighter with male genitals, for instance, or a helicopter with blades tied into a giant ribbon "like a new car kind of thing." With two creative people working out of the same home, it's easy to get distracted, so the couple has a system. "We try to leave each other alone until dinnertime, with Suzie upstairs and me downstairs," Russ says. "Suzie's a morning person and I'm a night owl, so sometimes one of us is working while the other sleeps." But they don't want to keep out of each other's work completely. "We put our heads together on everything," Russ says, "and our tastes heavily influence and are influenced by each other." Suzie adds, "I feel like he's gotten more loose because of me. I'm always like 'Get weird. Get weirder. Get out of your head for a minute.' And in turn, he [says to me], 'Take a minute, take a breath, think about your next step. Reel it in.'" Around 4 or 5 p.m. they call it a day, opening a beer and rolling the coffee table out of the way to make room to play with their dog Walter ("Shit can get crazy," Russ explains). These breaks can be short-lived. "We're kind of always working," Suzie says. But they don't see that as a bad thing. When asked how the two keep home and work separate, Suzie laughs and says, "It's probably unhealthy." She's quick to clarify though. "This is what we want. We want to be doing this, all the time."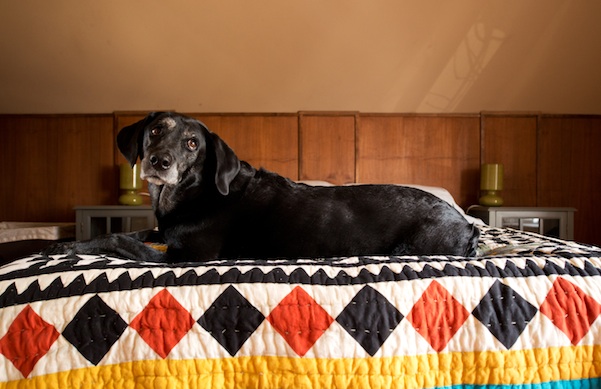 Photo: Andrew Nawrocki, Groupon