Atypical Theater: WildClaw Theatre Conjures Terror on Chicago Stages
BY: Dan Caffrey |
Apr 16, 2013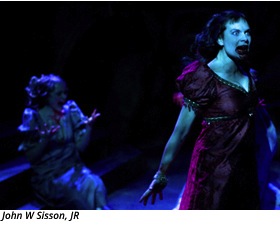 In Atypical Theater, we cover a local company that bucks theatrical convention. It may be in the type of work they do, the way they do it, or their inventive use of space. This week, we talk to Brian Amidei, managing director of WildClaw Theatre, a collective dedicated to bringing horror and the supernatural to the stage. On top of cultivating a constantly growing audience, the
Chicago Tribune
has commended them for being "the only Chicago theater company to specialize in this particular genre." As WildClaw likes to put it, "We take our horror seriously. And so should you."
Brian Amidei is enjoying an afternoon beer, but he's worried about tentacles. "That's a sore spot for us," he says. "Onstage, [they're] surprisingly difficult to pull off." The tentacle issue comes as no surprise. As Chicago's only
ensemble
that exclusively produces horror theater, the folks at WildClaw Theatre worship at the altar of H. P. Lovecraft, among others. Their second production was an adaptation of his short story "
The Dreams in the Witch House
,"
and this winter, they'll bring his infamous novella
The Shadow Over Innsmouth
to the stage in an adaptation by local playwright and WildClaw literary manager
Scott T. Barsotti
. "It's about a little port town in in Massachusetts that is overrun with fish people," Amidei says. "There's an argument on are we going to have dedicated fish people, or are we going to have fish people double as townspeople? These are the kinds of conversations we have." It's a strange thing for any theater company to discuss. Then again, WildClaw isn't just any theater company. Founded in 2008 by Charley Sherman, WildClaw has accomplished the challenging goal of appealing to non-theatergoers. Amidei explains the business model: "If you look at horror movies, they're number-one every week they come out. There's a community of people that will go out there without thinking twice. We identified that population immediately and thought if we could get them to go to theater, that's a brand new audience." But even the most rabid horror fan may find themselves shocked by a WildClaw show. At last season's
Kill Me
, a Barsotti original about a woman who constantly attempts suicide because she doesn't think she's going to die, I witnessed an intense reaction firsthand. In one scene, the protagonist slowly slices her thigh with a razor. The blood effect was so drawn out and realistic that it caused the woman sitting behind me to repeatedly kick my seat in a fit of squeamishness. Amidei does me one better. "We had a full grand mal seizure happen during [that] show," he says. "A dude who had no history of epilepsy—he went from the theater to the hospital. They kept him there for 24 hours. The doctor told him that he was so into the play, we short-circuited his brain." He pauses for a moment. "I want
that
on the poster." Amidei's wife, Allison—a writer, costume designer, and makeup artist who also now serves as WildClaw's artistic director—is usually behind these cringe-inducing effects. One particularly proud moment came during the company's first show, an adaptation of Arthur Machen's seminal work
The Great God Pan
, where an actor slit his own throat onstage. The production team accomplished the effect with an elaborate chair rig connected to a fire extinguisher filled with blood. "That worked about 75–80% of the time," Amidei chuckles. "But there were a couple of times where he would slash his throat and his kidney would explode." When asked about the amount of spectacle in the upcoming
Shadow Over Innsmouth
, Amidei is cautiously optimistic. "I'm not going to promise tentacles, but I will say right now, in April, that for our winter show, we hope to have tentacles. But I don't want anyone to get their hopes up too high." We won't, even if WildClaw's work so far gives us every reason to do so.
Fun and Disgusting: Five More Facts About WildClaw
Mixed media:
Every year, they produce a night of original 10-minute radio plays at Roger Park's
Mayne Stage
called
Deathscribe
, complete with a broadcast and live foley effects.
Most challenging thing created onstage:
According to Amidei, it was the fourth dimension in
The Dreams in the Witch House
. How'd they do it? "Black light, ping-pong balls, and really loud music."
How WildClaw likes to characterize their aesthetic:
"If you look at our plays, we like to sympathize with the monsters. Maybe not with Satan though. We didn't sympathize with Satan in
Legion
."
Amidei's favorite horror movie:
The Omen
His favorite movie of all time:
The Omen
BY: Dan Caffrey
Guide Staff Writer
Outside of Work, Dan is a playwright, Senior Staff Writer for Consequence of Sound, and contributor to The A.V. Club.