Austin's Best Ice Cream Shops
BY: Melody Fury |
May 16, 2014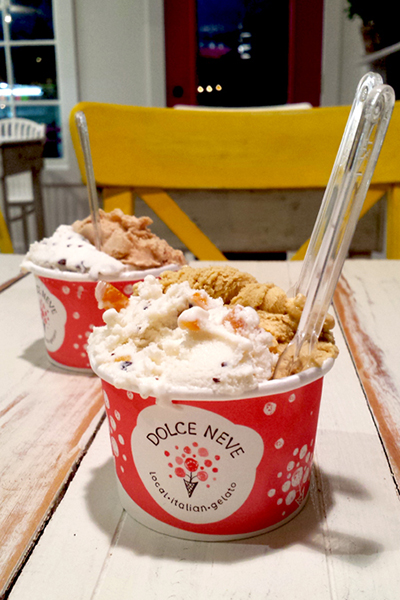 Dolce Neve
The quaint little house on South 1st street is home to an old-world dessert.  Owners Francesca, Leo, and Marco take their gelato making seriously.  In fact, Francesca is so dedicated that she traveled to Bologna, Italy to learn the craft at Carpigiani Gelato University.  Yes, a gelato university, imagine that!  She further honed her skills in an award-winning gelateria in Pisa.  She and her creative, passionate partners make each batch using high-quality, locally sourced ingredients.  This means their pistachio gelato is made with the actual nut, not flavoring like typical shops.  They also utilize a traditional Italian vertical freezing and mixing process called "mantecazione verticale", which results in a creamier, richer texture.  Their flavors range from the traditional (like hazelnut and stracciatella) to the quirky (like sweet potato pie and chocolate-chili).  One thing remains true; they're always delizioso.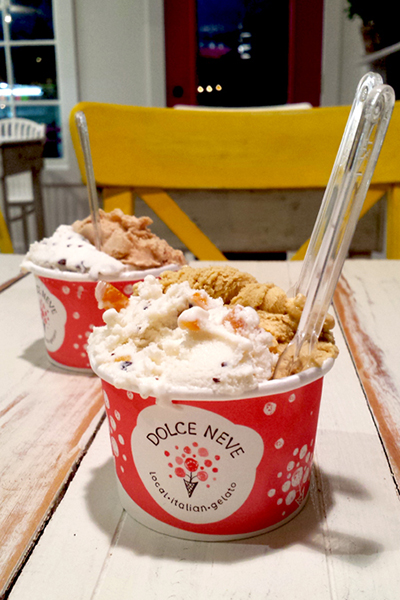 Cow Tipping Creamery
As a sucker for soft serve ice cream, Cow Tipping is my go-to stop.  This truck is parked advantageously near campus and they whip up silky smooth treats in a variety of presentations.  One can enjoy the soft serve simply in a pretzel or waffle cone.  The ice cream can also be dispatched as floats or blended into shakes.  My personal favorite application is their "stackers", which are essentially layered sundaes.  Folks can create their own from a long list of homemade toppings and sauces.  They've also concocted their own unique combinations.  My personal favorite is the Mango-A-Gogo with fresh mango purée, crushed macadamia nut and a crumbly coffee soil.
Coolhaus
For moments when one is torn about whether to have cookies or ice cream for dessert, the no-brainer solution would be to have an ice cream sandwich.  Coolhaus' kicked up combos can be found at two trucks around town.  Originating from L.A., their concept traveled eastward.  Their trucks boast of their sugary creations, made with all-natural and hormone-free local ingredients.  Don't expect no plain ol' vanilla here.  Their ambitions ice cream flavors range from the complex balsamic fig & mascarpone, to the Southern favorite, fried chicken & waffles.  The cookies vary from chocolate chunk pretzel to red velvet, to the tried and true snickerdoodle. The best part is we're free to mix and match the ice cream and cookies.  Vegan and gluten-free options are also available.
Lick
Lick's tagline says it all: honest ice creams.  The crème glacé enthusiasts emphasize on using "pure, whole" ingredients.  They use milk from nearby McGregor, Texas, and also source their ingredients from local farmers and market stands.  They've also sworn off using artificial colors or flavors, high fructose corn syrup and preservatives.  At their charming shop, they break their flavors down to 3 categories: everyday, seasonal, and dairy free/ vegan.  "Everyday" is classics with a twist, such as dark chocolate with olive oil and sea salt.  Sweet pea and sorrel is an example from their seasonal, farm-inspired selection. Vegan-friendly flavors are usually made with a coconut milk base, such as the deceptively velvety coconut & avocado curd.
Sweet Ritual
Speaking of vegan ice cream, this colorful spot with eclectic decor churns out sweet treats using creamy coconut and non-GMO organic soy as the base.  Their daily flavors include classics such as vanilla, cookies & cream, and strawberry.  They also offer four rotating flavors according to the season.  In addition, their milk-free creations can also be constructed into shakes, sundaes and sandwiches.  This cheerful location draws all ice cream lovers alike, regardless of whether milk's their thing or not.
BY: Melody Fury
Melody Fury is a cocktail and restaurant writer, and photographer that lives in East Austin.  When not wielding her camera, she can be found shaking up a mean drink or shucking a few oysters.