Avant Garde, The Lost Abbey's Middle-Child Beer
BY: Shannon Jewitt |
Apr 18, 2014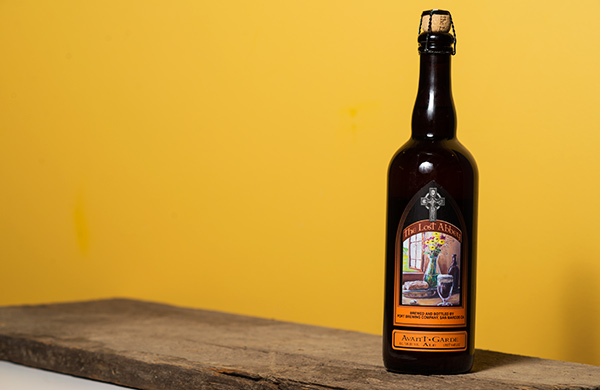 There are almost 3,000 craft breweries in the United States. In this edition of Beer Stalker, we investigate The Lost Abbey's Avant Garde, including its origins and fermenting process, as well as its position as middle child in the beer family.
The beer:
The Lost Abbey
's Avant Garde
Malts:
2-Row, Honey Malt
Style:
French country ale or bière de garde
Hops:
Magnum, Spalt
Color:
Pumpkin pie in a tanning bed
Will Avant Garde fuel a chatty but not out-of-hand dinner party?
"We wanted sort of a table beer, but not necessarily a table beer with low alcohol," said Tomme Arthur, a cofounder and co-owner of The Lost Abbey. The brewery felt the french country ale, also known as a bière de garde, was an underrepresented style, and at 7% alcohol, it was the middle-strength brew The Lost Abbey was looking for. In addition, the beer is not overly yeasty, fruity, or spicy, so it goes with many dishes.
How much of their faith do the brewers put into their yeast?
A lot of it. At the brewery, over the barrel room's threshold, there's a sign that reads "In Illa Brettanomyces Nos Fides," which translates roughly to "In the Wild Yeast We Believe." Clearly, yeast is important to the brewery. Avant Garde is made with a hybrid-fermentation process that uses a lager yeast fermented at almost an ale temperature. This results in interesting fruit notes on top of lager crispness.
Who should try this beer?
"I think it's a really good friendship beer," Arthur said. "I think it's best split between two people with conversation in mind. While there's a lot to be said for pairing food and beer these days, there's also something to be said for a beer that should be split." Arthur also said, "It was designed to be a Saturday afternoon beer." When he was a kid, he would do a lot of yard work with his family on Saturdays. As an adult, he thinks this beer is perfect to enjoy on the porch after lawn work while deciding where the evening is going to take him. Either way, "It's just a great way to start an afternoon."
Avant Garde is partially inspired by families. So, what family member would this beer be?
"Probably the middle kid," Arthur said. "The one that sort of doesn't stand out, but just sort of does its job and puts its head down and rarely gets in trouble."
Photo by Timothy Burkhart, Groupon
BY: Shannon Jewitt
Resident Beer Stalker Shannon has an insatiable thirst for craft beer. Despite being a vegetarian, she always makes an exception for fries cooked in duck fat.