Babes in Chicagoland: Five of the Windy City's Top Toy Stores
BY: Amelia Buzzell |
Jun 3, 2013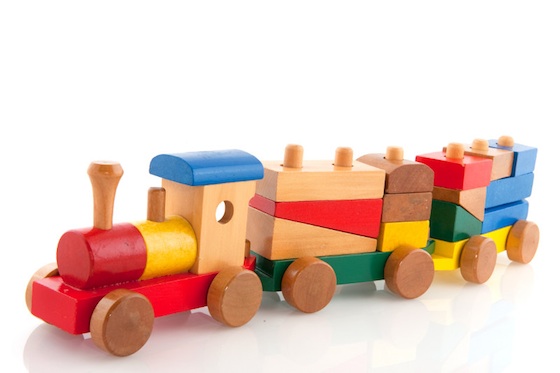 Children make up nearly a quarter of Chicago's population —that's more than half a million overactive little bodies and minds racing around the city, chasing after ice-cream trucks, and demanding to know why the sky is blue. Luckily for parents trying to harness all that energy and curiosity, these five toy shops stock their shelves with playthings to suit many ages and ever-changing interests.
Psychobaby | Wicker Park
As new moms, friends Lisa and Marlo quickly learned that there's just no reasoning with babies—but at least they were able to coin an apt phrase to describe their offspring's sudden mood swings: "psycho baby." The name also aptly reflects the mixture of love and craziness that permeates the shop, which caters to babies, kids, and adults alike, and stocks everything from
Mute Button–labeled pacifiers
and
cupcake coin purses
to
iPhone cases that look like hamburgers
.
Play | Logan Square
Ann Kienzle's
expert eye —perfected over more than 27 years in the toy business —helps her handpick toys and gifts that blur the line between learning and playtime, such as a children's Mexican-food cooking kit complete with recipes and a pint-size oven mitt. The shop also invites kids to settle down comfortably amid the books, stuffed animals, and puzzles for storytime (held Tuesday and Thursday), while staffers help parents assemble tricky toys in-store.
The Red Balloon | Bucktown and Andersonville
Much like the handmade children's furniture that first filled the shop in 1998, The Red Balloon's toys are both durable and lighthearted (case in point: these
forks shaped like forklifts
). The eclectic inventory also includes
wooden banks
shaped like zoo animals, pogo sticks, and make-your-own root-beer kits.
Toys et Cetera | Hyde Park, Lincoln Park, Andersonville, and Evanston
Toys et Cetera is the type of toy store that has equal appeal for kids and nostalgic parents. The stock of more than 10,000 toys and gifts includes everything from modern marvels such as a
build-your-own all-terrain robot kit
to the retro 1960s-style
Etch-A-Sketch
. And, for the conscious toy shopper, the mammoth inventory also includes an impressive selection of playthings made in the USA, including blocks, easels, and dress-up clothes.
Galt Toys + Galt Baby | Lincoln Park and Downtown
Staffers at Galt Toys + Galt Baby are certified Baby Products Experts, enabling them to make thoroughly researched recommendations on everything from strollers to furniture to toys. They know, for example, that nontoxic, water-based finishes make
Manhattan Toys classic baby beads
safe for curious mouths, and how the bright colors and distinct sounds of
Sassy's Go-Go Bugs travel toys
help newborns develop visual and auditory awareness. They apply that same expertise —culled over 30 years in business —to older age groups as well, and stock toys appropriate for kids as old as 12.
BY: Amelia Buzzell
Guide Staff Writer
Amelia is a Senior Writer who owns about 600 houses' worth of housewares. She daydreams about throwing parties and amassing more housewares.