Bacon Wind Chimes, The Porch Decoration Your Nose Deserves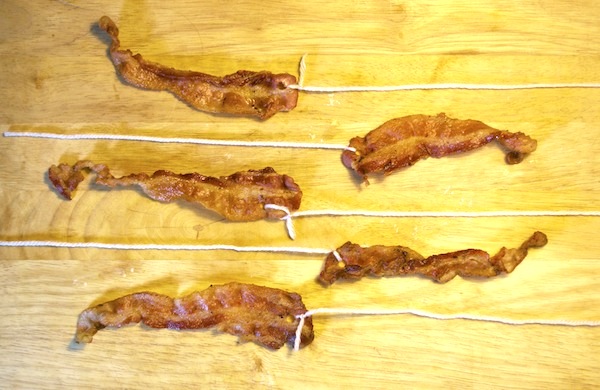 It's finally here! We had so many requests for a follow-up to our sausage birdhouse piece that we couldn't wait to give our readers another meat-craft project. Get ready, this one is going to knock you back a thousand feet! First, a little background on this project. We've always been big fans of wind chimes. They add an elegant visual touch to any outdoor space. But despite their beauty, every set we've ever hung up has made a huge racket nonstop. Talk about a design flaw! We worked for weeks but couldn't find any material beautiful, affordable, and silent enough for our own chimes. Finally, we realized the answer was staring us in the mouth!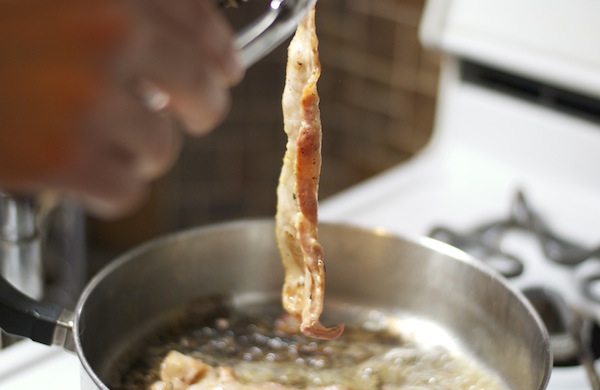 Ahh, bacon—the versatile miracle meat we've used in countless other craft projects.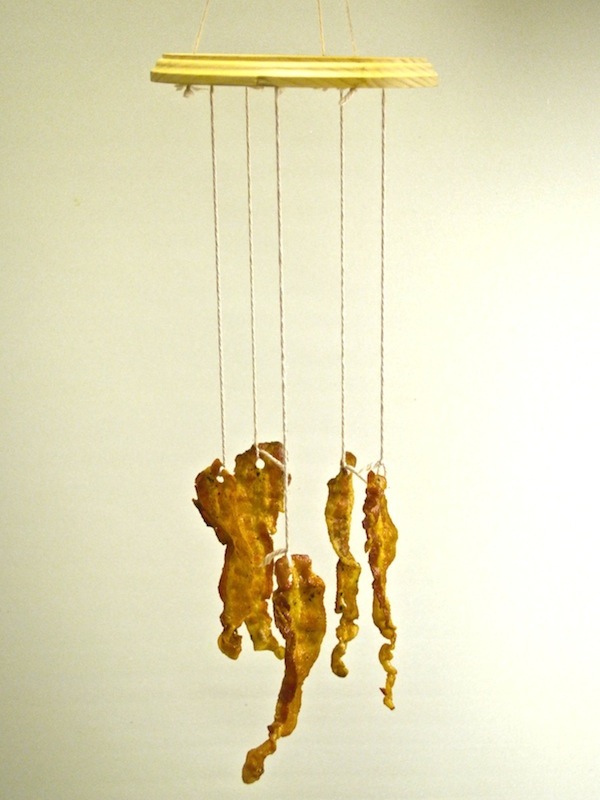 What You Need: * String * Wooden disk * 50 pieces of bacon (we rounded up in case you get hungry like we did!) * Scissors * Drill press * No. 2–sized bacon-punch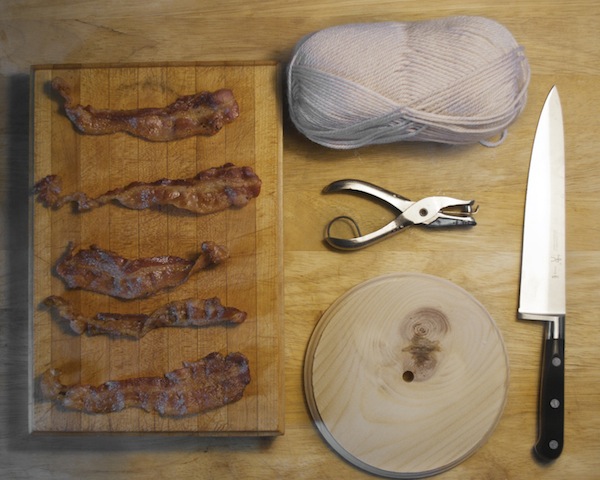 What You Do: 1. Cook up some bacon. 2. Cut uniform lengths of string, one for each strip of bacon. 3. Use your bacon-punch to ready the bacon for be-stringing. Note: Do NOT use a regular hole punch, the results will be disastrous! 4. Be-string each stringless bacon strip. 5. Poke enough holes around the edge of the wooden disc to accommodate every slice of your be-strung bacon and thread the bacon-less ends of string through the holes in the disc and tie them with a supertight knot—but not too tight! 6. Create a stable three-string hanging harness. 7. Hang your bacon wind chimes anywhere you'd like! A beautiful porch would be best! Note: For an antique look, paint each strip of bacon with a thin coat of whitewash—it gives the chimes a weathered sheen! And there you have it, enjoy! Oh, and come back next month for our short-rib planter box!
BY: Peter Hopkins and Peter Papachronopoulos
Peter Hopkins and Peter Papachronopoulos