GROUPON GUIDE TO WASHINGTON-DC
Foods to Fix Your Mood
BY: Katie Cortese |
Aug 28, 2014
Heather Lounsbury's mood-lifting routine begins before her feet even hit the floor in the morning. While still in bed, the licensed acupuncturist and healthcare adviser drinks a large glass of lemon water. The lemon works to nourish skin, detoxify, boost immunity, and calm the body, which Lounsbury learned during her decades studying traditional Chinese medicine. Where Western medicine generally solves health problems with pharmaceuticals, Chinese medicine heals with plants. That's as true for mood issues as it is for physical ones—an insight Lounsbury passes on to her many celebrity clients, including Rainn Wilson, Dave Navarro, and Tori Spelling.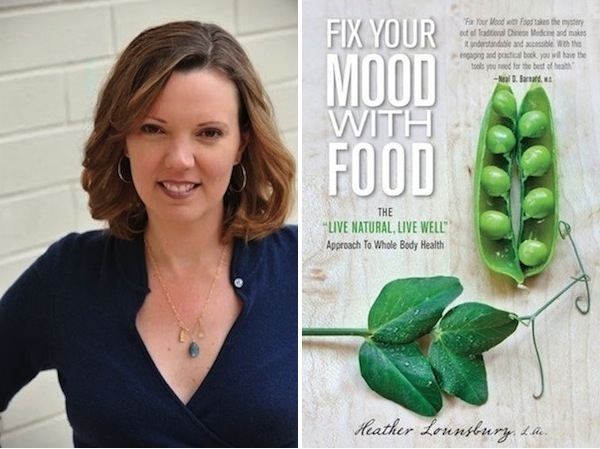 Now, the nationally recognized food expert is striving to spread her message to a broader audience. Her new book, Fix Your Mood with Food: The "Live Natural, Live Well" Approach to Whole Body Health, details how eating garbanzo beans can calm a worrywart or beets can lift someone's spirits.
"There are books that talk about food and mood from a Western perspective, but not really Chinese and plant-based," Lounsbury said. "Chinese nutrition looks at food energetically—what foods help with yin and yang and chi and which ones are more sedating. Because thousands of years ago, we didn't know about proteins or what is in the foods."
In the book, Lounsbury offers a wide range of food options to combat moods that affect us negatively. She lists between 30 and 80 different foods that will help people out of depressed or anxious states, for example.

"I pick foods that you can get at a regular grocery store, so you don't have to have a Whole Foods nearby," Lounsbury said. Foods you will not find in her book include caffeine, sugar, and animal products—all things that impede our good moods, she said.

Below, Lounsbury shares with us some of her top picks for battling negative energies and her preferred way of eating them.

Situation: Your kids ask you to play blocks with them, but constantly knock down your replica Guggenheim.
What to eat to feel better: Lounsbury suggests making a one-meal bowl of roasted beets, quinoa, and lima beans. Add some steamed broccoli flavored with mint and lime juice.
How these foods help: In Chinese medicine, depression is the result of suppressing anger to such an extreme that it turns inward. The body's energy, called chi, gets stuck in the liver, causing feelings of lethargy and sadness. All of these foods help move chi in the liver.

Situation: Your boss parked his car in your spot at work again. When you bring it up, he just says, "Relax, Alfred. And fetch me my tights and grappling hook, good man."
What to eat to feel better: Tuck alfalfa sprouts (or any other sprouts) into a sandwich, salad, or burrito. Blend kale in a smoothies or use as the base of a salad. Lounsbury makes a cauliflower curry by simmering the vegetable with curry powder, veggie broth, coconut milk, and some mung beans. When in season, eat strawberries on their own or incorporate into a smoothie.
How these foods help you: As mentioned above, Chinese medicine considers depression and anger tied to each other. Just like the anti-depression foods, these foods get chi moving and flowing so it's no longer pent up in the liver.

Situation: You have the same dream you always have: you're in high school, you have to take a test, but you forgot to study. You just sit at your desk, staring at the test, trying to fend off panic. Also, the test is a live alligator.
What to eat to feel better: Add walnuts to a trail mix or salad for a quick snack or lunch. Lounsbury's favorite way to eat radishes is to add them to salad. For dinner, add black beans to chili, or simmer mung beans with curry powder and tomatoes for 15 minutes to make a curry. Steam asparagus for 3–5 minutes and add a splash of lemon for an easy side.
How these foods help you: In Chinese medicine, yin is the calming aspect, in contrast to the more energetic yang. Anxiety means there is not enough yin getting to the kidneys; these foods correct that imbalance by nourishing yin.

Situation: Instead of the usual mouse at your doorstep, your cat leaves an eloquently composed thank-you note. You start receiving mail in your cat's name, including a letter marked "urgent" from an experimental biotechnology company. You move the litter box outside, change the locks.
What to eat to feel better: Lounsbury suggests blending garbanzo beans into hummus. She loves making pumpkin soups, and her go-to recipe involves a can of pumpkin, veggie broth, and coconut milk heated up on the stove. For another soup option, add shiitake mushrooms to barley soup. For a side dish, bake yams or sweet potatoes in the oven. For an easy snack, fill up on a mix of sunflower seeds and pumpkin seeds or some grapes.
How these foods help you: These foods help draw chi into the spleen, restoring life energy sapped away from it by worry.

Situation: Growing Pains was taken off Netflix again.
What to eat to feel better: Add kelp to miso broth. Shred cabbage to make a vegan coleslaw with Vegenaise (vegan mayo). Collard greens can be added to a soup with navy beans or steamed for 8 minutes and finished with a splash of lemon. Lounsbury suggests incorporating spinach into a smoothie as a great way to add more veggies to one's diet without even tasting it. Grab a pear for an on-the-go snack.
How these foods help you: These foods nourish chi in the lungs, which are connected with grief in Chinese medicine.

Situation: After several happy years together, your prince suddenly turns back into a toad. "The magic is gone," he croaks.
What to eat to feel better: Corn can be eaten straight from the cob, either raw or steamed, or added to chili. Eat peanuts as a peanut butter or in an African stew with peanuts, yams, veggie broth, and tomatoes. Lounsbury cooks oats with water and a little unsweetened nut milk—no sugar!—and tops the oatmeal with some fruit. Steam green beans with a splash of lemon and eat them as a side or add to a salad.
How these foods help you: Heartache is the most obvious of all the emotions. When your heart has been broken, it affects your actual heart. Heartache depletes chi, yin, and yang in the heart, but these foods replenish them.
Heather Lounsbury photo courtesy of Erik Neldner Photography; book cover designed by Nancy Freeborn, photo licensed by Shutterstock