Bar Scene: Chicago Bar Picks from Goose Island Brewmaster Nick Barron
BY: Halley Lawrence |
Jul 2, 2014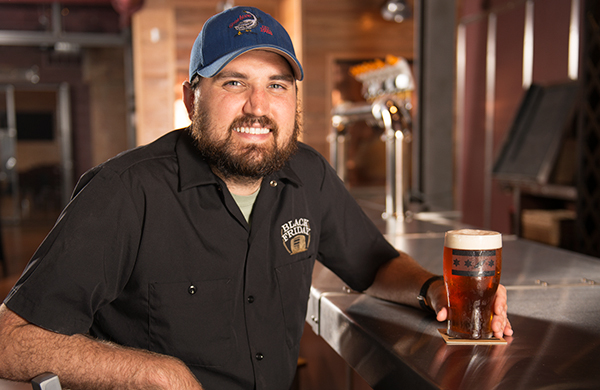 Nick Barron, Goose Island's most recently crowned brewmaster, is something of a revolutionary in the beer world. He won't hesitate to buck tradition by adding mint and sweet basil to a wheat hopfenweizen, for instance, or by infusing an english bitter with 30 pounds of mushrooms to produce a subtle umami mouthfeel.
Barron's forward-thinking style shines at Goose Island's Clybourn and Wrigleyville brewpubs, both of which remain independently owned, even after Anheuser-Busch's 2011 acquisition of Goose Island's larger distribution system. The brewpubs' independent status—and the comparably small size of their brewing facilities—make them a hotbed for invention.
"We're able to create new batches very frequently—we have a new beer at least once a week, if not two," Barron said. "We do a lot of small batches, one-off beers, exploring different flavors—99% of everything we make here is just for the pub [not the mass market]."
Though Barron spends much of his time engineering new beers, he also makes a point of exploring other breweries' creations. We asked him where he likes to sample new brews around town.
TO TRY NEW BEERS:
"The Map Room (1949 N. Hoyne Ave.) and the Hopleaf (5148 N. Clark St.). They're just fantastic bars that do such a good job showcasing the diversity of beer, and have a huge breadth of styles and such interesting beers on tap. Those are two easy ones right off the top. I also love Revolution Brewing (2323 N. Milwaukee Ave.). They have great beers, it's fun to see what they're doing. [Also], Half Acre Beer Company (4257 N. Lincoln Ave.), if I ever have a chance to get up that way."
TO POP INTO AN ENGLISH PUB:
"The pub scene [in London, where he lived while attending brewing school] is a bit different—everyone goes to the pubs after work, has a few beers, then goes home for dinner. It's more social…everyone buys rounds. Elephant and Castle (111 W. Adams St.) captures that pub scene."
TO GRAB A POST-BEER SNACK:
"I'm a vegetarian, so I mostly go to places that accommodate that. The Handlebar (2311 W. North Ave.) has a fantastic menu, and Chicago Diner (3411 N. Halsted St.) has a great menu. The milkshakes are killer."
Brewmaster's portrait by Andrew Nawrocki, Groupon

BY: Halley Lawrence
Guide Staff Writer
Halley is a Chicago writer with southern roots. When she isn't typing, she enjoys cooking without recipes and designing garments for her upcoming clothing line, Ambidestre.