Bars with the Most and the Least TVs
BY: Lisa Ladehoff |
Jan 31, 2014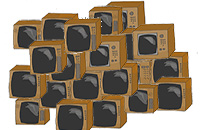 A nifty chart for finding some of the most densely TV-populated bars in Chicago—and a couple that guarantee an atmosphere totally devoid of sports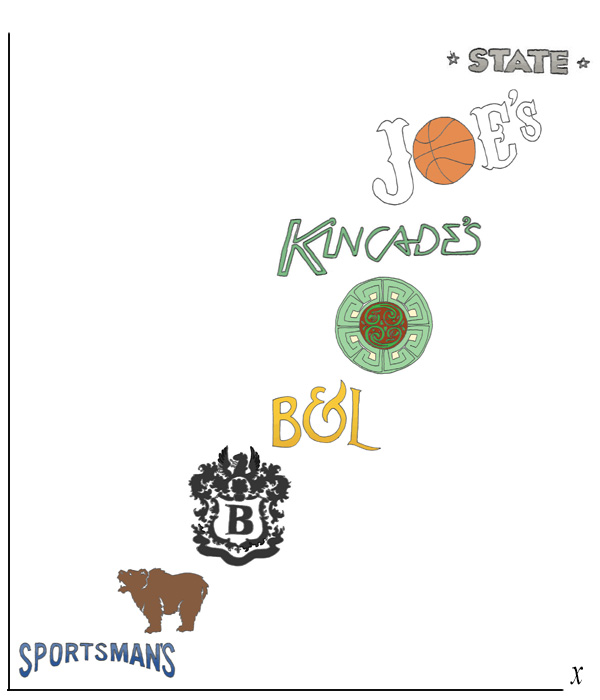 State Restaurant (Lincoln Park | 935 W. Webster Ave.)
Clocking in at a whopping 124 screens, everything about this place is big. Big menu, big selection of drinks, and televisions every 12 inches (or less).
Joe's Bar (Lincoln Park | 940 W. Weed St.) 
With 110 HDTVs, it is literally impossible to go to Joe's and not be transfixed by something happening somewhere on a screen.
Kincade's Bar (Lincoln Park | 950 W. Armitage Ave.) 
This two-room Lincoln Park bar has a giant 10-foot screen in the main room and more than 40 flat-screens throughout.
Division Ale House (Wicker Park | 1942 W. Division St.) 
The exact number of TVs here is somewhere between four and infinity, but it's an official Blackhawks bar, which I guess means "Chelsea Dagger" plays every time a goal is scored. Solid bar food and a good place to watch any game. Get there early for a good spot at a table.
Bangers & Lace (Wicker Park | 1670 W. Division St.)
They 
claim
 the three TVs (two over the bar, one in a bizarre corner in the back room) are only on if the Hawks are playing. Unverified. Possibly true.
The Burlington (Logan Square | 3425 W. Fullerton Ave.)
There is one enormous TV, but you probably haven't seen it on unless you've been there to watch the Bears, in which case there's usually also a potluck-esque food spread brought by the regulars in attendance. It also often broadcasts bigger games—I watched the Hawks win the Stanley Cup there in 2010.
Kuma's Corner (Avondale | 2900 W. Belmont Ave.)
Although two TVs hang above the bar, there's a set of rules on the wall that firmly states they won't be playing the game. Ever. If the TVs are on, they're usually playing kung fu movies or something gory.
Sportsman's Club (Ukrainian Village | 948 N. Western Ave.) 
Sit back and play a game of checkers or chess—the pieces are kept behind the bar—with a simple, classic cocktail and enjoy the sounds of the old-school reel-to-reel tape player. Enjoy a TV vacuum. This place is a tiny and quiet neighborhood spot but worth traveling for.
Illustrations by Lisa Ladehoff, Groupon
BY: Lisa Ladehoff
Guide Staff Writer
A native of the city of big shoulders, Lisa is a small-shouldered books and booze enthusiast living on Chicago's Northwest side with a large cat, a tiny bar, and a medium-sized library.