GROUPON GUIDE TO LOS ANGELES
Barstow, Baker, and Berdoo: Things to Do and Places to Eat Between Las Vegas and L.A.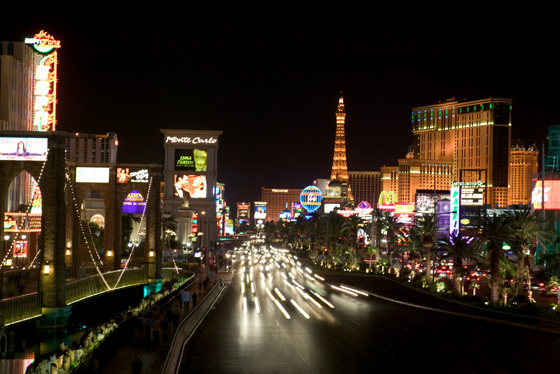 To the untrained eye, there's not much in the way of scenery along the 270-mile stretch between Las Vegas and Los Angeles—just distant mountains and vast expanses of desert punctuated by the occasional tumbleweed. The monotonous terrain seems a fitting contrast to what awaits at either destination: the promises of money and stardom. An empty stomach and a taste for curiosity, however, can get the best of anyone during the four-hour drive. Luckily, just off the beaten asphalt of Interstate 15, there's a smattering of roadside stops that prove anything but boring. Just an hour outside of Las Vegas, Primm is more than meets the eye. The city sits right up against Nevada's border with California—an imaginary line that felons have long associated with freedom from the law. It happens that Primm is home to the most famous getaway car of all:
Bonnie and Clyde's V8 Ford
. Punctured with more than 100 bullets, the battered vehicle sits behind a glass enclosure inside
Whiskey Pete's Hotel and Casino
. Nearby rests the torn and bloodied shirt Clyde wore on the morning of his death. More than 70 miles down the road and safely across California's border,
Alien Fresh Jerky
restocks stomachs set on empty with 20 flavors of jerky—not to mention stuffed olives, nuts, candy, and various sauces. A few miles south of the exit for Zzyzx, CA, the gourmet jerky stop gets its curious name from owners who founded it after a failed search for Area 51. Standing at an impressive 134 feet and visible from Interstate 15, the world's largest thermometer sits just down the road from Alien Fresh Jerky. The thermometer's height honors the highest temperature ever recorded in North America: 134 degrees in nearby Death Valley. The heat and lack of moisture in the desert can help with preservation, which might explain why dinosaurs still roam the earth at
Peggy Sue's Diner and Dinosaur Park
. When nobody is looking, the giant metal dinosaur statues that inhabit Peggy Sue's backyard are said to slip quarters into the giant outdoor jukebox and feed on Peggy Sue's hearty burgers and sandwiches. Not far down the road from these towering statues, Casa Jimenez hosts some animals of its own. The Mexican restaurant lines its walls and counters with stuffed antelope, zebras, and wolves. Of course, you don't need to contend with wild beasts to get your fill of tacos and burritos. Just across town from Casa Jimenez, the world's oldest operating
Del Taco
has kept its grills hot and its drive-through open since 1964.