Baseball, Beers, and South Side Pride: Where to Dine and Drink Near U.S. Cellular Field
BY: Patrick Winegar |
May 28, 2013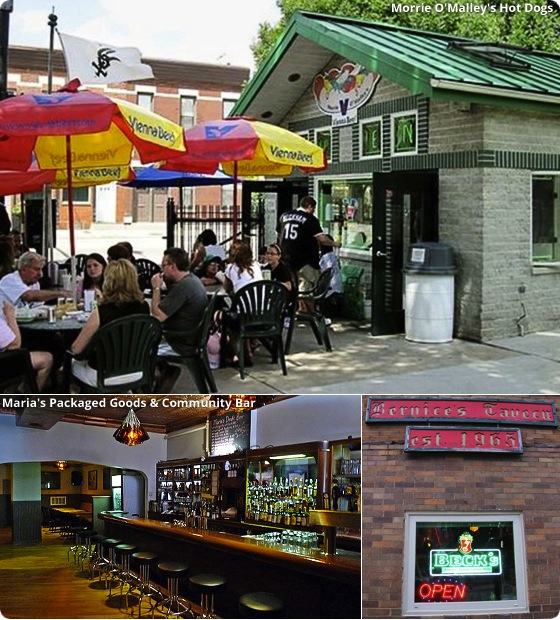 Pouring out of the ramps of
U.S. Cellular Field
after a White Sox win is a giddy, exhilarating experience. Hundreds of fellow fans rush past around you, and fireworks burst in the sky overhead. But if you're as stingy as I am, you're probably pretty thirsty and hungry at this point, having turned down all the expensive beer and food in the stadium. I've heard people unfamiliar with the area complain that there's nowhere around the park to grab a drink or a bite to eat after Sox games, but a quick trip westward past the 35th Street viaduct would prove them wrong. This area is Bridgeport, where I called home for the first years I lived in Chicago. It's mostly residential, with a few local taverns sprinkled amid the tree-lined avenues and century-old apartment buildings. Visitors won't find many crowded nightclubs or three-story sports bars in the neighborhood, but if you know where to look there are more than enough spots to enjoy a cold beer or two.
Bernice's Tavern | 3238 S. Halsted St.
Hands down, Bernice's Tavern is my favorite bar in the city. It has all the hallmarks of a divey, character-filled pub: a buzzer on the door to let you in, a pressed-tin ceiling, and a shelf behind the bar filled with a decades-old collection of family photos and kitschy souvenirs. The bar is still in the hands of the Lithuanian American family that took over the business back in 1965, though the customers today are a mixture of older blue-collar locals and younger twentysomethings and students. When I lived in Bridgeport, I spent plenty of Friday nights here, listening to local blues and country bands play loud and soulful sets or getting to know my neighbors over bottles of hoppy Lithuanian beer. During baseball games, Bernice's turns into a kind of living room for the whole neighborhood, with patrons from a variety of backgrounds and ages enjoying access to a television and one another's company. Guests teeter on the edge of their barstools with their faces fixed to the screen during close late-season Sox matchups, but they also drink and dance as oldies play from the neon-lit jukebox. Also, not to be missed if you're up for a return trip: barkeep Steve's boozy bingo raffles, which take place every Wednesday night.
Shinnick's Pub | 3758 S. Union Ave.
Shinnick's Pub stands apart from the two-flats and bungalows that immediately surround it on 37th and Union, far from any main drag where one might expect to find a bar. That's because there's been some form of drinking establishment here since the late 1800s—with a brief intermission during the 1920s and '30s for Prohibition. Plenty of pubs attempt to cultivate a faux old-timey look, but Shinnick's needs no such pretension. Its wood-paneled walls surround an ornate 19th-century mahogany back bar and a hulking manual cash register that look like they could have been there since the first White Sox World Series title in 1906. The tavern's low-key atmosphere makes it an ideal place for a contemplative beer-sipping session before trekking over to the stadium or for watching the game on television in peace if you aren't lucky enough to nab a ticket. I used to live a block away from Shinnick's and watched plenty of Sox games from the comfort of a padded vinyl barstool, my feet resting on the brass railing of the bar. Choruses of groans and curses rise up from the regulars after every White Sox strikeout, but after home-team home runs, the fireworks exploding over the stadium scoreboard are audible both on the TV hanging overhead and in the sky just a few blocks away.
Maria's Packaged Goods & Community Bar | 960 W. 31st St.
Getting into the bar at Maria's through the bulky wooden back door of a package store almost feels illegal—in fact, the location is rumored to have been a speakeasy at one point. Today, brothers Ed and Mike Marszewski staff the law-abiding bar in the back, while their mom—the eponymous Maria—runs the liquor store up front. Plenty of bars in Bridgeport evoke a shabby, unpolished charm, but Maria's is not one of them. The drink menu is upscale, with a wealth of craft brews on tap and in bottles and skilled bartenders concocting signature cocktails from small-batch liquors. A bar area of knotty wood lit by beer-bottle chandeliers expands into a dance floor, where live bands and DJs play a mix of experimental tracks and danceable music. The crowd here is fairly bohemian: a few urban gardeners, graphic designers, and artists from the nearby Co-Prosperity Sphere cultural center on Morgan Street. But to dismiss Maria's as simply a hipster hangout would be a mistake—the atmosphere here is genuinely friendly and welcoming, and the bar easily has the best selection of beer and booze within walking distance of the stadium.
Morrie O'Malley's Hot Dogs | 3501 S. Union Ave. 
Morrie O'Malley's isn't quite the closest hot-dog stand to the field, but it is by far the best. Inside the compact kitchen and ordering area, the smell of cooking sausages sets stomachs rumbling with anticipation as guests mull over the surprisingly large menu. But the choice is pretty simple: get the hot dog, made with a Vienna Beef frank on a poppy-seed bun and topped with the full litany of garnishes and pickles that make up the Chicago-style dog. There's a warm, fuzzy sense of baseball-themed nostalgia that pervades throughout the hot-dog stand before a game. You can admire a wall filled with bittersweet pictures of Old Comiskey Park while standing in line, patiently waiting your turn behind the kids in tiny White Sox uniforms begging their parents for ice cream. If it's available, I usually beeline for my favorite seat for people watching on the patio—one of a row of bleachers rescued from Comiskey before the stadium's demolition.
BY: Patrick Winegar
Patrick is an Alabama transplant to Chicago who writes about food and leisure for the Guide. He spends his free time writing sketch comedy and hunting for good barbecue.