Bear Rapper Big Dipper Didn't Set Out to Invent a New Hip-Hop Genre, But He Did Anyway
BY: Courtney Ryan |
Apr 2, 2014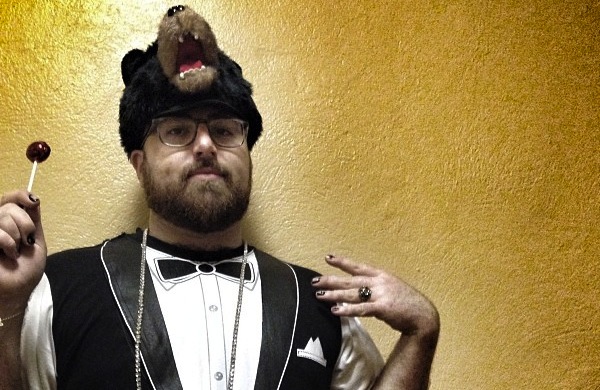 Big Dipper discusses launching a career as a bear rapper and how hip-hop is starting to embrace queer artists.
Hip-hop is getting queer. A genre once wrought with homophobic slurs and hate speech is evolving into a testing ground for unorthodox self-expression. When R & B singer Frank Ocean acknowledged his bisexuality in 2012, rappers such as Jay-Z and Russell Simmons publicly congratulated him. Not long before, Azealia Banks broke the surface with 2011's "212," a clever riff on the macho, hypersexual posturing associated with the genre—only this time it was a woman talking about other women. Flash-forward to earlier this month, when openly gay rapper Le1f released his
Hey
EP and began racking up accolades from mainstream music outlets such as
Billboard
. It's a stunning feat when you consider that, as recently as 2011, it was
groundbreaking
for straight rapper Fat Joe to casually mention that he was cool with gay people. Today, it seems a given that queer rap is here to stay. But in hip-hop's genre-enamored musicverse, it only makes sense that what has been dubbed "queer rap" will only branch off into diverse sub-genres. That's where
Big Dipper
comes in. A Chicago-raised man with a lust for the spotlight, Big Dipper fits the profile of your typical up-and-coming rapper. Except for the fact that he's openly gay and identifies as a bear (i.e., a burly but cuddly man with a healthy amount of body hair). He isn't shy about calling attention to this identity in cheeky tracks that, like many hip-hop songs, alternate moments of playful innuendo with overt raunch. And his style is amassing a following. "Drip Drop"—the first song he ever wrote—benefited from a high-quality, Kickstarter-funded
music video
that quickly went viral. Last year he put out a mixtape,
Thick Life
, which was lauded by trendsetting gay magazine
Out
. Big Dipper is currently on a North American tour with planned stops at pride festivals, gay bars, and a "mainstream" South by Southwest showcase. We stole a moment with him during a rare pause at SXSW to discuss what hustling means for a bear rapper.
GROUPON: How did you get into hip-hop?
BIG DIPPER: I've always been a huge fan of hip-hop, and I've always wanted to be a performer and make music. I spent a lot of time directing theater and being a choreographer, and that gave me the confidence to go after being a rapper. I thought being a rapper was so far out of the realm of possibility for me, but I just went for it. I worked with a friend of mine named Dan Foley, who's in a band called
Baathhaus
and made a track called "Drip Drop" that was really well received.
G: When did it occur to you that this was becoming a career?
BD: We made the music video [for "Drip Drop"] and it started getting hits on YouTube. That's when it was like, "Oh, this isn't just something I'm gonna try once and it will be fun. This is something I'm going to really
do
." So I just kept following it as the momentum built and that's where I am today. There was no big strategic plan. When I started, it was mostly just living out a dream.
G: When did you start performing and putting on shows?
BD: After "Drip Drop," I would play a show and do one song [laughs]. So I started making more music after that. By about six months after the video came out, I was thinking about quitting all my jobs, and a year later music was all I did. Shortly after that I started splitting my time between Chicago and Brooklyn and … the road. My tour schedule is basically all the time.
G: Do you usually play in gay clubs?
BD: I play a mix of stuff. A lot of times I play at pride events and gay clubs, and other times I play music events. I'm really excited to be at [SXSW] because I'm on a lot of bills with a bunch of musicians and not necessarily here for a gay audience.
G: How is playing for a broad audience different than playing for a specifically gay crowd?
BD: You know, I love playing at gay clubs—they're such a great audience and I'm on stage with drag queens and the whole thing. But when you play [gay] club gigs, you do three songs and then you do a meet-and-greet. When you're at a music venue, you get to do a full set and do your whole experience and really perform, which is what I love to do.
G: Have you noticed your fanbase shifting from primarily the gay community to a larger audience?
BD: It's really diverse. There are those who are into queer rappers and then there's this younger, art-school scene that's really latching onto a lot of acts right now.
G: I was wondering if, with Le1f's recent success especially, you've experienced more acceptance in the general hip-hop community?
BD: Yeah. I mean, I keep my head down and work, so when I go out, it's working. I'm not necessarily involved in a scene. So all I know is that the fear I had three years ago about telling people I'm a gay rapper is—you know, there's a lot more acceptance. And I'm overjoyed with the success of many of my peers going mainstream.
G: Are you the only bear rapper? Or are there others like you?
BD: [Laughs] I don't know of anyone else. I'm the only one I know of who is producing things on the scale that I am. There's a rapper in Baltimore named
DDm
and he's a big boy just like me, but he doesn't give off bear vibes. He gives off Biggie [Smalls] vibes. He is
insane
. He's so talented.
G: Have you had a chance to work with other queer rappers?
BD: There's a group in San Francisco called
Double Duchess
, and they just put out a
track
with me and DDm and
MicahTron
a couple weeks ago. Someone called it the [A$AP Rocky track] "
F--kin' Problems
" of the queer scene because everyone is on that: Drake, 2 Chainz, and Kendrick Lamar. I think I'm the only bear. But, you know, we all like to think we're unique [laughs].
G: Do audiences react differently depending on where you play?
BD: In the bear community, people come up to me and they flirt shamelessly. My [musical] content is very sexual so people assume I'm like that all the time and they'll come up to me and flirt but say, "I don't like your music" or "You're handsome, but I don't like hip-hop." But then I talk to total hip-hop heads who come up to me and are like, "I was not expecting to like what you do."
G: Does any of that bother you?
BD: When you're a performer, people think they can go up to you and say whatever they want, which I
love
. So if you want to talk s--t to my face, go for it. That's exciting. A lot of people will put me on the spot and say, "Oh, you're a rapper? Well, spit some bars." And when you're able to perform and actually have some skill behind what you do, people shut their mouths really quickly.
G: How did you come up with the Bambi-inspired concept for your "Drip Drop" video?
BD: Well, I was newly understanding my status as a bear. So I was like, "I guess I can lean on into this."
G: So you didn't start out promoting yourself as a bear rapper?
BD: [Laughs] Totally not! I was dancing in nightclubs in a trio called Double DJ, and I was really coming into my own. We would do burlesque-y stuff and I would take off my clothes. Before that, I was always really ashamed of being covered in hair and would wear a high-collared shirt so no one could see that I have hair on my back. And I would never wear a tank top in public because I have hairy shoulders. But being in that dance group and playing in these queer, supportive spaces where people were cheering us on and coming up after and saying, "That was very sexy"—it gave me the confidence to rap about my experiences. So no, I didn't set out to dominate the bear-rap world or create it. I set out to make a song with my friends. And with that newfound confidence, I decided to wear hot pants and take my shirt off and dance around.
Photo courtesy of Big Dipper