Beat-the-Heat Sweets
BY: Melanie Faetz |
Jun 5, 2013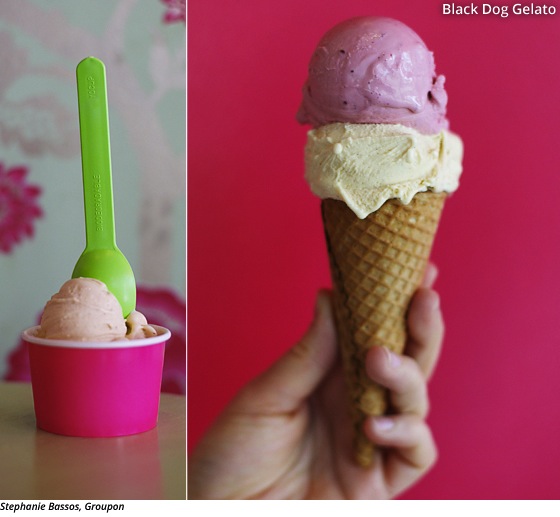 Nothing spells summer like taking an after-dinner stroll to the ice-cream parlor—and then ending up in a science lab or Italy. Visit one of these Chicago destinations for a frosty treat with a special twist.
If You Crave Power First, Ice Cream Second
iCream | Wicker Park
Staff members use liquid nitrogen to instantly freeze customers' ice cream, frozen yogurt, and shake inventions. Flavors—up to two of which can be combined per order—include chocolate, pomegranate, irish cream, anise, blueberry, and many others.
Choppers | Bucktown
When designing their shakes, customers choose from more than a dozen base flavors—from Oreo to cinnamon apple pie—before requesting any number of mix-ins, such as cherry, cookie, or peanut butter. Order a large (32 oz.) and score a souvenir cup.
If You Think Straws and Forks Are Interchangeable
Portillo's | Gold Coast and Numerous Suburban Locations
Chocolate ice cream and Portillo's famously moist chocolate cake come together to form the Chocolate Cake Shake—just one of many reasons why Portillo's is a magnet for locals and tourists alike.
BadHappy Poutine Shop | Near North Side
The Birthday Cake Shake is what you'd expect and then a little more: a slightly lumpy purée of vanilla ice cream, yellow sheet cake, and rainbow sprinkles, which is topped with whipped cream, more sheet cake (crumbled), and more rainbow sprinkles.
Close Your Eyes and Stick Out Your Tongue—Now You're Sort of in Italy
Black Dog Gelato | Ukranian Village and Roscoe Village
From butterscotch bourbon pecan to white-chocolate banana curry, Jessica Oloroso's inspired gelato flavors deserve to be eaten slowly.
Paciugo | Lakeview, Lincoln Square, and Roscoe Village
Made the traditional Italian way, resulting in 70% less fat than ice cream, the gelato at Paciugo is silky smooth on the tongue and potent with flavors such as blueberry lavender and chocolate turtle.
If You Need to Seriously Chill Out
25 Degrees | Near North Side
The world doesn't seem so bad after a glance at this burger spot's eight spiked milk shakes and three adult floats. The Bananas Foster Shake combines Sailor Jerry rum, banana butterscotch, vanilla ice cream, and a Myers's Rum floater.
Dragon Ranch Moonshine & BBQ | Near North Side
The Bushwacker cocktail's frozen mix of original moonshine, Bacardi Select, Bacardi 151, Kahlúa, cream of coconut, Van Gogh chocolate vodka, and chocolate syrup cools you down and warms you up all at once. In other words, its effects completely balance each other out. Drink as many as you'd like.
If Your Karaoke Plans Rule Out Dairy
The Chicago Diner | Logan Square and Lakeview
Eleven vegan shakes, nine of which are also gluten-free, populate the dessert menu. Flavors include Lucky Leprechaun Mint, chocolate banana, and vanilla chai.
Mario's Italian Lemonade | University Village
Lemon with chunks of lemon peel, watermelon, and pineapple are among the classic italian-ice flavors scooped into paper cups at Mario's rickety little walkup window. Nothing beats the basics when the basics are done right.
BY: Melanie Faetz
Guide Staff Writer
Friendly but generally nervous 20-something who prefers to be holding a cold beer so that she can blame her sweaty palms on the condensation.