The Beauty Benefits of Peppermint and Other Holiday Treats
BY: Favin the Maven |
Dec 15, 2014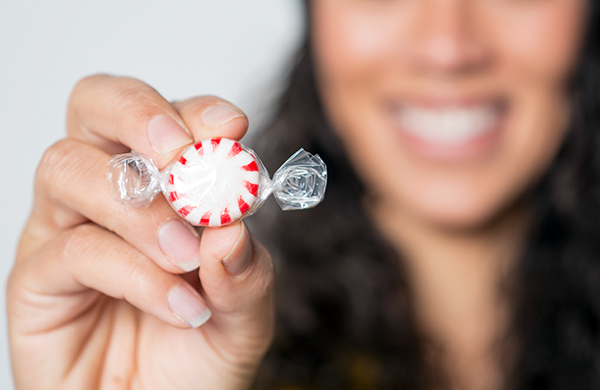 It's been years since I relocated to the Midwest from Arizona, but I still can't get used to the cold—it messes with my hair and forces me to tan indoors. Still, even I have to admit that winter has its perks. One of them (besides holiday gifts) is the flood of seasonal spa treatments. They're good for your body, they smell delicious, and they're relaxing even on those days when it seems like the snow will never stop.
To learn more about the benefits of winter spa days, I spoke with some experts about five popular holiday treatment ingredients: peppermint, warm milk, nutmeg, pomegranate, and chocolate.

According to Valerie Tate, the owner of CC Medi Spa, peppermint can do a lot more for your nose than just fill it with a Christmasy aroma. "It's good for people with headaches and sinus issues," she said. "Headaches can be brought on through sinus pressure, and peppermint helps open up those passageways so things can flow." Plus, it can boost circulation when incorporated into any kind of massage.

Instead of drinking warm milk before bed, try pouring it into a tub and soaking your feet. Linh Nguyen, the owner of The Leaf Beauty Salon, vouched for milk's rejuvenating effects on the skin. "Whole milk will take off dead skin, making [your feet] shinier," she said. The reason? Milk has lactic acid, a natural exfoliant. Occasional 30-minute milk soaks during the winter can keep feet smooth and soft for the return of sandal weather.

Pomegranates are winter fruits, which is lucky for those of us who want an anti-aging facial in the colder months. "They have a lot of antioxidants, which are great for the skin. They help fight free radicals," said Rona Hummel, the owner of Nu Glo Medi-Spa. The spa pairs pomegranate with an exfoliating scrub for a one-two skincare punch. "[It's] great for when the skin is getting chapped and dry." (Pomegranate seeds also make for a healthy yet sweet winter snack!)

Rona makes her own hot-chocolate sugar scrubs at her spa. The sugar is the key ingredient: it sloughs off dry skin, "giving it a glow." The chocolate, on the other hand, is included as aromatherapy. "There's nothing like smells to bring you back to certain times. It's nostalgic … it's for the mind, really." If you really want to find chocolate that's good for your skin, then go dark. Dark chocolate has a lot of antioxidants and may help improve skin when eaten in moderation.

You don't even have to visit the spa to use nutmeg on your skin. Nutmeg has anti-inflammatory properties, which is why nutmeg oil can help with joint pain, muscle pain, and even toothaches. In its non-oil form, the spice can combat redness and breakouts. Many people make their own honey-nutmeg masks—simply mix a teaspoon or so of ground nutmeg with a teaspoon of honey, and wear it on your face for about a half-hour.
Browse Groupon for your skincare needs:

Photos by Andrew Nawrocki, Groupon
BY: Favin the Maven
For me, both beauty and fashion need to be accessible and not intimidating. I love a great deal and a good DIY beauty treatment. I pride myself on trying new trends, being open minded and getting a great treatment without breaking the bank. In the name of beauty I will try anything once.