Beauty Essentials for Summer Music Festivals
BY: Jasmine Feldmann |
May 24, 2013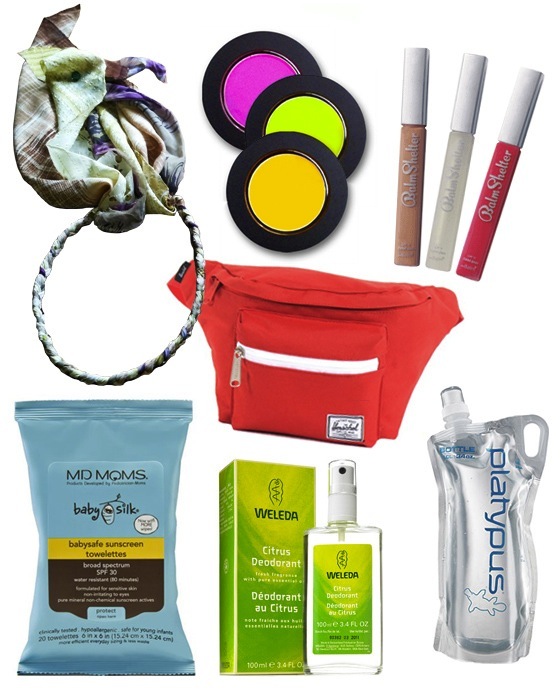 From the first beats of Electric Daisy Carnival to the final chords of North Coast Music Festival, Chicago summers can be measured in festivals. The 100-day stretch provides a sort of musical challenge, rewarding concertgoers who brave the heat and crowds with sun, fun, and plenty of live entertainment. Here are a few beauty must-haves to keep fresh during those sweltering days and muddy nights in Grant and Union Parks.
MD Moms Broad-Spectrum SPF 30 Sunscreen Towelettes ($26 for 20)
These sunscreen-loaded towelettes might be designed for babies, but their simplicity is ideal for all ages. The sheets protect skin with nontoxic ingredients that block both UVA and UVB rays, and Vitamin E, aloe, and a marine-silk complex moisturize. The convenience is an added bonus—the wipes come loaded in a space-conscious, resealable package.
Green Eyed Maven Braided Headscarfs ($60+)
The Chicagoland-based artisan behind Green Eyed Maven braids these upcycled hair accessories from vintage silk. Their long ends can be woven into braids or worn loose, and the bands' splashes of color add a polished yet relaxed look to beachy waves.
Weleda Citrus Deodorant Spray ($14) 
A perfect refresher after dancing to an energetic set, this spray quickly eliminates body odor and gives skin a citrusy scent. The product relies on the natural antibacterial powers of lemon-peel oil rather than the aluminum salts used in traditional deodorants.
Fine Featherheads Tint Hair Chalk ($13)
Hair chalks provide vibrant, nonpermanent streaks of color that last for up to three days—coincidentally, the length of many of Chicago's music festivals. These Little Guys compacts come in five neon colors and can be stashed easily into a small bag.
TheBalm Balmshelter SPF 17 Tinted Lip Gloss ($19)
These colorful balms prove that protection can be pretty. Each tinted lip gloss shields lips from sunburns while moisturizing with jojoba oil. On-trend colors—ranging from bright berries to sultry chocolates—flatter any complexion.
Platypus PlusBottle Water Bottle ($16.95)
Don't forget nature's ultimate beauty essential: water, and plenty of it. Each convenient 1-liter bottle is made of a durable, flexible material that collapses into a tiny package when not in use, and an antimicrobial treatment keeps each sip tasting fresh.
Herschel Supply Co. Seventeen Hip Pack ($24.99)
Stow your beauty products in style in these tough canvas packs. The bags come in a choice of four bright colors and provide easy hands-free storage when slung around your waist or worn over your shoulder.
BY: Jasmine Feldmann
Guide Staff Writer
Jasmine is a small-town Iowa girl makin' it in the biggish city. She loves thrifted dresses, pretending to be Mata Hari, Halloween, making her own extra-greasy lotions, sensible shoes, picnics in cemeteries, jet-setting around the world in coach class, and finding ways to incorporate more chilis into her life.