Beer Stalker: Off Color Brewing's Scurry
BY: Will Landon |
Aug 27, 2013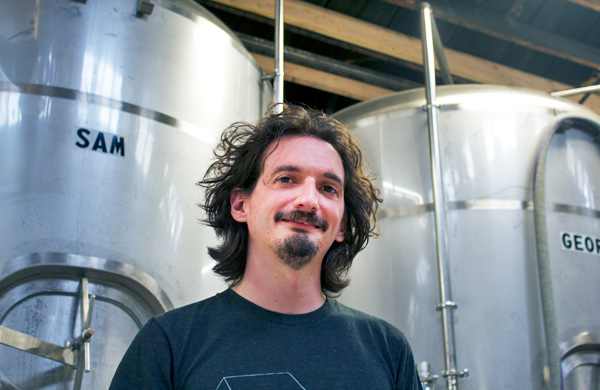 Chicago's Off Color brewers on why they revived a dead German style, why some laws are meant to be broken, and why fermentation tanks should be named.
The beer:
Scurry from
Off Color Brewing
in Logan Square
The style:
German kottbusser, an altbier that hasn't been produced in a few centuries. While sweet on the nose, the sweetness quickly gives way to a more bitter finish with a creamy mouthfeel. Rather than render the beer sugary, the addition of honey adds floral notes, and molasses contributes hints of raisins and figs, cookies, and just a little smoke. Off Color Brewing's co-owner John Laffler, who formerly brewed for
Goose Island
, says that he wanted to "give people the illusion of sweetness without actually having a sweet beer."
The color:
The dusky, golden brown of a grizzly bear staring out a window on a rainy afternoon
The unique ingredients:
Honey, German hops, grade-A molasses, and oats. John and his partner, former
Two Brothers
brewer Dave Bleitner, add the honey and molasses during the brewing process rather than at the end. This step helps control the flavor: "Honey is superfermentable, but if you do it the wrong way you're just adding a really expensive sugar source," Laffler explains. The brewers add oats for a rounded creaminess.
Is this beer appropriate to drink at a Prussian history reenactment?
Kottbusser originated in northern Prussia and openly defied the Reinheitsgebot, an
ancient German law
stating that beer could only be made out of water, malt, hops, and yeast. The decree guarded against the common practice of mixing noxious substances into beer to make it stronger—but on the other hand, as Laffler says, "the law killed a lot of beer." Brewers who used unusual ingredients such as oats, molasses, and honey to make kottbusser were suddenly committing an illegal act. As the law wasn't always immediately enforced, however, some brewers kept going. "A lot of the history of brewing has been reactionary to how the government chooses to tax or limit alcohol," Laffler says. While inspired by these old beers,
Scurry
is a bit different: Laffler stresses that it's not intended to be an historically accurate beer.
Was it tough to resurrect this dead style?
Not really, Laffler said. They achieved the desired blend after just five test batches and were able to strike the same balance on just their second full-scale production batch. They were careful in choosing the honey, but perhaps the most difficult part was having to settle on a grade of molasses. Grade-B molasses, Laffler says, contained impurities that resulted in too much smoke, but grade-A possessed the fruit character they were looking for. The brewery's other year-round style, the rare gose-style
Troublesome
, was much more difficult. For that beer, finding the right balance of wheat with ingredients such as sea salt and coriander took about 30 palate batches. Originally, they were just trying to make one beer but realized they really had to brew two beers and blend them together.
What have you persuaded your beer to do that hasn't been done before?
When Laffler worked for Goose Island, he did what they called innovation brewing. While that work allowed him creative freedom, he and Bleitner eventually decided it was time that they strike out on their own. Sick of the IPAs and stouts that dominate the craft market, the duo chose to focus on "what beer can do, more than what beer has done." The first beer they made, an imperial stout brewed in collaboration with
Mikkeller
called Beer Geek Mus, was "not a real thing"—a joking commentary on the industry's desire to making increasingly overwrought and hop-heavy beers. The brewers instead focus on styles that have otherwise been long out of production or didn't even exist before. The weekend after we spoke, Laffler said he was planning on making a 100% applewood-smoked wheat beer in an old Polish style, something they "shouldn't be able to get away with." He is also fascinated by bees; his next project, he says, involves sourcing wild brewing yeast from wild beehives.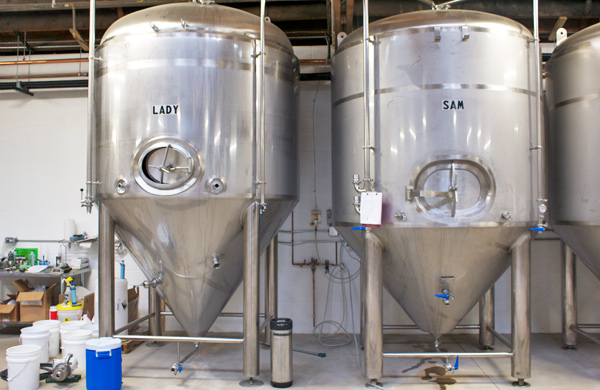 What parts of the brewery make it feel like home?
In the rear is a secret beer garden (not open to the public) that Laffler admits was a bonus. "I don't know who owns this, we just knocked a hole through the wall. In fact, we originally knocked a hole through the wall and ended up in the garage. We just quickly patched it up and moved 15 feet to the left." Laffler and Bleitner also give a personal touch to their equipment: the six fermentation tanks are labeled with the names of their dead pets as a tribute. Their brewery also houses a custom-built hops smoker and its own (living) mascot—a playful little puppy named Hops.
 What are your future plans for the beer? 
"By no means will our beers always be historically inspired," Laffler says. They plan to form regional beer lines rather than seasonal ones. Their next line will move on from the beers of northern Prussia and may focus on the brews of Norway and Sweden. Although their beer is currently only available on tap, they plan to start packaging for local sale by the fall.
Where to find it in Chicago: 
The Map Room
| 1949 N. Hoyne Ave.
Northdown Café and Taproom
| 3244 N. Lincoln Ave.
SmallBar Division
| 2049 W. Division St.
Photo: © Will Landon, Groupon
BY: Will Landon
Will Landon is a Chicago-based writer who sings punk rock songs with the Blue Ribbon Glee Club and occasionally works for free as an assistant stage director.