Beer Stalker: Ölvisholt Brugghús's Lava
BY: Cody Braun |
Aug 9, 2013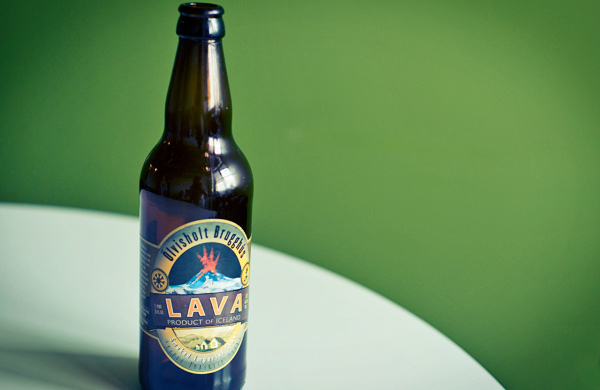 Brewed in the shadow of the Hekla volcano on an Icelandic farm where bilberries and meadowsweet grow, Lava sounds like the stuff of fairy tales.  
The beer:
Lava smoked imperial stout from
Ölvisholt Brugghús
The color:
Dark, dark peat brown with a thin crown of tawny foam that lingers
Famous volcanic endorsements:
A volcano called Hekla appears on the bottle, spouting a red brushstroke of lava (the molten rock, not the beer). That lets you enjoy something like the view Ölvisholt brewmaster Árni Theodór Long has at work every day. The brewery is tucked away on a small farm beneath Hekla, and he says that while there might be another brewery closer to a volcano somewhere in the world, he hasn't heard about it.
Is that terrifying?
Hekla hasn't erupted in a while, but occasionally patches of snow will melt away and the mountain will tremble a bit. The brewery itself is idyllic. "We're in the country," Long says, "and we're not moving soon. ... Here in Ölvisholt, we're mostly surrounded by pony horses, but brewery founder Jón still has some hens running around. It's great, especially after a hectic day in the brewery. All stress goes away the second you walk outside."
If Hekla isn't active, why does Lava taste like smoke?
Lava is a smoked stout, which means that the malt is kept above smoldering wood. "We are smoking our malt on beechwood," Long says. "Malt is soaked in water before being smoked to pick up the smoke flavor." That charred beechwood flavor is present but not overpowering. Past a thick campfire smell, a sip moves slowly into notes of ash, tracing the course of an evening bonfire. Smoked beers often seem very meaty; the process brings to life an oiliness, and something about the smell tricks part of your brain into thinking you're eating a steak.
Where is the best place to drink Lava?
Iceland, if possible. "Iceland has a long history of preserving food with smoke," Long says. "The smoke flavor in Lava goes well with some of those smokey Icelandic dishes." You can also almost taste the unfamiliar flora of the Icelandic countryside in a sip, too.  "We have tried some local products like Arctic thyme in a beer that only sells in bars close to our brewery," Long says. "Also, we have in the past used angelica, meadowsweet, crowberries, and bilberries for our seasonal beers." He says that it is even possible to grow hops in Iceland, though most brewers are still importing theirs.
What other Icelandic beers should I try? 
Though Long notes that Iceland's "beer scene is quite new," he recommends IPAs from
Gæðingur
and
Borg
breweries.
Where to find Lava in Chicago: 
Bottles and Cans
(North Center | 4109 N. Lincoln Ave.)
The Monkey's Paw
(Lincoln Park | 2524 N. Southport Ave.)
Maria's Packaged Goods & Community Bar
(Bridgeport | 960 W. 31st St.)
Photo: © Timothy Burkhart, Groupon
BY: Cody Braun
Guide Staff Writer
Cody is a banjo-carrying gypsy now accustomed to having a permanent home in which to brew beer, store journalism degrees, read Wodehouse, and bake bread.