Beer Stalker: Stillwater Artisanal Ales' Stateside Saison
BY: Cody Braun |
Jul 26, 2013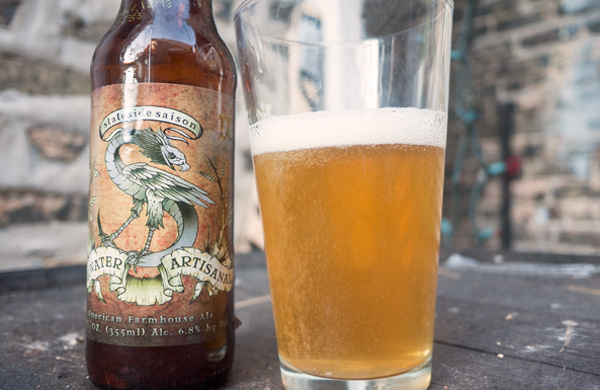 There are almost 3,000 craft breweries in the United States. In this edition of Beer Stalker, we stumble upon Stillwater Artisanal Ales' Stateside saison and talk to the brewer about the beer's geographic influences and why it isn't just for Belgian farmers.
The beer:
Stateside saison from
Stillwater Artisanal Ales
The style:
Belgian farmhouse ale. Sort of.
If Stateside saison owned one of those cross-stitched things that says Home Sweet Home, where would it be?
Good question. Brian Strumke, the brewer, gets around. Baltimore is the center of his orbit, but he is often called a gypsy brewer. That's because, as he travels the globe, he might be working with just about anybody in just about any brewery. He's crafted beers with
Evil Twin Brewing
in Denmark,
Voodoo Brewing Co.
in Pennsylvania, and
Brouwerij Hof ten Dormaal
in Belgium. Stateside saison is brewed in Baltimore, but any saison would probably hang its homey knickknacks in the French-speaking region of Belgium, where the style originated.
But you can taste some of that gypsy nature? 
Yes. Strumke called the beer "a deconstructed hybrid of a West Coast pale ale and Belgian farmhouse ale." "There is some biscuit-like malt character, US and New Zealand hops, and a spicy yeast character," he said. New-World hops certainly aren't typical of a saison; the style was originally brewed in Belgium to be an important part of the paychecks for
saisonniers
, seasonal farm laborers. Because it traditionally fermented in the rustic conditions of a farmhouse for the undiscerning mugs of thirsty farm hands, the style has a lot of room for variety. "I designed this beer to be the most versatile and accessible beer in the portfolio," Strumke said. "And I like to drink beer any time and place." Not just after pushing a plow all day.
And are those notes of electronic music I discern in Stateside?
You have a strange and wonderful palate. Strumke was an electronica DJ for years before he became a brewer. He's even working on a sensory series of beers brewed in collaboration with musicians.
Any other good saisons I should try?
"I really dig
Blaugies
,
Dupont
, and
Fantôme
, when it's on," Strumke said. All three are slightly more orthodox Belgian takes on saison, which can put Stateside in context and really let you taste those international influences.
Where to find it in Chicago:
Warehouse Liquors
(South Loop | 634 S. Wabash Ave.)
The Rocking Horse
(Logan Square | 2535 N. Milwaukee Ave.)
The Dog's Bollox
(Lakeview | 3210 N. Lincoln Ave.)
Photo: © Cody Braun, Groupon