Beers of Ballard
BY: Naomi Bishop |
Jan 29, 2014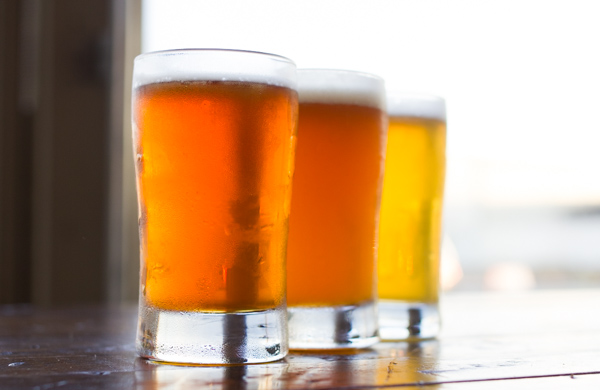 Amid what can only be called a brewery renaissance, Seattle's Ballard neighborhood—original home of one of the first microbreweries to get big, Redhook—is spilling over (pun intended) with brand-new beers. Between the tiny (like nano-brewery NW Peaks) and the relatively large (old-hand Hale's Ales), there's a world of IPAs, stouts, and sessions, all within walking distance. Walk one need not, though, as the neighborhood's nest of taps has spawned a Cycle Saloon, where drinkers can pedal a 16-seat wagon from brewery to bar and back again. Options abound for both transportation and tippling, so here are a few suggestions about which suds to swallow first:
Reuben's Brews Imperial Rye IPA
Reubens' beer selection offers more varieties of India pale ales, or IPAs, than most microbreweries offer taps: nitro, wheat, session, and rye (two varieties). For the real connoisseur, protocol would be to order them all, so luckily the taproom offers adorable four-ounce tasters for only $2—just big enough to select a favorite. The rye IPA is a good way to go. It was only a silver medalist at the 2013 World Beer Awards, while the Reuben's Imperial IPA won gold, but the rye is a bit more distinct, with a great bitterness highlighted by the rye spices.
NW Peaks Ingalls Ginger (Pale Ale)
NW Peaks is a nano-brewery—that means it's tiny. One guy runs it with a part-time employee. That guy, owner Kevin Klein, likes to climb, thus the mountain-based name. The tiny size of the brewery means that the Ingalls probably won't be on tap right now: the shop makes only two beers at a time, serving them until they're gone. But it is indicative of their style: a strong, silent type, the beer light and crisp, what one would want after a long, hard climb. The smoothness makes it palatable, it's the addition of ginger that takes this from unexciting to desirable.
Peddler Brewing Coffee Saison
Wake up! The coffee saison will keep you from falling asleep on the bar with its strong coffee flavor. It looks no more like a cup of joe than the average beer, but the deeply-ingrained flavor of Kenyan beans makes it taste a little like forgetting to brush one's teeth after a latte. The saison smell – overripe bananas and warm spices – balances it out, making it far more pleasant than morning breath. The bike-themed tasting room has an indoor bike rack and tools to tune up while drinking, though most people there seem more into brews than bikes.
BY: Naomi Bishop
In need of an outlet for her effervescent enthusiasm for all things edible, Naomi Bishop started sharing her thoughts on food at her blog, TheGastroGnome, in 2006. Her lack of fear—she'll eat anything and go anywhere—lead her to discover restaurants hidden in plain sight or find the most delicious needle in the haystack of a menu. Her writing appears on Serious Eats, Eat Your World, and in the Seattle Weekly. Download her app, Unique Eats of the Northwest to find the best restaurants you've never tried.