Pusha T on "The Wire," Kanye, and His "Extremely Real" Music
BY: Mae Rice |
Jul 15, 2014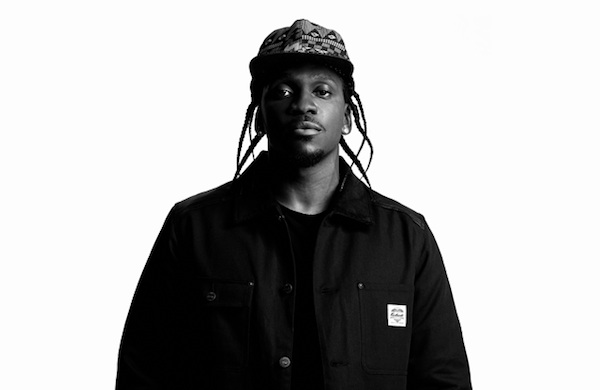 Even if you don't know who
Pusha T
is, you've probably heard "
Grindin'
." The Neptunes-produced track was the breakout hit off
Lord Willin'
, the 2002 debut album from Pusha T and his brother Malice. Back then, they were starkly rapping about the drug trade under the name Clipse, which led to airtime on MTV (and everywhere else). In the 12 years since, Clipse has broken up. Malice now makes anti-drug gospel rap under the name No Malice, and Pusha T has earned new claims to fame on his own. He had guest verses on Kanye West's "Runaway" and "So Appalled," and in 2013 his first studio album,
My Name Is My Name
, was released through West's GOOD Music label. He's long since left the drug business, but on
MNIMN
he still talks about it frankly while also touching on themes like celebrity and family. In anticipation of Pusha T's set at
Pitchfork Music Festival
this Saturday, July 19, we spoke with him about his clothing line,
The Wire
, and, of course, working with Kanye.
GROUPON: You told NPR that your favorite track off My Name Is My Name is "S.N.I.T.C.H.," but I'm wondering about your favorites on a more specific level. What's your favorite beat on your album, and why?
PUSHA T: If I had to pick a favorite beat on the album, I would say "King Push" [produced by Sebastian Sartor]. Simply because "King Push" is to me the perfect blend of what's going on today and a bit of a future, forward-thinking aesthetic. I believe the flow and the content are still A1 level. You don't have to compromise the content because the stencil is different.
G: The title of the album is a quote from Marlo Stanfield on The Wire. There's also a reference to Wire drug kingpin Avon Barksdale in "Pain." It seems like both your music and the show strive to be authentic narratives about the drug trade. Do you think one is more real than the other, or are they real in different ways?
PT: Well, I've never lived in Baltimore, so I couldn't tell you how real
The Wire
is. From what I understand, though, I feel like
The Wire
portrays a very real situation. And I mean, my music is extremely real. Why I like
The Wire
is I get to see the rules, and the mentality, of the street. That's what I try to give in my music as well. To look at
The Wire
and say, "Oh, this is just drugs, and it's horrible"—to me, that's not realistic. What's real is that this is a culture that exists in the world, and there's a mentality behind it that you need to be aware of. That's what
The Wir
e and
MNIMN
give off, the mentality of a person who is in this mix.
G: Kanye West helped produce the album, and you two have worked together quite a bit, even though in some ways, you're artistic opposites. You seem like you're the same person in your music and in real life. Kanye, on the other hand, goes to a much more stylized, surreal place with his work. What have you learned from collaborating with him?
PT: I've become a bit more well-versed in art and a bit more well-versed in fashion, I believe. I've always been into fashion because that's the home that I come from—the Neptunes, Pharrell Williams, and the streetwear side of things. But I feel like [in] being with 'Ye and being with the GOOD Music gang, fashion turned really high-end. It's just been a lot of me learning about art and how people perceive things … and Tumblr culture. [The GOOD guys] are really well-versed in the grassroots Tumblr artistic world. These are things I wasn't too hip on. At the same time, I feel like everything that's hot or everything that's organic starts in the streets. When I look at high fashion right now, it looks very street-oriented. The oversize tees, the Givenchy prints, things of that magnitude.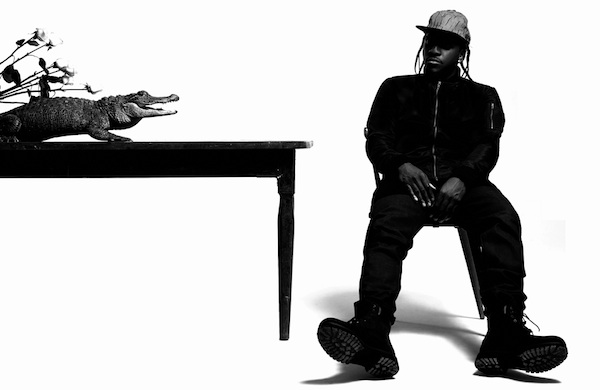 G: Is there any artistic aspect of the album—maybe the album art or a video—that you think really shows the shift inspired by Kanye?
PT: Oh man, Kanye did all the art of my album. Creative-directed it. The whole minimalism, the whole photo shoot, the whole styling of the photo shoot. This was at a time when I'm wearing nothing but Balenciaga and Givenchy—maybe sprinkling in the streetwear of my own brand,
Play Cloths
, but [the] majority [of it was] just high-end stuff. And Kanye was like, "You know what? No. For the album and the sound of it, let's strip down. Let's go to Carhartt, let's go to workwear. That and your African print hat from
Ale et Ange
." He wanted the music to align with the look, and he did that perfectly.
G: You're performing solo now, but you rose to fame with your brother in Clipse. What's one of your favorite memories from that era that your fans might not know about?
PT: Putting together the album
Hell Hath No Fury
, we had label dramas … but even in our worst of worst times, me and him were having the conversation, "Look how awesome this album is. People don't even have to work under these conditions and these constraints, and look how amazing this album is." I think about that and the strength that me and him have together.
G: Yeah, that seems like a good situation to go through with a partner in crime.
PT: No pun intended!
Pusha T plays Pitchfork Music Festival this Saturday, July 19, at 4:15 p.m. Want to explore more music in the Windy City? Check Groupon for concerts in Chicago.
Photos courtesy of William Victor Management