Behind the Cover: JC Brooks Does Wilco's "I Am Trying to Break Your Heart"
BY: Dan Caffrey |
Aug 15, 2013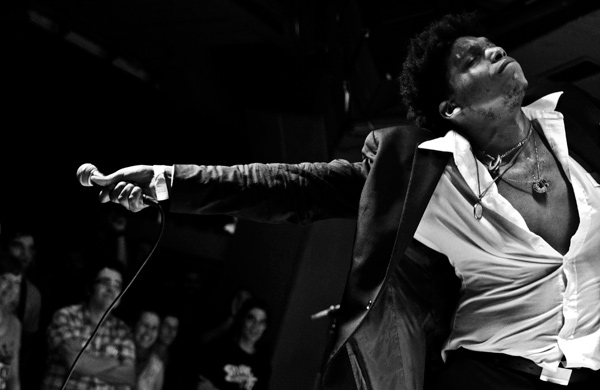 Plenty of bands throw a well-worn cover into their sets when starting out, if only to win over the crowd with a recognizable tune. In Behind the Covers, we talk to our favorite Chicago musicians about their most frequently performed cover—why they started playing it, what they've changed about it, and how the audience has responded.
The Band:
JC Brooks & The Uptown Sound
The Song:
Wilco's "I Am Trying to Break Your Heart"
How It's Different:
Filtered through The Uptown Sound's distinctive brand of indie soul, "I Am Trying to Break Your Heart" takes on a joyousness not apparent in the original's surrealist depiction of heartbreak and alcoholism. The band's wall of Stax horns makes for a brassy counterpoint to Wilco's percussive soundscape, just as Brooks's gleefully shout-sung verses sharply contrast with Jeff Tweedy's deadpan delivery.
How It's the Same:
The two versions are as different as night and day, but The Uptown Sound retains some of Wilco's experimental touches—most notably in the intro and outro. Ben Taylor's bass drones like a stalling L train, and keyboardist Andy Rosenstein captures the wooziness of a hangover with his chime-like flourishes. The band pays further tribute to Wilco by including a verse from "Theologians," a deep cut from 2004's
A Ghost Is Born
.
How It Came to Be:
According to Brooks, the cover started as "a goof" while the band was promoting Numero Group's
Eccentric Soul Revue
in April 2009. "We were in the WGN studio waiting to play for the afternoon news," he remembers. "[Numero Group] had dug soul artists out of the woodwork who hadn't performed since the '70s. One of the people we were working with was Syl Johnson. And we start thinking, 'What if Syl Johnson covered other famous Chicago artists?'" Wilco—an undeniably famous Chicago band—eventually came up, and Brooks tried singing "I Am Trying to Break Your Heart" in Johnson's hardened, abrupt style. The band debuted their newest cover a month or so later at
Do-Division Street Fest
.
How Wilco Feels About It:
As luck would have it, a member of Wilco was in the audience at that first performance. "I think it was [Wilco multi-instrumentalist] Pat Sansone who was out at Do-Division," Brooks says. "He saw it and got a message to [Uptown Sound guitarist] Bill [Bungeroth] of 'Oh, wow, I like your cover.'" But the ultimate compliment came at
Solid Sound
—Wilco's own arts and music festival—in 2011. The Uptown Sound had been invited to play, and Jeff Tweedy batted around the idea of joining them onstage for the song. "There was a question as to whether or not Jeff was actually going to do it," Brooks says. "We had talked to him beforehand … and it was like, "If you can make it, we'll put it toward the end of the set.'" But by the time they got to the song, there was no sign of Tweedy. "I'm all lathered up. I'm busting through the set. … I had completely forgotten that [Tweedy] was supposed to be joining us onstage. I should've noticed. … I think he came out during the first chorus, and I heard people start to cheer. I was like, 'Yeah! The Wilco fans finally recognize what song we're doing!' No, it's
Jeff Tweedy standing behind me
."
How Brooks Makes the Abstract Lyrics His Own:
"One of the things I always say," Brooks reflects, "is that despite the ultra-poetic lyrics, this song has always been about one thing. It's about that love that's going to f*ck you up from the get-go. And I can pretty much understand what he's saying through poetic license."
Bonus Cover:
According to Brooks, the number of cover songs in The Uptown Sound's set "depends on if we're playing a wedding or not." Still, they've managed to work another tribute into their regular set. It sprung from the band's appearance on the A.V. Club's popular
Undercover
series, where they were asked to put their own spin on
Blackstreet's "No Diggity."
Like their take on Wilco, it includes more than just one tune. "It's actually a mash-up of two covers," Brooks explains. "At one point in time, we did a cover of
Janelle Monáe's 'Tightrope.'
So we're basically playing 'No Diggity' like 'Tightrope.' I get to get all that flavor in there."
JC Brooks & The Uptown Sound's latest album,
Howl
, is available through Bloodshot Records. They'll be touring throughout the fall, including a stop at Chicago's North Coast Music Festival on Sunday, September 1.
Photo: © Jamie Massieu
BY: Dan Caffrey
Guide Staff Writer
Outside of Work, Dan is a playwright, Senior Staff Writer for Consequence of Sound, and contributor to The A.V. Club.