Bending the Brewing Rules at Tea Gschwendner
BY: SHANNON JEWITT | 5.2.2013 |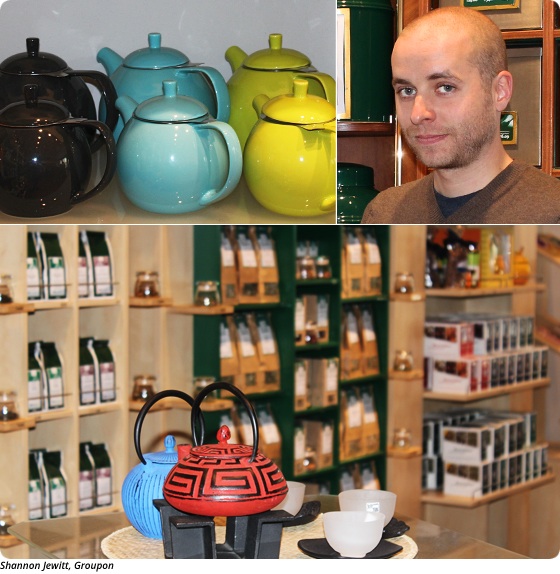 "It smells like a barn." "It tasted like a dead fish." Believe it or not, those are the words of a man selling tea.
Matt Crews, the tasting manager at the Gold Coast's Tea Gschwendner, doesn't take himself, or tea, too seriously. He encourages tea drinkers to experiment with their cups and trust their own palates, dissolving any notion that there's a "right" way to enjoy tea.
Tea Gschwendner is a German company with one location in the United States, here in Chicago. The store's vast, ever-changing inventory usually includes about 300 teas, from classics such as Japanese green and English breakfast to flavored varieties, such as Asian pear and blood orange.
"People think tea is just for Downton Abbey," Crews says. But that's not the case. "The cool thing is realizing it's the most democratic drink around. It's been around for centuries. It's the cheapest to make. It's the easiest to make. America's a bit of an anomaly, because [tea is] consumed by everyone everywhere else."
Anyone looking to find their loose-leaf match can stop by the store and enjoy samples or attend a more formal tasting of 8–10 teas. Furthermore, Crews endorses mixing multiple varieties—a practice that's considered to be criminal in the context of other age-old beverages, such as wine. "You might as well drink what you like," he says. "And they've been mixing green and black and oolong for years. So, as long as it tastes good, I say go for it."
However, although Crews encourages experimentation, he also admits that sometimes it can have unappetizing results. One time, he broke the rules with a high-end Japanese green tea—and the tea wasn't amused.
"I shouldn't have done it," he said. "I steeped it with like, boiling water for 10 minutes just to see what it would taste like. And it tasted like a dead fish. Not like a fish that's been cooked. I'm just imagining if I were to bite into a fish that had been lying outside for 10 days. It was disgusting."
But it would take more than one cup of fish to stop Crews from experimenting. The tea presence in Chicago isn't getting any smaller, and he's excited to keep his finger on the pulse. "It seems like every other day something new comes out about tea," he says. "There's always [a new tea trend] to keep up on."
Stop by Tea Gschwendner for a taste of its enormous inventory. If you're a first-timer, Crews recommends a naturally sweet white tea. You can also slurp down the pu-erh tea, a fermented Chinese tea, which Crews promises is delicious despite "smelling like a barn." Or you can check out one of Crews's favorites—organic South Korean green teas, which taste similar to high-end Japanese green teas.
BY: Shannon Jewitt
Guide Staff Writer
Resident Beer Stalker Shannon has an insatiable thirst for craft beer. Despite being a vegetarian, she always makes an exception for fries cooked in duck fat.