GROUPON GUIDE TO SAN FRANCISCO
Best Holiday Activities in San Francisco
BY: Anjali Shah |
Nov 25, 2013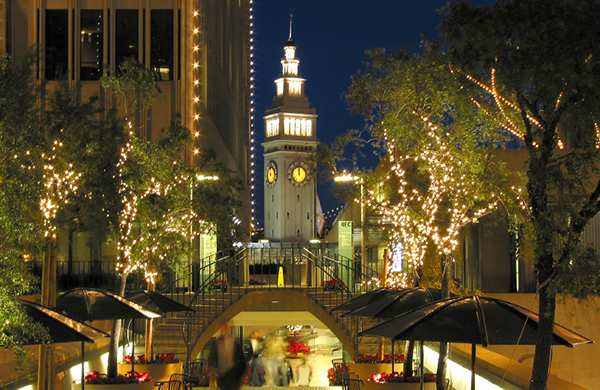 San Francisco is a city that comes alive during the holidays. Between the beautiful Christmas Tree display in Union Square, the amazing shopping, and fun family events -- there is never a dull moment between Thanksgiving and Christmas in SF. These are the best holiday activities in San Francisco, guaranteed to surprise and delight year after year. 1) Start your holiday off with a chocolate tour.
Gourmet Walks
 offers an annual "Holiday Lights and Chocolate Tour" event that includes viewings of the Christmas Tree and lights in Union Square, Embarcadero Center, the Palace Hotel and Westfield Centre, along with 7 different tastings. Departs Fridays and Saturdays at 4:30pm, lasts 3 hours. 2) Continue indulging your sweet tooth by visiting the
Fairmont Hotel
and viewing their giant Gingerbread house! The house stands 22 feet high and 23 feet wide and includes thousands of home-baked gingerbread bricks and more than a ton of royal icing and candy decor. 3) Admire the lights, Cable Car style.
Cable Car Classic Sightseeing
 offers a free santa hat, candy cane and songs of the season on their 90 minute tour departing Fridays and Saturdays during the holidays. 4) Or check out the lights on foot through
FootTours
 luscious lobbies walking tour -- which explores the city's grandest and most decorated hotel lobbies. This tour covers the general history of SF, focusing on iconic buildings and businesses in the Nob Hill and Union Square area. 5) Enjoy ice skating outdoors at the
Embarcadero Center's
 Holiday Ice Rink - open every year for 9 weeks during the holidays. It's the largest ice rink in San Francisco, and definitely worth a visit. 6) While you're at the Embarcadero Center, take a stroll through the four tours as they are outlined in more than 17,000 lights - a holiday tradition started 25 years ago. 7) More lights and Christmas Cheer can be seen at the annual tree lighting in
Union Square
, usually held the day after Thanksgiving every year. 8)
Westfield San Francisco
 also offers free light shows each night "Under the Dome". This year the theme is the Nutcracker, but it changes each year. 9) Speaking of The Nutcracker - catch it live at the
SF Ballet's
 annual Nutcracker show, which runs every December. 10) Lastly, spend time giving back to those in need.
HandsOn Bay Area
 has projects for groups, families, individuals and kids. They work with local nonprofits, schools, and parks to identify high-impact volunteer projects (over 80 projects per month). It can be one of the perfect ways to enjoy the holiday.
Want even more ideas? Check out other things to do.
BY: Anjali Shah
Anjali Shah is a food writer, certified health coach, and owner of The Picky Eater, a healthy food and lifestyle blog. She taught herself how to cook and now creates healthy, flavorful recipes made with simple, wholesome ingredients. A Bay Area native and a self-proclaimed "foodie," Anjali has become an expert on all things food & health in the SF Bay Area. Through her blog, The Picky Eater, Anjali shares her passion for local finds and tasty, healthy cooking.