Best Hot Chocolate in Chicago
BY: Arin Agase |
Jan 9, 2015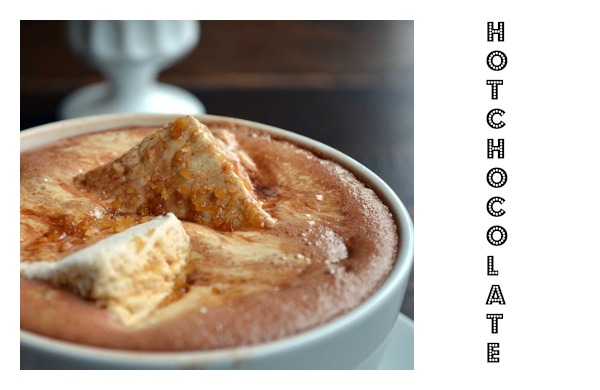 Chicago winters know how to make an entrance (without much warning!) -- There's nothing better than warming up to a piping cup of hot cocoa when the temps got you down. (40 below wind-chill to be exact, ouch!) Heart of Chic has searched high and low for the most decadent hot chocolate that's allowed in a mug! Luckily for us, Chicago has a spot for just about everyone. (And, yes, you're allowed to break your New Years resolution for these — they're that good). So, let's make a toast — to kicking these cruel months to the curb with our secret chill-weapon, hot chocolate. Tag your hot cocoa pics with hashtag #ChicagoCocoa — I'd love to see your sips!
1. XOCO: Scoring a spot on America's best hot chocolate, XOCO is comin' in strong! Mr. Rick Bayless highlights Mexican street food with one ingredient in mind: authenticity. Made fresh from ground cacao beans, and roasted right before your twinkling eyes — it's too good! Oh, and don't forget to order a hot churro for the ultimate slam dunk.
2. Mindy's Hot Chocolate: I mean, if you live in Chicago and you still haven't been, you're on the naughty list. Chef Mindy is my partner-in-crime in the dessert department. House-made marshmallows, ya'll — & they're superb. I highly recommend the maple caramelized white chocolate (just drooled on my keyboard) but if you're feeling simple, the old-fashioned milk chocolate will surely do, too!
3. Katherine Anne Confections: If you're having an especially rough day, pair your hot cocoa with house-made truffles, whip cream and marshmallows. Not any kind of marshmallow: vanilla bean, salted caramel, hot chocolate, cinnamon sugar, latte and chai tea are the flavors of choice. Katherine's is a great place to kick your feet up, relax and take a treat to go! It's one of my absolute favorite places on earth. You will not be disappointed…
4. Margie's Candie's: The Beatle's, Al Capone, Bruce Springsteen & more have dined at this historic gem! It's the most charming, intimate dessert you'll ever have. Did I mention the Beatles? They still have the very booth they would sit in (a great Instagram photo, no?) The desserts are out-of-this-world good, but the hot chocolate is perfection and served with a side of cookies to seal the deal. Make this a date-night with your favorite, you'll be glad you did!
BY: Arin Agase
Hello! My name is Arin – Blogger behind HeartOfChic.com. I blend fashion, inspiration and all other glamorous things in life! I created this digital-abode as a safe-haven for my creative spirit. A few things I love: Chicago food (we have the best!), bubble-baths, fresh flowers, brunching & the Chicago Skyline. I hope you follow along with me! Instagram|Twitter|Facebook: @HeartOfChic