GROUPON GUIDE TO NASHVILLE
Nashville After Hours: Beyond Music Row
BY: Michelle Schuman |
Mar 3, 2015

Nashville may not be the birthplace of American music, but it's long been considered its capital: people come from all over to drink and dance at the many famed Nashville music venues. Music Row may be the best known, but there are tons of great live-music spots in other parts of town, too. Use our decision tree below to find one that's sure to suit your tastes.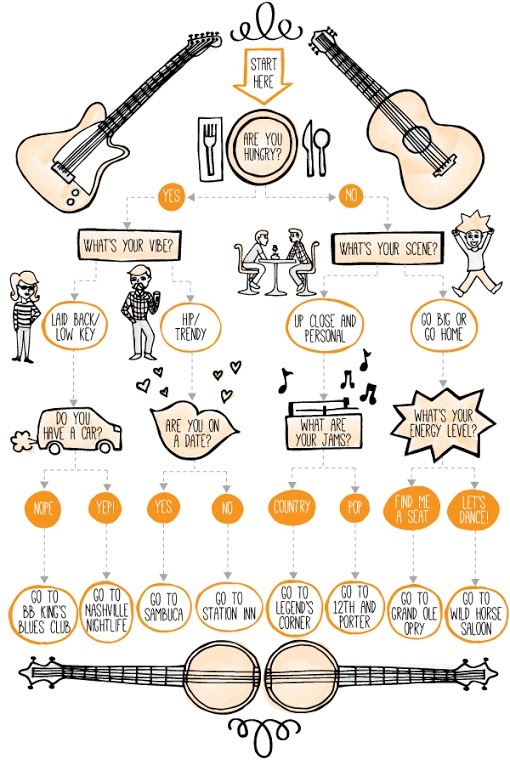 The District
Nashville's main nightlife drag. Here you'll find some of Nashville's most famous music spots, sandwiched between restaurants and boutiques—many of which stay open late.
Wildhorse Saloon: This massive venue is Nashville's best spot for line dancing. If you've never done it before, no problem: the saloon also hosts lessons.
Legends Corner: You might run into a few celebrities at this low-key bar, where Kid Rock and Toby Keith have been spotted among the crowds. The live music starts at 10 a.m. almost daily.
B.B. King's Blues Club: With famous blues guitarist B.B. King at the helm, it's no surprise that this restaurant offers great Memphis-style rhythm and blues. Its roster of regular performers includes a talented house band and Grammy-winning gospel singer Carl Stewart. The food is just as notable as the music.
Music Valley
Home to the Grand Ole Opry, the Willie Nelson Museum, and Ernest Tubb Record Shop. There's also a mall, movie theater, and go-kart track to keep kids entertained while adults enjoy a beer and some music at one of a handful of country bars. Music Valley is about a mile and a half long and not very pedestrian friendly, so a car and a designated driver are recommended if you're not staying in the area.
Grand Ole Opry: It's a country-music rite of passage to play at this historic venue. Founded back in 1925 as a radio program, the stage has welcomed the biggest names in country, including Hank Williams, Dolly Parton, Carrie Underwood, and Garth Brooks.
Nashville Nightlife: This humble venue isn't quite as raucous as the name might suggest. Kids are welcome to tap their toes to the tunes of Patsy Cline and Toby Keith, performed by pro musicians, while enjoying a multi-course dinner alongside the adults.

The Gulch
The neighborhood for Nashville's young urbanites to spend their after-hours. Three notable Nashville music venues together offer a greater musical variety than the District and Music Valley combined.
Station Inn: If you're not paying close attention, you might stroll right past this low-key venue, which Frommer's called "one of the best bluegrass venues around." Dolly Parton and Reba McEntire have both graced the stage, as have countless notable bluegrass acts.
12th & Porter: Unlike most Nashville music venues, 12th & Porter hosts a wide variety of popular music. Such contemporary acts as Kings of Leon have played on its modest stage, as have Neil Young, Bon Jovi, and other legends.
Sambuca: The least country of the bunch, this upscale restaurant offers up a live-music roster that spans from jazz and blues to classic rock and Top 40 hits. If you're on a date, hit the dance floor—the restaurant's upscale, romantic vibe is perfect for it.

Illustration by Jess Duff, Groupon