GROUPON GUIDE TO SAN FRANCISCO
Best Places for (Dolores Park) Picnic Supplies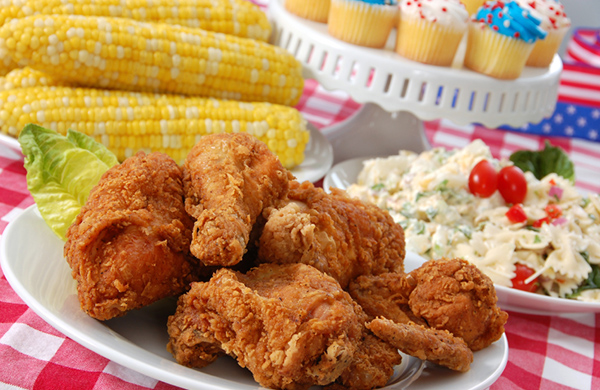 There's nothing better than packing up supplies for a picnic in Dolores Park. The San Francisco green space is the perfect summer setting for an afternoon meal, complete with some of the city's best bites, all contained in one basket. Here's where to pick up your much-needed picnic supplies nearby. Fried chicken is the ultimate picnic staple, and between spicy Korean and saucy Southern-style, this city isn't hard up for wings and thighs. Down in the geographically southern end of the Mission,
the Front Porch
's ten-piece bucket sets a high standard. It comes sprinkled with popcorn, and makes for a great cold snack, so pick up a bucket the night before. Plus, it's not excessively saucy, so you won't have to wipe your hands on the grass. If you'd rather skip the greasy fingertips altogether, opt for a meal that's been scientifically designed to travel well: the sandwich. San Francisco has many wonderful sandwich shops, but
Ike's Place
's proximity to both mass transit and parks, plus its all-encompassing variety of creative hot and cold subs, make this beloved Castro shop a definite. Call in to order one of the humorously-named sandwiches, many monikered after local sports and pop culture heroes, then pick up and head to the park. Right outside Mission Dolores park is Bi-Rite Market, San Francisco's premiere gourmet shop for all things seasonal, local and expensive. It's easy to go broke on the eclectic wine and cheese selection, but in-the-know summer picnickers hold out for the nearby creamery. Located adjacent to the park, the perfectly coned and scooped desserts won't last long, and not just because the sun is out. Better yet, swing past the creamery on your way home for a scoop of salted caramel, the perfect coda to an afternoon. Finally, a picnic without the proper basket and checkered gingham blanket can scarcely be considered a picnic at all. Thankfully, Cliff's Variety in the Castro stocks everything from nuts and bolts to rainbow wigs, making it the perfect place to add flair to al fresco dining. Grab a on your way to any of the parks that encircle the Castro, and all the hikers will stop admiring the views and start looking on with envy.
BY: Gayot
GAYOT.com serves as a leading worldwide authority on the good life. Millions of readers turn to Gayot's savvy, professional reviews on dining, travel and lifestyle. From "Best of" lists and travel guides, to a searchable restaurant and hotel database, Gayot provides dependable coverage while keeping up with the latest trends and news.