GROUPON GUIDE TO SAN FRANCISCO
Best Places for Piercings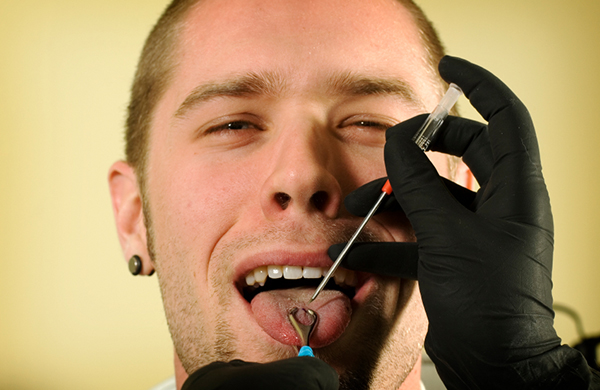 This being San Francisco, it's increasingly appropriate to wear uncommon or exotic piercings in a professional context. More and more, nose studs and other bits of hardware are entering the mainstream, which means a rise in professional piercing studios to meet the demand. Far from some dusty old kiosk in the mall, this new generation of parlor often sports devoted followers and well-defined aesthetics, all in a clean and safe environment.
Of the many piercing-and-tattoo-parlors in the Upper Haight, the vibrant Cold Steel America is one of the most trusted. Bending over backwards to establish their commitment to aftercare, all of Cold Steel's staff have taken extra courses about piercing safety, and they'll only pierce jewelry that's been purchased in-house. That doesn't mean the shop isn't fun though; a relaxed atmosphere greets customers, and it's not unusual to find free cupcakes on the counter.
For truly exquisite, bewjeweled piercings, Braindrops – also in the Haight – ought to be a prospective client's first choice. Whether it's Anatometal or quality inlaid gems, this piercing studio, with its companion shop full of crystals for the energy-aware, exudes a hippie vibe with a technician's exactitude. Braindrops is also known for being a place to get something redone, if the initial work simply wasn't up to par.
At first glance, Nomad's location – in an in-between neighborhood that borders the freeway off of Market Street – would seem to lend itself to being a bit gritty. But rather than dodging the authorities or cutting corners, it was Nomad that actually worked with the San Francisco government to craft legislation outlining license requirements for piercing practitioners citywide. Having pioneered techniques in large-gauge piercings as well as sterilization, Nomad remains a wonderful and reassuring choice for anyone who's a bit nervous about getting their first piercing.
But the granddaddy of all San Francisco piercing parlors is Body Manipulations. Whether you're looking to take a nose ring up a gauge, find a one-of-a-kind piece of jewelry or just re-open a long-healed hole, this spartan-looking studio in the heart of the Mission is the place to be. Body Manipulations commands top dollar, but its renown comes with a bit of bragging rights – piercing heavyweights worldwide know and respect this place, which claims to be one of the world's oldest professional piercing studios.
BY: Gayot
Gayot
GAYOT.com serves as a leading worldwide authority on the good life. Millions of readers turn to Gayot's savvy, professional reviews on dining, travel and lifestyle. From "Best of" lists and travel guides, to a searchable restaurant and hotel database, Gayot provides dependable coverage while keeping up with the latest trends and news.