GROUPON GUIDE TO SAN FRANCISCO
Best Places to Slurp Up Ramen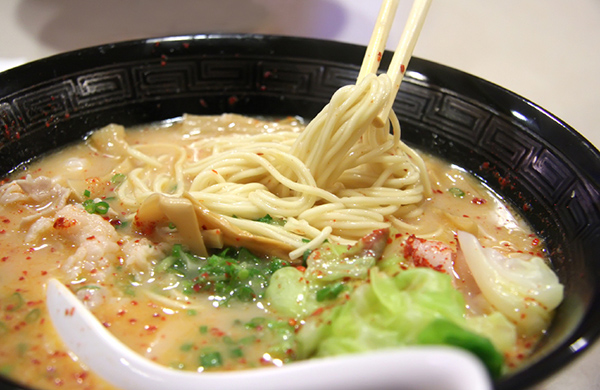 In spite of ramen's minimalism, the pursuit of a perfect steamy bowl of noodles in San Francisco is nearly limitless. Many San Franciscans will insist that you have to leave the city to truly find the best ramen, but that would mean overlooking a number of hidden gems nearby. Remember: slurping is mandatory.
Hapa Ramen
might not have a brick-and-mortar location yet, although one is in the works. This relative newcomer has popped up all over town, and holds to the belief that ramen is as much an art as a science, where precision counts for a lot. The $12 Big Daddy Ramen Bowl combines chicken, slow-cooked pork and a perfectly prepared egg, and Hapa's even been known to concoct novelty bowls of cheeseburger ramen on occasion. One step ahead of Hapa is noted hipster hangout Ken Ken Ramen, which successfully made the transition from pop-up to permanent address. It might have truncated hours, but this Mission District ramen house offers wide varieties, including a nightly special as well as multiple vegan options – although you'd never err by doubling up on the pork, and pairing it with one of Ken Ken's several sakes. Given Americans' penchant for downing a late-night bowl of noodles after a solid dose of partying, it makes sense that one of the more beloved ramen bowls would be found at Izakaya Sozai restaurant in the Inner Sunset. The ritsu tonkotsu, or pork broth – with pork belly added, of course – is the only ramen on offer here, but it wins near-universal acclaim. All too often, tourist-clogged Union Square is where good taste goes to get watered-down. That could not be less true at
Ramen Underground
, the Kearny Street ramen emporium that is something of a hole-in-the-wall. Fans of fire will tell you that the habanero ramen is not to be trifled with, but once the heat dissipates, the noodles reveal themselves to be flawlessly executed. If house-pickled bamboo shoots and sixteen-hour broth sound about right to you, then Ramen Izakaya Goku is your kind of place. Amid a menu thick with delicacies such as monkfish liver and fried burdock root, the clam-and-garlic ramen swims in a complex shoyu broth. All that flavor, and you never even had to leave the city.
BY: Gayot
GAYOT.com serves as a leading worldwide authority on the good life. Millions of readers turn to Gayot's savvy, professional reviews on dining, travel and lifestyle. From "Best of" lists and travel guides, to a searchable restaurant and hotel database, Gayot provides dependable coverage while keeping up with the latest trends and news.