Irish Whiskey: A Beginner's Guide
BY: Reuben Westmaas |
Oct 17, 2014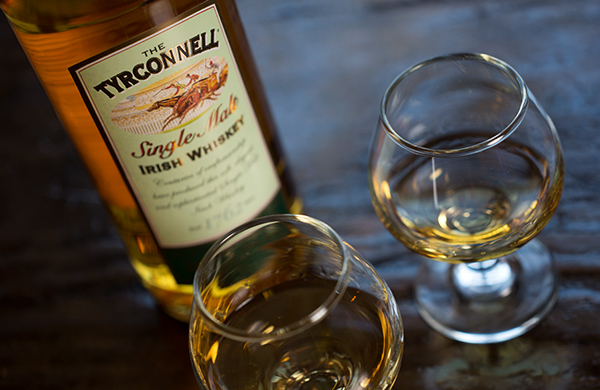 Tyrconnell single-malt Irish whiskey at Johnny O'Hagan's in Chicago
If you want a scotch, walk into a
bar
and ask for a scotch. If you want bourbon, call it by its name. But if you want an Irish whiskey, you can probably simply order a whiskey, either neat or on the rocks. More than any of its cousins, the water of life from the Emerald Isle is synonymous with the word "whiskey." But as straightforward as it seems, Irish whiskey is actually one of the most difficult beverages to pin down. That's the opinion of Heather Greene, New York City's first female whiskey sommelier, anyway. "In general," she told me, "I tend to think of Irish whiskeys as being more elegant and lighter, but if you write that, you'll have 20 people giving examples to the contrary."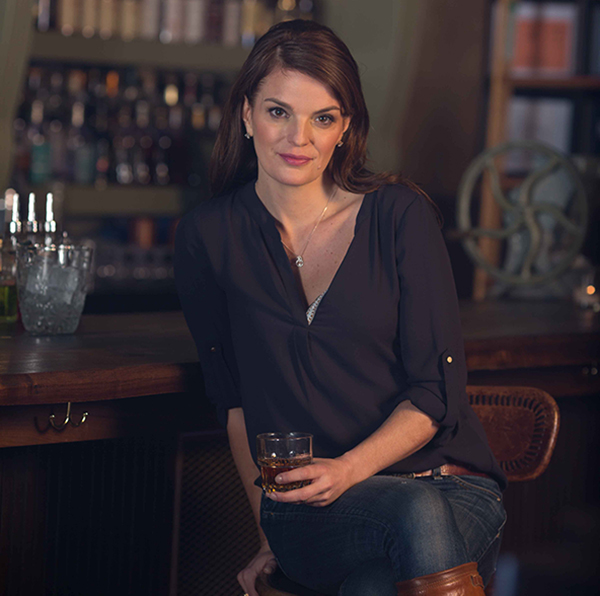 Photo of Heather Greene courtesy of Matt Wells Photography
As the author of the newly released 
Whisk(e)y Distilled: A Populist Guide to the Water of Life
, Greene has made it her business to guide initiates into the wide world of grain spirits—and as an Irish American Bostonian, she takes the subject of Irish whiskey rather personally. In fact, one of the first things she told me was that "the Irish whiskey chapter was my absolute favorite." As I soon found out, Irish whiskey is characterized by its lack of easy characterization. Here's what she had to say about the history of the drink, her favorite ways to drink it, and its future.
The Original Whiskey (Probably)
"There's one theory that whiskey distillation was invented in Ireland by monks in the 5th century. There are a few problems with that theory, though—we don't see any real written records of whiskey distillation until much later in Salerno, Italy. So we can't be quite sure about where distillation happened originally. But one of the things that the Irish can almost definitely lay claim to is that the Irish brought whiskey into Scotland. Our best theory is that the Scottish can thank Ireland for bringing whiskey into their lands, and the rest of us can thank Scotland for bringing that to outrageous levels."
Freedom to Experiment
"Essentially the rules of Irish whiskey haven't changed since 1980. Basically under the legal definition of whiskey, it states that it should sort of appear like whiskey. The rules, or lack of rules, could work to our advantage because we can see a lot of creativity. It's, like, it's Irish whiskey! It can be whatever it wants! "I do hope that Irish whiskey in the future continues to reflects the spirit of Ireland. I don't want to see a bourbon style coming out of Ireland. Irish whiskey as a category is much more wily and difficult to define."
An Influx of New Brands
"I think there's a lot of Irish pride, and in America, that translates to a lot of Irish Americans who are now looking beyond
Jameson
and
Bushmills
to see what else is on the horizon. Not that those aren't great brands. But it's about rethinking the category. It's about whiskeys that have been relegated to frat bars getting a new lease on life. "Now we're starting to see at places like
The Flatiron Room
[
where Greene serves as whiskey sommelier – Ed.
] that we're getting these beautiful whiskey brands from Ireland, like
Green Spot
. Great brand.
Redbreast
. Beautiful brand. I love the
Tullamore Dew
, it's gorgeous. I love
Knappogue
, a beautiful brand. These are lush, delicious Irish whiskey expressions, and I think people are going to start getting excited about them as we get into the new era of whiskey making."

Fewer Distilleries—For Now
"There's 107 distilleries right now operating in Scotland. But most of the bars and restaurants in the US, in general the brands of Irish whiskey that you'll see are going to be produced out of only three distilleries. Midleton, all the way in the south, makes Jameson, Green Spot, and Redbreast. Bushmills to the north is the oldest continually running distillery in the world and started making whiskey in the 1600s. Cooley Distillery, toward the middle, makes
Kilbeggan
, the
Tyrconnell
, and
Connemara
. " … But there's also a lot of exciting construction happening in Ireland. There are a lot of new distilleries and small distilleries, and it's all just growing tremendously. We can also see growth in some major brands. Tullamore Dew, which has been produced at Midleton, is building a new multimillion-dollar distillery. They call Tullamore Dew the 'whiskey of the heartland,' and they're just about to be finished with their own major distillery."
What Does—And Doesn't—Triple-Distilled Mean
"One persistent myth is that all Irish whiskey is triple-distilled. Much of it is, but not all of it, and of course there's no law that says it must be. … The thing is, the more you distill something, the more you are actually stripping flavor from it. … The idea that all Irish whiskey is triple-distilled is basically somebody saying that all Irish whiskey is lighter than most scotch whisky. "There's a problem with that theory, though. There are a huge number of other factors that affect the flavor of a whiskey, and chief among them is the casking process. … So while you may triple-distill a whiskey to capture the aromatic molecule you want, you can throw it in a very vibrant barrel and you'll get a lot of flavor from that. … I think that debunks the idea that triple distillation is going to be a lighter whiskey. It's an easy thing to say, but it's simply not true."
---
READ MORE ABOUT WHISKEY ON THE GUIDE
---
Why You Should Try Irish Whiskey If …
… you've never had a whiskey in your life.
"If a whiskey is really delicious for a beginner, my philosophy is that that whiskey should taste great all the way into expert-hood, if you will. … Irish whiskey is great for both the beginner and the aficionado because they tend to be both approachable and elegant. And there are times, even as a whiskey expert, that you just want this elegant, floral, creamier style."
… you wouldn't pause for a second to pronounce Bruichladdich.
"If you are a scotch snob and you think you can't make a rich, elegant Irish whiskey, I'd say you try the
Bushmills 16 Single Malt
. That's the whiskey for the scotch snob. I love it. And if you like a smoked and peated whiskey, Ireland's got one of those, too: Connemara.
… you're looking for a cocktail.
"Irish whiskey is a cocktail in a glass. There are so many beautiful floral, citrus, spice, and vanilla notes that one doesn't need to mix it with anything."
Photo of Heather Greene courtesy of Matt Wells Photography. All other photos by Andrew Nawrocki, Groupon.
Shop Goods for kitchen and dining products:
BY: Reuben Westmaas
Reuben writes about whiskey at work and drinks it at home. He also writes and edits the arts magazine Sixty Inches From Center.