Beyond Rum Balls: Boozy Treats
BY: Anna Skorczeski |
Mar 25, 2013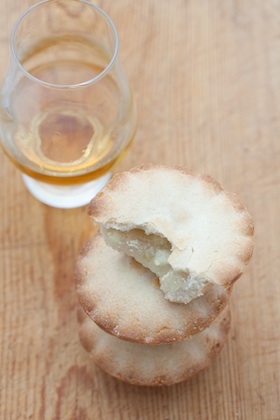 Spiked treats make an annual appearance at Christmastime in the form of bite-size chocolate rum balls and brandied eggnog, but some cooks like to keep the party going in the kitchen year-round.
"I cook with booze all the time," says Jen Templeton, owner of Gingersnap Sweets & Such in Chicago. A whiskey enthusiast and former Julius Meinl pastry chef, Jen can be found infusing caramel truffles and tarts with bourbon or preparing fruits in cordials and brandies in just about any season. She even makes use of malted barley, a beer byproduct acquired from a local brewery, to make graham crusts for cakes.
On the Rocks or on a Cake
Liquor can lend desserts a hint of unique flavor or a full-on adult-beverage kick. Using spirits in the kitchen instead of behind the bar is nothing new, of course. Wee drams of whiskey are often found in traditional Scottish and Irish desserts, and Bon Appetit magazine has run many a feature on the bourbon-laced desserts of Kentucky Derby day. For delicate mousses that require subtle whiskey notes, Jen reaches for top-shelf labels such as Templeton Rye and Eagle Rare. In a pecan pie or a rich cake, something that can stand up to a bolder bourbon twang, she said cheaper brands such as Jim Beam work just fine.
Plays Well with Fruit
Champagne gets used in gelées, jello's sophisticated antecedent, as well as sabayons, a type of light, whipped custard—both of which pair perfectly with the sweetness of summer berries. Berries welcome the flavor of many types of liquor, and Jen reveals—maybe surprisingly—that "blueberries and gin are actually a really beautiful pairing." When making a blueberry dessert, such as a compote, most people finish their berries off with a bit of lemon juice for brightness; but Jen adds in a splash of gin for an element of depth and a slightly savory accent.
Tips for Trying it at Home
Anyone who's watched an episode of Good Eats or America's Test Kitchen knows there's a fair bit of chemistry that goes into baking, so you can't just go adding shots of whiskey to a bowl of batter and pop it in the oven. Jen warns home cooks to remember that when considering liquid substitutions in a recipe, oil is considered a fat, not a liquid. Even though it's pourable, it cannot be swapped out for booze.
Below, Jen shares two recipes that will help you get the libations brewing in your baking.
Bourbon Custard
What You Need
Food:
6 large eggs
½ cup sugar
⅓ cup bourbon
1 teaspoon of good vanilla paste or extract
Equipment:
Whisk
Double boiler
Thermometer
What You Do
1. Mix together eggs, sugar, and bourbon.
2. Place immediately in double boiler.
3 .Whisk constantly over boiling water until mixture thickens and reaches 165 degrees.
4. Cool mixture over an ice bath.
5. Whisk in vanilla.
6. Refrigerate, eat, or put in roommate's pillowcase within three days.
This custard is excellent spooned over french toast, pound cake, angel food cake, or fruit.
Super-Easy Boozy Frosting
What You Need
16-ounce can of chocolate frosting
⅓ cup irish cream or coffee liqueur
What You Do
1. Mix frosting and liqueur together.
2. Use to frost cakes or cupcakes or as a filling for sandwich cookies.
Visit Jen at Gingersnap Sweets & Such in West Lakeview, where she can be found baking up her signature Whirlaways—spiral rolls flecked with chocolate chips—or any number of other sweet or savory treats. Her shop serves Intelligentsia espresso drinks, as well as a hot chocolate that was named one of the best in the city by
Chicago
magazine.
BY: Anna Skorczeski
Guide Staff Writer
Raised in Minnesota and schooled in Wisconsin, Anna is now a well-traveled eater and amateur bassoonist.