Biking Chicago's Coast: A Day Trip Down the Lakefront Trail
BY: Collin Brennan |
Jun 7, 2013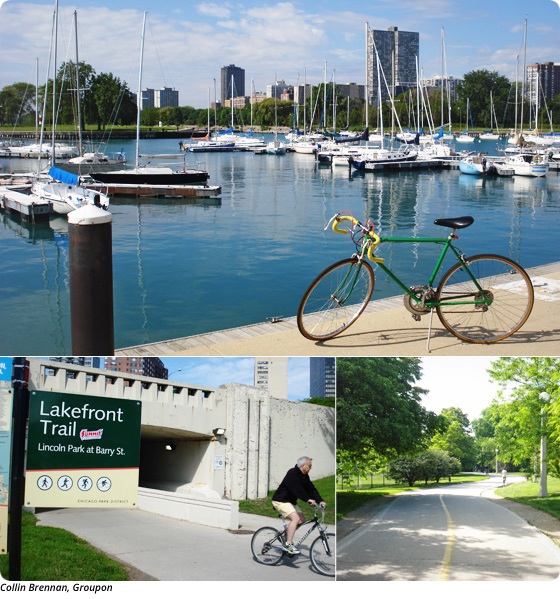 After an especially gray winter, cyclists across the city have celebrated the arrival of spring by testing out new protected bike lanes on Dearborn Street. Yet, even this commuter corridor can't rival Chicago's best cycling asset: the Lakefront Trail, a scenic bike lane and pedestrian walkway whose 18 miles are gloriously shielded from the city's traffic. A journey along the entire trail can be comfortably completed in half a day, starting on Hollywood Avenue in Edgewater and ending several hours later at 79th Street in South Shore.
Ready, Set, Bike
Unless you're a glutton for punishing your glutes, there are a few things to keep in mind when preparing for a long-distance bike ride. Conor Hutchinson, a professional bike messenger who spends his workdays on the saddle of a road bike, has a few valuable thoughts about pre-ride preparations. According to Conor, if you're planning a daylong bike excursion, your itinerary should begin the night before. Loading up on carbs for dinner is essential, especially if you're new to distance riding and hope to tackle all 18 miles. And while "a big dinner is good," Conor insists that "a good breakfast is even better."
It's also important to think about hydration, unless you'd rather imbibe the murky waters off Navy Pier halfway through your journey. Conor advises drinking plenty of fluids in the hours leading up to the ride as well as during it. "Don't wait until you're thirsty, because by then it will be too late." And just as your body should be in working order, so should your bike. "It seems obvious," Conor admits, "but tires don't stay inflated forever." As far as spandex goes, Conor's advice can be boiled down to this: it's stylish, but not totally necessary.
Manners are another thing to keep in mind. The Lakefront Trail is one of the most congested in Chicago, so Conor suggests making an extra effort to ride safely and courteously. Wear a helmet, use turn signals, and "make a conscious effort to keep abreast of what's going on around you."
Above all, don't stress too much about the journey. Eighteen miles isn't such a long trip, and the CTA trains run close enough to the trail to catch if you run into any trouble or need relief.
Where to Rest Your Wheels
To the uninitiated, the Lakefront Trail can seem like a bewildering procession of parks, beaches, and harbors speckled with sailboats. It doesn't lack for diversity, but some spots are more worthy of an extended pit stop than others. Here are five that will leave you wanting to linger:
Montrose Dog Beach | Wilson Avenue, Uptown
A sandy gem on the city's North Side, this expansive dog beach is located just north of Montrose Harbor. Slobbering labradors compete for your attention with stunning views of the skyline, and the dogs usually win.
Grill in the Park | 284 West Diversey Parkway, Lakeview
Having completed roughly a quarter of your journey, celebrate with a hot dog or fish taco at Grill in the Park. If you show up on the weekend, you might also find smoked ribs and sausages sizzling on the grill outside.
12th Street Beach | 1200 South Linn White Drive, Museum Campus
All the way out by the Adler Planetarium on Northerly Island, 12th Street Beach doesn't get much foot traffic. That's a shame for everyone who isn't you, as the secluded beach offers a quiet escape and unparalleled views of the skyline and the planetarium's iconic dome.
Burnham Skate Park | 31st Street, Bronzeville
If you've made it this far, it'll be extra rewarding to watch others exert themselves on Burnham Skate Park's pyramids and bowls. The surrounding beach provides ample room for sunbathing, and a nearby swing set and monkey bars might tempt the kid in you.
Promontory Point | 5491 South Shore Drive, Hyde Park
A manmade peninsula that stretches out into the blue waters of Lake Michigan, Promontory Point is one of Hyde Park's not-so-hidden treasures. Its landscaping was designed by Alfred Caldwell (whose name you might recognize if you've spent time at his famed lily pool in Lincoln Park) in the 1930s, and his emphasis on native flora remains evident today.
BY: Collin Brennan
Guide Staff Writer
Collin is a senior editor and a staff writer for Consequence of Sound. He self-publishes zines and moderates writing workshops for The Chicago Publishers Resource Center (CHI PRC).