Biking Houston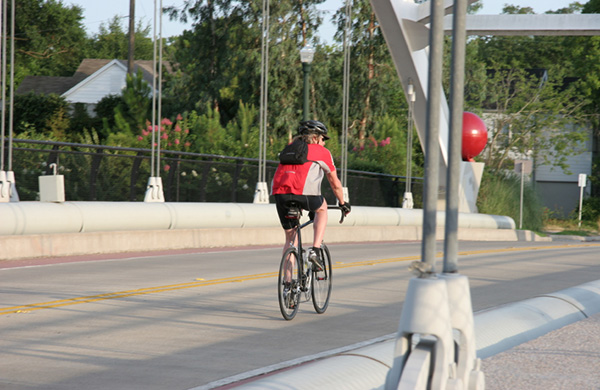 At about 600 square miles, with chronic heat and humidity for most of the year, it's no wonder that Houston is a car-centric town. But in recent years the city has undergone a bike-riding transformation, particularly inside the loop.
Houston has more than 300 miles of interconnected bikeways that include bike lanes on city streets, hike and bike trails along the bayous, and throughout many city parks. The local nonprofit organization BikeHouston holds a yearly moonlight ride, and the Greater Houston Off-Road Biking Association likes to get in on the fun with events of their own. There's also Critical Mass, a loose-knit group of cyclists who meet downtown on the last Friday of every month for a massive ride through the streets. The extremely popular event can attract 2,000 riders or more, although such cycling enthusiasm is not always to the benefit of automobile drivers in their path.
Beyond organized rides and city trails, more and more Houstonians are using bikes to get around town on a daily basis. The city passed an ordinance requiring car drivers to give riders on two wheels more than three feet of space on roads without dedicated cycling lanes, and is building more bicycle-friendly pathways throughout the area.
Don't have a cool ride to call your own? No problem. Last year, Houston B-cycle launched a bike sharing program downtown where residents and visitors alike can borrow bright red bikes for 60 minutes, with a 24-hour, weekly or annual membership that can be purchased online or at the bike stations. The B-cycle campaign started with three stations and 22 bikes, but has expanded to more than twenty stations with some 300 bicycles, with more growth in sight. There are now stations downtown, along the East End, in the Museum District and at certain stops on the city's METRORail line. Bicycles can be borrowed and returned at any B-cycle station and paid for with a credit card, which makes for convenient riding for anyone visiting the city.
Just remember that in Houston, cyclists are subject to the same rules as cars. That means no riding on business-district sidewalks, having to stop at traffic signals and – if you're under eighteen – riding with a helmet on.
BY: Gayot
Gayot
GAYOT.com serves as a leading worldwide authority on the good life. Millions of readers turn to Gayot's savvy, professional reviews on dining, travel and lifestyle. From "Best of" lists and travel guides, to a searchable restaurant and hotel database, Gayot provides dependable coverage while keeping up with the latest trends and news.